Is it just me, or does anybody else get tired of watching Florida whacking FCS teams for no good reason?
Anybody else lusting to pound the Hurricanes into the dust instead?
This is my message. You're a 7th grade monster, muscles like you cannot believe. You're one of the biggest kids in the park. You're angry about… something. You want to pick on somebody else in the park. What do you think is more impressive? Completely destroying the body of a 3rd grade girl… or attacking a 6th grade boy?
That's the parallel that Jeremy Foley does not seem to get.
You are Florida.
The 3rd grade girl is the Citadel/Furman/Western Carolina/whatever shameful team Florida plays as their sacraficial lamb.
The 6th grade guy is Miami.
And the kids crowding around are the BCS.
You beat up the third grade girl, everybody boos, says that's needless, what do you prove, etc. Nobody is impressed.
Beat up the 6th grader, however, and people pay attention more. It's a much more even matchup. Therefore, it is more impressive.
Now remember that as we look at the current BCS format. It's a joke, nothing but a complete joke. Everybody laughs at it… until it affects them.
Yes, the SEC has won the last 5 BCS Championships. Sure, this will give the SEC team vying for a championship game bid more power and a better argument.
What it does not do is make the decision for the Blundering Committee of Scrubs (BCS for short). There may be, say, ten years from now, a strong hatred for southern football. Maybe enough to give an unbeaten Pac-12 team a date with an unbeaten ACC team in the BCS Title Game- who knows? Or maybe, yes, the SEC is dominating now, but it may not continue forever. Say no SEC team gets a BCS Championship bid for the next ten years. You think they'll still have that power?
So anyway, one of the criteria for the BCS pickings is strength of schedule. Yes, Florida plays in the SEC, but again, the league could be at the bottom of college football ten years from now. You never know. Do I think that will happen? No. But you've got to admit, it's a possibility. So the Gators need that safety valve in Miami in their schedule. Just in case, they could use it.
Here comes Foley. Miami might beat us. We want to host 7 games a year. This is breaking with tradition.
Those have been his three reasons for not scheduling Miami. None of them are particularly legitimate. Miami might beat us? Um, hi- IT'S A RIVALRY GAME. SOMEBODY HAS TO WIN, SOMEBODY HAS TO LOSE. It used to be one of the great rivalries in all of college football. Grow a pair, and put them back.
The second point is 2% legit, as opposed to 0. He wants to host 7 games a year, and making Miami a regular home and home series means 7 home games one year, 6 home games another. Fine. Then make Georgia a home and home game.
Pause- why Jacksonville? It's way closer to Florida. Some neutral site that is. It's not just Georgia fans who hate it- I do too. Why make it "neutral"? Pack it to capacity and you'll get ~84,000. Pack the Swamp and you get ~91,000, pack Sanford Stadium and you get even more.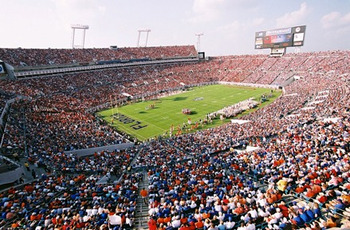 So if the game is at home fields, that gives Florida 4 SEC home games every year. Florida can still have the two cupcake games to make 6, and then either Miami or FSU is home. That makes seven, which is your lifetime goal, Jeremy.
As for the tradition, give me a break. You broke tradition by taking them off the schedule. What tradition are we breaking by doing this- our annual butchering of a defenseless FCS team? Newsflash- you can still lose to FCS teams, you know. Appalachian State and James Madison have both done it against ranked teams in the last 5 years. It's not a risk free deal. Upsets can still happen.
So with the possibility looming every time you take the field, why not take it against Miami? Would you rather have a high risk of winning and a small chance of losing- with a humongous hangover in the case of a loss and a who cares attitude if you win… or would you rather a 50/50 chance of a win with humongous rewards of beating a rival or a medium sized hangover with a loss to a rival?
I'll take the latter.
There's no joy involved in a win against an FCS team. None. There are consequences for a loss in both, as there are for any loss. But would you rather lose to a rival or to an FCS team? Put aside trash talk with rival fans aside- and I'll take the loss to the rival.
It's simple. I want to beat Miami, and I want Georgia fans to shut up about how they always lose because they play in Jacksonville. Here's a bulletin. Georgia used to pound on Florida for decades- in Jacksonville. We know they're unreasonable, OK. We still want them to shut up.
We can't do it, though, without Foley opening his eyes.