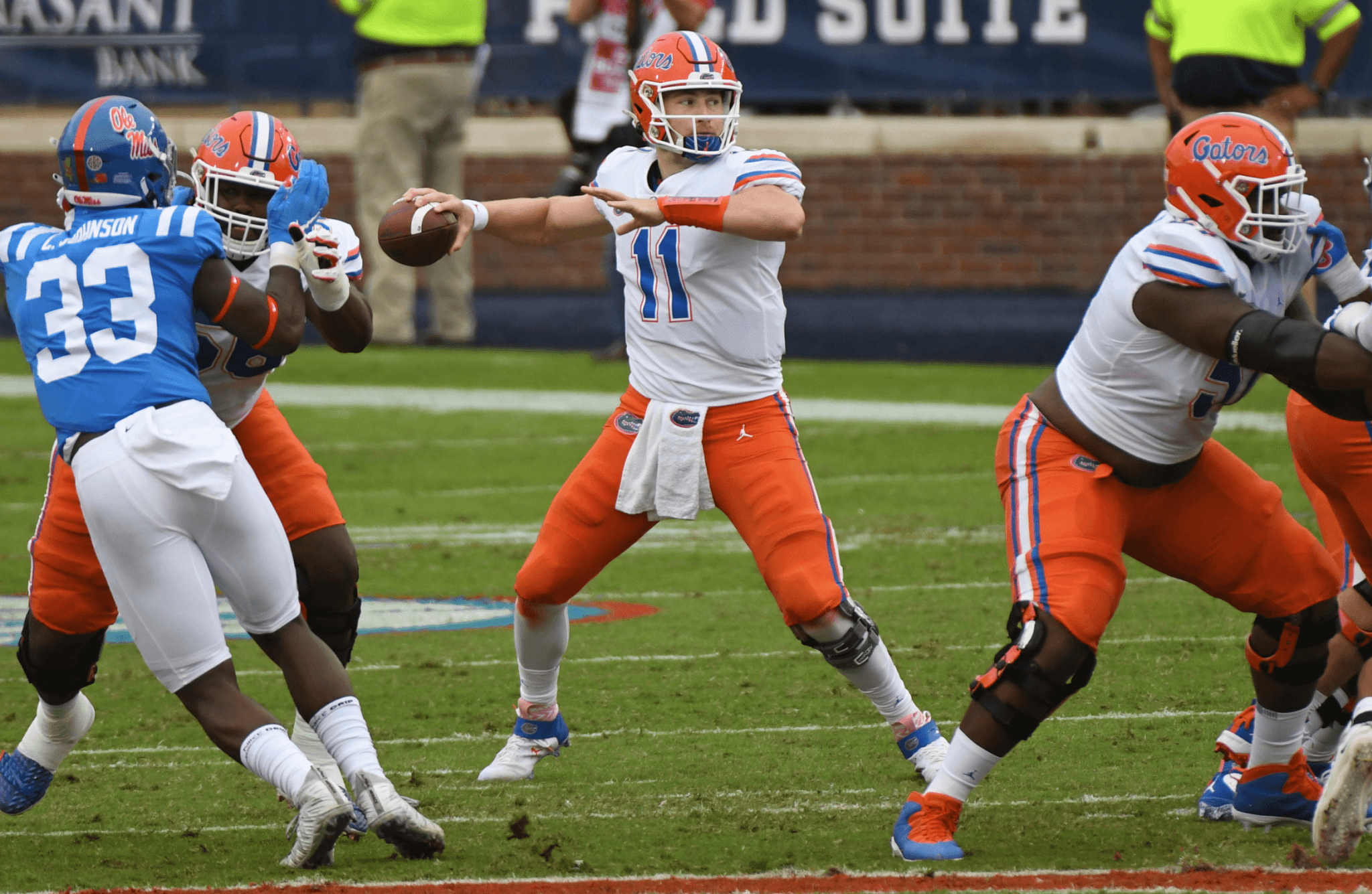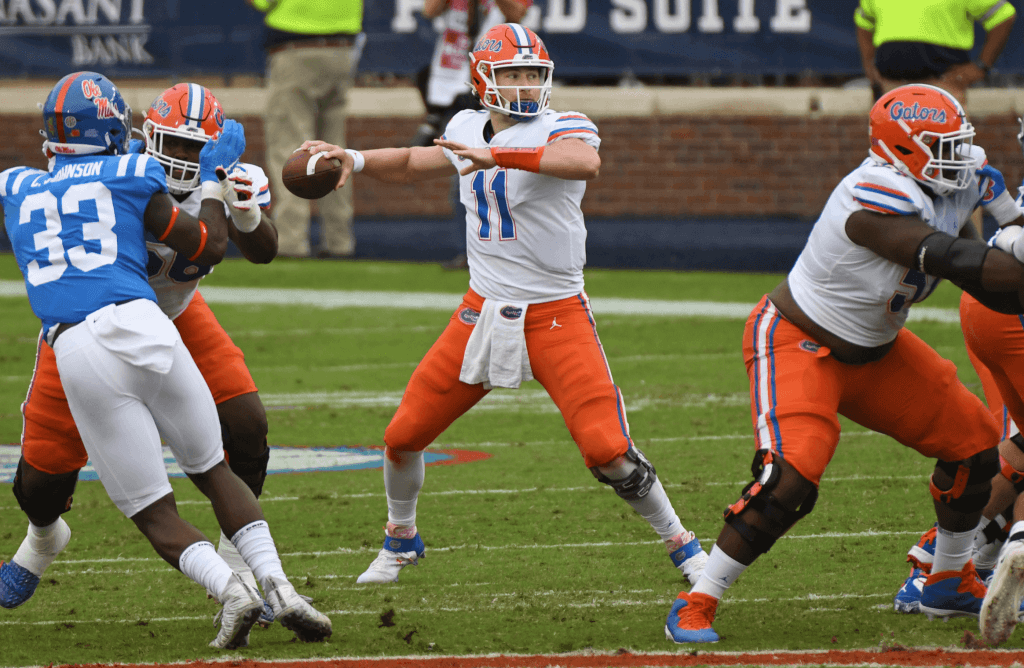 Hey everybody! I'm Dustin. You probably know me from hosting the In All Kinds Of Weather Forecast podcast, but today I'm switching from making points through the airwaves to making one very specific point on this website: the case that Kyle Trask should win the Heisman Trophy.
We all want him to win, obviously: he's the first Gator quarterback to ever throw for 4,000 yards in a single season, and a COVID-shortened, SEC only season at that. But this article isn't meant to discuss why we want him to win the sport's most prestigious individual award. It's meant to articulate why he should win it- especially after his warrior-like performance Saturday night against Alabama.
So let's get to it.
Introduction

This is the first of two articles detailing the prospects of Kyle Trask winning the Heisman Trophy. In this first article, we will look specifically at a case for Kyle Trask, and how his season compares favorably with past winners, and why he should be the 2020 Heisman Trophy winner. The following article which will be released next week will dive deep into Heisman Voting Math and who we think will win the Heisman Trophy. 

Assuming Kyle Trask is announced as a finalist on December 24th at 7:30pm on ESPN (he can't not be, right?), we will also take our orange and blue glasses off and provide our best guess for how the math will play out. Remember in 2008, Tim Tebow had the most first place votes, but still lost the Heisman trophy to Sam Bradford. Why did this happen? And how could this prove problematic this year? We will dive into that next week, but for now, let's dive straight into today's topic: A case for Kyle Trask.
The Case
A Statistical Case

Kyle Trask leads the nation with 43 passing touchdowns, 46 total touchdowns by a quarterback, and 4,125 passing yards and it's not even close.

Passing Yards
Kyle Trask, FLA 4,125 yards
Mac Jones, ALA 3,739 yards
Dillon Gabriel, UCF 3,353 yards
Passing Touchdowns
Kyle Trask, FLA 43 TD
Mac Jones, ALA 32 TD
Zach Wilson, BYU 30 TD
Total Touchdowns
Kyle Trask, FLA 46 TD
Zach Wilson, BYU 38 TD
Mac Jones, ALA 33 TD
Kyle Trask continues to lead the nation in key statistical categories that include one of the most telling indicators of which quarterback will win the Heisman: total touchdowns scored (passing & rushing scores combined). Kyle Trask has 13 more total touchdowns than Alabama Quarterback Mac Jones. Think about it this way: On average, Kyle Trask is scoring one more touchdown a game in comparison to Jones!

Kyle Trask is putting up historic numbers in college football, especially in a season with limited games. Kyle Trask has given his team a chance in every game he's played, and even in the 3 losses that Florida suffered, Kyle Trask's stat lines have been out of this world.

3 LOSSES
Texas A&M // L 41-38 // 312 YDS / 71.9% CMP / 4TDS / 0INT / 94.7QBR
LSU // L 37-34 // 474 YDS / 61.7% CMP / 4TDS / 2INT / 66.5QBR
Alabama // L 52-46 // 408 YDS / 65.0% CMP / 4TDS / 0INT / 91.4QBR

Even in these 3 Losses, Kyle Trask continued to put up incredible numbers, and he gave his team a chance to win each of those games. The Texas A&M game was a fumble away, the LSU game was a shoe throw away, and the Alabama game was a poorly timed timeout away from likely winning each of those. In the same breath, this hasn't stopped previous Heisman winners. This is what we will get to in the next section.

A Historical Case

There is historical precedence for Kyle Trask to win the Heisman. In fact, the biggest argument against Kyle Trask is the 2 recent losses, Alabama and most destructive to his Heisman campaign, LSU. However, history would disagree. For the purposes of this article, I am going to claim that the strongest historical indicator of a specific quarterback winning the Heisman is total touchdowns scored, as mentioned previously.
Let's take a look at 3 Heisman winning Quarterbacks in the last 13 years who have won with 3 losses going into Heisman voting.

Tim Tebow
In 2007, The Gators suffered 3 losses going into the 2007 Heisman Ceremony, however Tim Tebow still narrowly defeated all-purpose RB Darren McFadden. Let's compare total touchdowns for the 3 Heisman Finalist Quarterbacks:

Total Touchdowns
Tim Tebow, FLA 55 TD
3. Colt Brennan, HAW 43 TD
4. Chase Daniel, MIZ 37 TD

Tim Tebow had the clear edge over the other quarterbacks in total touchdowns, and this translated to the Heisman victory.
Robert Griffin III
In 2011, the Baylor Bears also lost 3 games that year. RG3 still narrowly defeated QB Andrew Luck, however in comparing total touchdowns, you would see that RG3 winning the Heisman was more decisive then the final tallies would indicate.

Total Touchdowns
Robert Griffin III, BAY 47 TD
Andrew Luck, STA 39 TD

Robert Griffin III led the bunch in total touchdowns and predictably won the Heisman.
Lamar Jackson
In 2016, the Louisville Cardinals lost 3 games. Yet Lamar Jackson defeated 2 other quarterbacks who each had a historic season in their own right, including Deshaun Watson who won the National Championship for his team. Let's compare the top 3 quarterbacks:

Total Touchdowns
Lamar Jackson, LOU 51 TD
Deshaun Watson, CLE 50 TD
Baker Mayfield, OKL 46 TD
Lamar Jackson completely shatters the "you can't win the Heisman if you don't play on one of the best teams" narrative. If that was the case, Deshaun Watson, quarterback of the 12-1 ACC champion Clemson Tigers should have won the Heisman big time. To make matters even more interesting, Watson's Tigers defeated Louisville 42-36 during the regular season. The result of the Heisman Trophy should have been solved on the field, but it wasn't. Lamar would go on to be the most impressive and outstanding player in the country and won the award handily.

How does this relate to Kyle Trask?

Like Lamar, Kyle Trask has been outstanding. Regardless of the losses, Trask has clearly been the best player on the field. While many would argue that Kyle Pitts has been the best player on the field, and he very well may be the best non-QB skill position pro prospect in the nation, historically, the Heisman has always gone to the Quarterback if he and one of his receivers were both receiving national praise. The last time a wide receiver won the Heisman (Desmond Howard), the quarterback throwing him the ball did not receive any Heisman votes.

What about Devonta Smith or Najee Harris?

I think we can pretty much put a nail in the coffin that Mac Jones deserves the Heisman (not necessarily will win, but deserves to win) since Kyle Trask leads Mac Jones in total touchdowns by 13 scores. However, is there a case for Devonta Smith or Najee Harris to defeat Kyle Trask? The short answer is probably not, but let's dive in a bit more to examine what history would indicate.

In recent history, the Heisman has been a Quarterback award. For a quarterback to not win the award, the Running Back / Wide Receiver winning the award must be unequivocally the best player in college football, he must be putting up ridiculous statistics, and the top quarterback in Heisman votes can have no more than 40 total touchdowns (Trask has 46). Let's take a look at Desmond Howard (WR, 1991) and Derrick Henry (RB, 2015), the last players in their respective positions to win the award.
Let's compare Desmond Howard to Devonta Smith.

Desmond Howard, WR (1991)
985 REC YDs // 19 REC TDs // 180 RUSH YDs // 2 RUSH TDs
Devonta Smith, WR (2020)
1,511 REC YDs // 17 REC TDs // 11 RUSH YDs // 1 RUSH TD
Devonta Smith had a historic year from a yards receiving standpoint, however Howard had 3 more total touchdowns then Smith.
Now let's compare Najee Harris to Derrick Henry.
Derrick Henry, RB (2015)
2,219 RUSH YDs // 28 RUSH TDs // 406 REC YDs // 0 REC TDs
Najee Harris, RB (2020)
1,262 RUSH YDs // 24 RUSH TDs // 316 REC YDs // 3 REC TDs

Najee Harris does not even have close to the amount of yards that Henry gained, however, what makes it interesting is Harris actually has similar numbers of touchdowns (27 for Harris vs. 28 for Henry).

Closing argument

In conclusion, Kyle Trask has the strongest case for the Heisman. From both a Statistical and Historical standpoint, I do not see a case for anyone but Trask to win the award. However, in case you still disagree with me, let us take one more look at the prompt presented to all Heisman Voters:

"The Heisman Memorial Trophy annually recognizes the outstanding college football player whose performance best exhibits the pursuit of excellence with integrity. The winners of the trophy epitomize great ability combined with diligence, perseverance, and hard work."

The story of Kyle Trask epitomizes diligence, perseverance, and hard work. While this article is not intended to retell his story, anyone who knows it would be impressed. Against the odds, Kyle Trask worked his hardest to help his team. Even as a backup Quarterback, he continued to persevere and stay the course. In fact I would argue, there is no greater example of diligence, perseverance, or hard work that has graced the game of college football in the last 20 years.

We like to end our podcasts with a segment called the "Final Word." So allow me to stick with that and punctuate my case with the final word here: you can say what you want about the other players that are in contention, and they deserve to be in the conversation for the Heisman Trophy, but Kyle Trask deserves to win the Heisman Trophy.