The Swamp is one of the most electrifying atmospheres in college football. True or False.
False.
It is by far the most.
Screw Death Valley. What's a Coliseum? Bryant Denny is like a sewer in comparison.
Yup. I just insulted LSU, USC and Alabama on their stadiums, none of which are like the Swamp.
Even with last year's 4-3 horror show in Ben Hill Griffin Stadium, the Gators are 114-13 at home (.894%) since Steve Spurrier came aboard. That's tops in the country in that time span.
What exactly makes the Swamp the terror dome for opponents?
Here are a few:
The Opening Alligator Montage
A few schools have live mascots. Very few have videos showing those live animals roaming around their dens as a way to prep the fans up.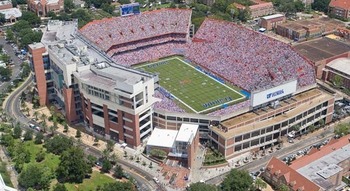 Florida does, and other teams must get freaked out when they hear that music in the locker room. Even if they can't, they must hear the fans going nuts- especially at night. One of the big ways Florida wins home games is to make an opposing QB make an early mistake and to run with it. When QB's are rattled even before the game starts, it's easy to do that. The opening montage is perfect for this.
We Are The Boys
Who else sings their alma mater after 3 quarters in such a synchronized matter? This is timed perfectly. More often than not, Florida is either in control or in a battle. The South Carolina game was as bad a home loss as I've ever seen as a Gator fan, but even there, Florida wasn't completely out of it. The singing of the alma mater spurred Florida to make a feeble attempt at a comeback, as the offense mustered its lone offensive TD of the game. Florida can always use a motivational boost from its fan base, and there's no more united one than this.
Crazy Fans
Admittedly, Florida fans can be jerkoffs. Don't like that? Have a seat with the rest of the crybabies waiting for me to give a damn. It's a major part in what makes us win. If it taken a drunken moron screaming something about AJ McCarron screwing an ugly girl in a Gainesville bar to throw Alabama off, I'm all for it. This is SEC football, and war. If you don't like that, then kindly stop following SEC football. Many times before, fans have gotten rowdy enough to ruin QB's confidence.
The Tim Tebow Effect
Tebow may be gone, but the thought of playing in a stadium that he once owned can get into the minds of 18-22 year old kids. Maybe you don't realize it, but I'm 17, and I can completely understand that's possible. These are kids, after all, and although Tebow was too, he was a record setting kid. It does get to some people. Before Tebow, it was Spurrier. Playing in a stadium that Spurrier owned for two turns got to some people, too.
There are others, but these are the top four.
It's hell to play in Florida Field. Can we all agree?