Tim Tebow.
There, just two words.
Tim Tebow.
What do you think of upon reading or hearing these words?
His jump pass against LSU as a freshman?
His Heisman winning moment?
His promise after the Mississippi loss?
His comeback to beat Alabama for the SEC Championship?
His leadership to propel Florida to its third national championship?
His jump pass against Oklahoma in the BCS Championship game?
His record breaking TD run against Georgia?
Or his record breaking night in the Sugar Bowl to cap off what I believe to be the best college football career ever?
And to hell with Vince Young. He shouldn't even be in the top 10. Whatever, that's a whole other issue.
Personally, my image of him is his victory lap after senior night against FSU back in 2009, walking off the field for the last time wearing his jersey.
Whatever your image is, everybody has one right? Even the haters have one of him in tears following the Alabama loss.
The point is, everybody has a different one. With Young, there's really only one moment that defined his college career: The 4th and 5 against Texas with the BCS Championship on the line.
Without a doubt, that was huge.
But aside from the stakes, was there any difference between his run and Tim Tebow's first NFL score?
Watch Young's  BCS Championship TD here.
Watch Tebow's first NFL TD here.
Any MAJOR difference, aside from the stakes?
No. Nothing of huge significance. Yes, Tebow's was a designed run, but Young didn't really wait very long to take off.
Again, Young's play was a championship winner, but the plays themselves weren't really all that different.
So when you take Vince Young's most famous play and put it against a play like the one I showed of Tebow… kinda takes the wind out of his argument. He was a great player. Tebow was a phenomonal player.
Plus, Tebow had Young beat in nearly every stat possible in three years averaged.
Now, there are some words or phrases with lots of power. Some include "I hate you", ""that's impossible" "You suck", along with many if not all profanities. And, of course, "the best ever" fits right into this category.
At first usage, these phrases have a strong effect. The first time somebody hears you say something like that it hits home, because it's so strong. But if you keep saying it over and over agin… it kinda loses its power, doesn't it?
So when I say Tim Tebow is the best ever, I have to prove it. I can't just say it with no evidence. That's for moronic Georgia fans who keep saying Florida sucks yet can't back it up. I wonder if maybe 18 losses in 21 games to Florida has something to do with that?
Anyway. Back to the real topic.
The only ones with legitimate arguments are Tommy Frazier and Archie Griffin.
And, in no way in hell, does Cameron Newton crack my top 25.
Here is my Top 25.
1) Tim Tebow (Superman- Florida)
2) Archie Griffin (RB- Ohio State)
3) Tommy Frazier (QB- Nebaska)
4) Ernie Davis (RB- Syracuse)
5) Vince Young (QB- Texas)
6) Colt McCoy (QB- Texas)
7) Emmitt Smith (RB- Florida)
8) Billy Cannon ( RB/WR- LSU)
9) Barry Sanders (RB- Oklahoma State)
10) Danny Wuerffel (QB- Florida)
11) Herschel Walker (RB- Georgia)
12) Jerry Rice (WR- Mississippi Valley State)
13) Adrian Peterson (RB- Oklahoma)
14) Gino Torreta (QB- Miami)
15) JaMarcus Russell (QB- LSU)
16) Jim Brown (RB- Syracuse)
17) Charlie Ward (QB- Florida State)
18) Bo Jackson (RB- Auburn)
19) Percy Harvin (RB/WR- Florida)
20) Doc Blanchard (RB- Army)
21) Michael Crabtree (WR- Texas Tech)
22) Doak Walker (RB- Southern Methodist)
23) Doug Flutie (QB- Boston College)
24) Matt Leinart (QB- USC)
25) Dexter McCluster (RB/WR- Mississippi)
I'll make the case for Tebow pretty simply; if you aren't listed either 2 or 3, then goodbye. You're a great player if you're in this countdown at all, but you are not Tebow.
Griffin was the only player to win 2 Heismans, and Frazier led Nebraska to a bulldozing national championship.
But in the end, sheer volume wins.
Tebow has one Heisman to Griffin's two, not even half the rushing yards totals of Griffin but Tebow's 57 rushing touchdowns to Griffin's 26 pretty much slams the door on Griffin. Of course, Tebow played in more games than Griffin- but still. The numbers aren't even close, and Tebow played about 5 or 6 more games. Yes, Griffin had a lot of talent around him on those Woody Hayes teams, but honestly, Tebow probably had even more.
Oh, and by the way? Tebow's a quarterback- Griffin is supposed to kill Tebow in all rushing categories. Maybe Tebow should have more touchdowns, because he got more goal line touches, but he shouldn't have 31 more in only 5 or 6 more games.
If Tebow had about 10 or fewer more touchdowns than Griffin, then I would say that they were pretty close considering Grffin didn't always get the ball near the end zone. But this is rediculous- I'm actually trying to fight for Griffin here and give him an honest defense, but it's worthless. The fact that a quarterback had 31 more TD's than him in about 5 or 6 more games is clearly a sign that Griffin was not better than him.
One last ditch shot for Griffin- albeit a truly desperate one from obtuse Buckeye fans- Hayes didn't want to risk Griffin's health. You think Meyer wanted to risk Tebow's, slamming him again and again near the goal line?
End of story; Archie Griffin was a fantastic college football player, but not as good as Tebow. Oh, and Tebow had two national championships to Griffin's none.
Tommy Frazier is going to be slightly easier. Both have two national titles.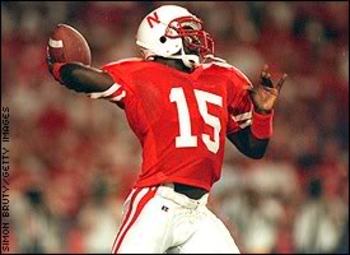 But that's where all comparisons end. Tebow had an average of roughly 2,800 yards passing in each of his last three seasons, and in total amassed 9,286 total passing yards. Frazier barely broke 4,000 (4,003 to be exact).
Frazier threw for 47 total touchdowns in his four years. Tebow crushed that mark with 88.
Frazier rushed for 36 total touchdowns, to Tebow's 57.
Frazier rushed for 2,263 total yards in four seasons. Surely there's got to be a stat in which Frazier is superior to Tebow? Not this one. Tebow beat that record too, with 2,947 total yards.
And finally, back to Vince Young.
I divided Tebow's stats to make them three quarters of what they were to make it fair, since there's definitely something to be said about somebody who leaves college football early.
The stats are close- Young's got Tebow solidly beat in the rushing category, and his passing is only slightly behind Tebow's after three years.  The rushing touchdowns favor Tebow ever so slightly, and the passing touchdowns belong to Tebow is a landslide.
Then, Tebow has a Heisman to Young's none, and two national championships to Young's one. And I don't want to hear that Young had no talent around him- Jamaal Charles carried plenty of times during key situations. No, Texas didn't have quite the talent that Florida had with Tebow, but Tebow did win the Heisman. He did rush for and throw for 20 touchdowns each in one season. Did Young do that?
No, and neither did Tommy Frazier.
Plus, Tebow had all the intanglibles. Some of you might here intangibles and say, what is that? Here's what- doing everything that is humanly possible to improve himself and to get wins. If Urban Meyer convinced Tim Tebow that he had to find Osama Bin Laden in order to be able to read defenses, Bin Laden would be dead by now. Tebow would have gotten into the Middle East immediately, and found him before he gave up.
He's got the energy, the will to make his teammates better, the will to win- and the ability to make people believe in him. Well, the people with three digit IQ's. No, that does not include Georgia, FSU or Miami fans.
But here's the most impressive stat of all.
Tim Tebow made Steve Addazio look somewhat competant!!!
So, that does it. That's the final straw. And without further ado, it is with great honor and pleasure that I introduce the best college football player ever- TIM TEBOW!!!