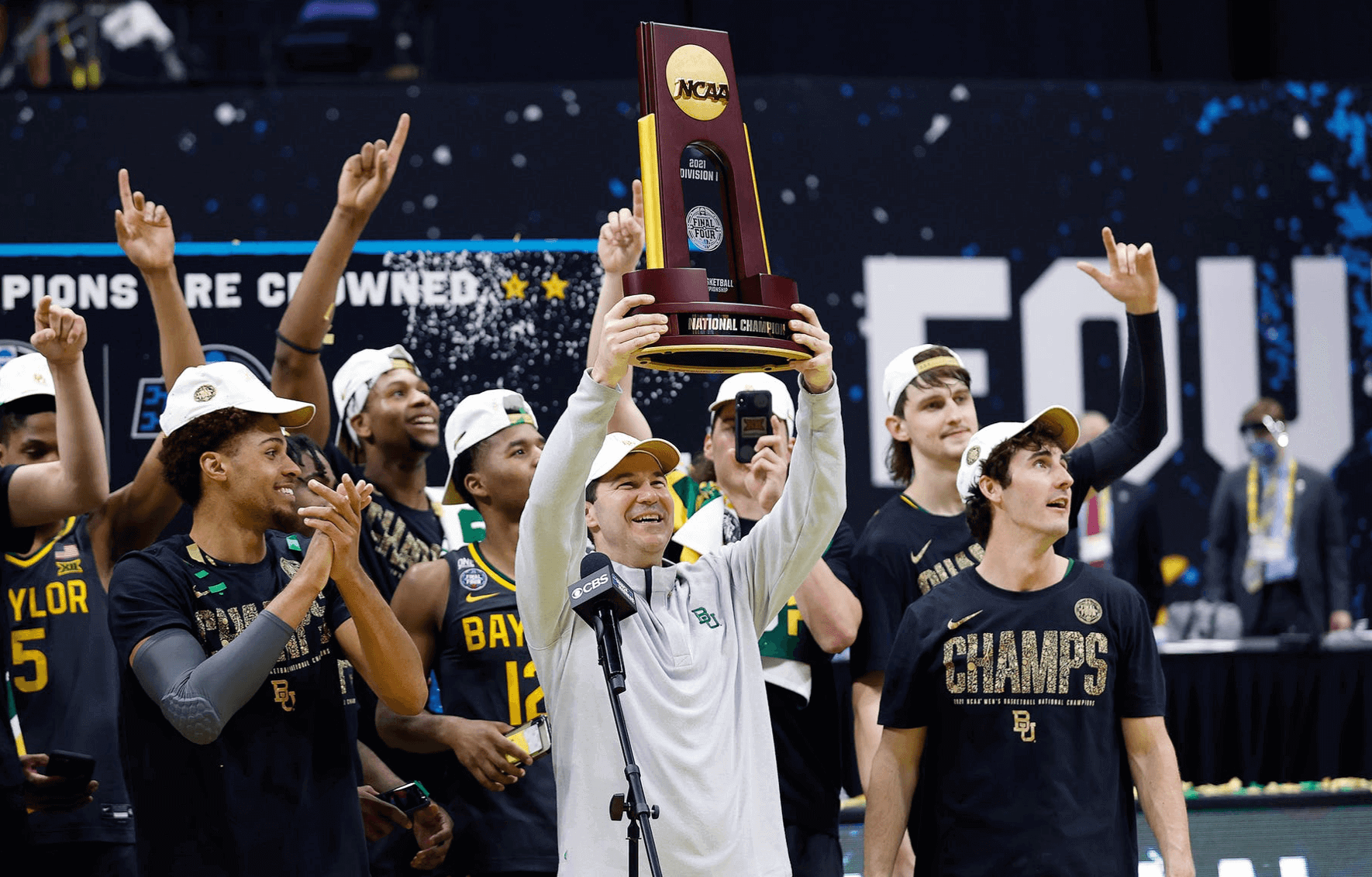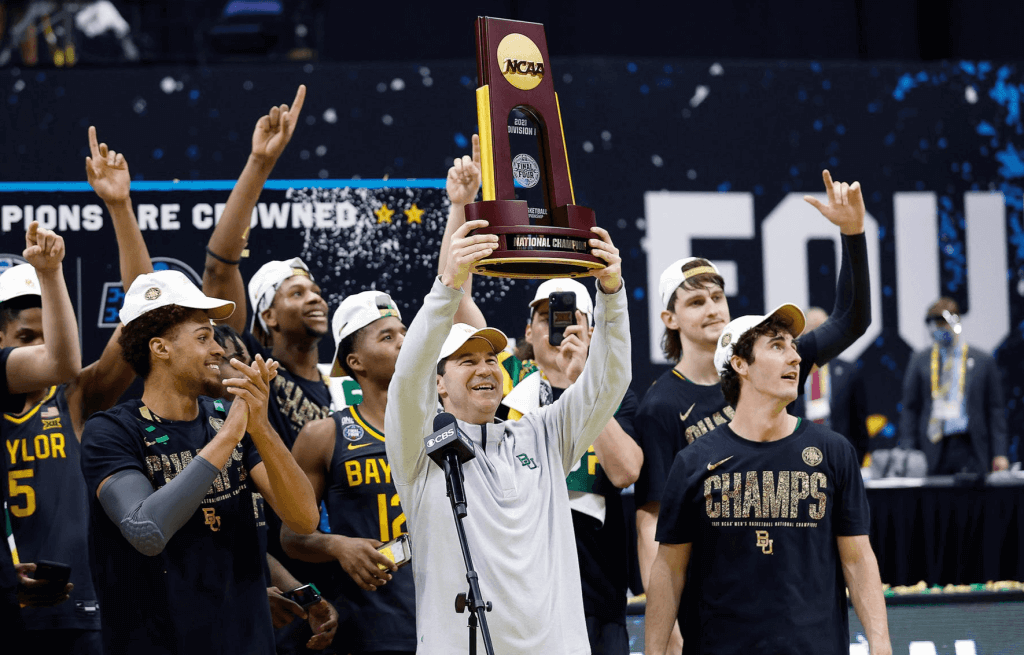 Last week began my list of candidates for Scott Stricklin to hire as Florida's next men's head basketball coach. Andy Enfield took the lead as candidate number one, and right behind him is Scott Drew, who's won even more than Enfield… but has a little bit of baggage.
If you're not familiar with that baggage, it's somewhat complicated. But here we go.
#2: Scott Drew, Baylor (and formerly

Valparaiso

)
Age: 51
Highlights: won the 2021 national championship at Baylor, took Baylor to five Sweet 16's and three Elite 8's in his first eighteen seasons.
Complete coaching record: 413-230
Why Drew? At this point, the question is more "why not Scott Drew?" …to which I'll simply defer to what I wrote two years ago about him:
Drew is definitely an interesting case study in conflicting perceptions. A small minority of Baylor fans don't seem to like his coaching style and thinks he underachieves. A large majority of opposing coaches seem to think he's a snake and wins more than a coach at Baylor should. But I don't care about either of those things on their own, because his ability to flip a traditional bottom feeder like Baylor into a team that consistently reaches- and wins games in- the NCAA Tournament is more important than what others think of him.

What I- and more importantly, Florida- do care about is the fact that Baylor got nailed for major NCAA violations under Drew's watch, including the dreaded "failure to monitor" label that resulted in three years of probation and scholarship losses over the next two years. Desperate times could call for desperate measures, I suppose, and if he can win at Baylor he shouldn't have a problem winning at Florida, but unless Stricklin reaches that level of desperation, this guy is off limits.
Fast forward two years later, that scandal is now two years further behind Drew, and, well… if #1 choice Andy Enfield doesn't pan out, it's desperation time, at least in terms of making a huge splash of a hire. It didn't have to be- thanks again, Mr. Stricklin, for letting Chris Beard and Porter Moser go elsewhere- but it is. And for what it's worth, Drew's NCAA violations didn't seem to be viewed as any more egregious than Dan Mullen's.
Every other box there is to check, Drew checks.
The offense is there. Baylor ranks 8th in the nation in KenPom's adjusted offensive efficiency this year (which measures points per possession), and ranked 2nd, 4th and 17th in the three years prior to this one. And that's due in large part to a track record of recruiting and then developing a variety of scoring machines at various positions, most notably Taurean Prince, Jonathan Motley, Jared Butler, Manu LaComte, and Makai Mason.
The results- adjusted for his program's basketball history- are there, too. In his first eighteen seasons in Waco, Drew took the Bears to five Sweet 16s, three Elite 8's and their first ever national title. Now in year 19, he's again got the Bears ranked in the top 10 and sitting in the Selection Committee's top 16 snapshot. Yes, his first four years there were bad, but that's when you need to account for the fact that prior to Drew's arrival for the 2003-04 season, Baylor had only reached the NCAA Tournament one time since 1950. Such a learning curve should not be necessary at Florida.
The recruiting? It's been somewhat there at Baylor, with some years resulting in great classes, and others… not. But Baylor is a difficult place to recruit to in the first place, especially compared to Florida. No doubt he could recruit at least top 25, if not higher, classes. (College basketball recruiting rankings are strange in the sense that if you recruit too strong of a class, they probably won't stay very long, whereas in football they have to stay at least three years. Top 25 classes are more than good enough for basketball.)
And to boot, for all that time he's spent at Baylor, he's just 51 years old. No doubt he could give Florida a strong decade of results before winding his career down.
Would Drew take the Florida job?
The day that Scott Drew coached Baylor to a national championship, I had thought the ship to get him had sailed for Florida. Now, a year later? With the amount of money the SEC rolls out to its schools only increasing, which can only benefit coaches of all sports in countless different ways? I'm not so sure.
If Florida offers him enough money in a base salary, he probably would take the job. He makes about as much as Mike White makes now. If Stricklin sells the booster base on the idea of a major upgrade at the head men's basketball coach position, money won't be an issue. Florida's alumni base can pony that up.
Here's the thing about Baylor, even after its national title: it's a program lost in a delightful paradox. The Bears are in a better basketball league than Florida, and a smaller one too. Yet the Big 12 is harder to win these days with not only a blue blood at the top of the league in Kansas, but now with Texas Tech announcing itself as a true force in the conference as well even after the departure of Chris Beard. The SEC has that power structure too with Kentucky as the blue blood and Auburn being the new force, but the difference is the money. Thanks to its dominance in football, the payout each school receives in the SEC is more. Way, way more.
Not to mention that Florida is an easier place to recruit blue-chip athletes to, located in a state where almost everybody wants to retire, and so on. So yes, Florida is not merely a better job than Baylor. It's an exponentially better job. The only question is if Drew wants to pack up and leave the machine he's built in order to start over.
Fun fact
I mentioned the KenPom rankings for adjusted offense earlier, but you might be wondering: well, how does that stack up to Florida? Here's how: in six of the seven years Mike White has been at Florida, Baylor's adjusted offense ranking has been higher than Florida's, and in four of those years, by more than 40 spots in the rankings.
Verdict: excellent hire
I really can't fathom a situation where Scott Drew gets his program into trouble again for NCAA violations, particularly not in a serious enough fashion to merit a suspension. If he does, unless it's just a borderline infraction, his career might be over. While I'm admittedly hesitant to hire a coach with prior NCAA issues, they were a decade ago now, and besides, there is always some degree of risk with any coach you might want to hire. If it's not in the wins and losses column, it'll be somewhere else in his background, and, well, here we are.
Everything else is there. The track record of winning is there on its own merit, let alone adjusted for Baylor's history. The offensive pedigree is there. He won't be cheap, but Florida can generate the funds to pay him- that's there, too. If Andy Enfield doesn't want to make the leap from USC to Florida, Scott Drew is the next best candidate there is.