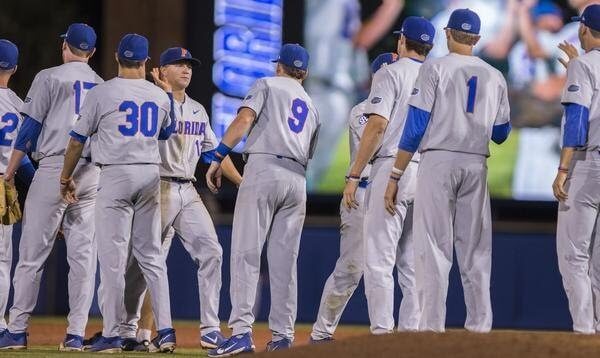 The weather made it take longer than it should have. The Gators made it more stressful than it had to be. And Florida Atlantic certainly did their part to help out in both respects.
But a few hours before the sun rose in Gainesville, the Gator baseball team wrapped up the Gainesville Regional with a less than encouraging 5-2 victory over FAU to book their tickets to the Super Regionals. The win came four hours after being stunned by the Owls 7-4 with Jackson Kowar of all people on the mound for the Gators, and about 30 hours later than it should have thanks to yet another rainy June weekend in central Florida, but those are not what's important here. What is important is that the Gators' season is still alive after some of last night's events made it seem like it would not be at this juncture in time.
None of this is to suggest that the Gators looked like the #1 overall seed at every single moment of the weekend. Florida found themselves down early to Columbia- by far the worst team in the NCAA Tournament both RPI and record wise- and could only score against Jacksonville with three solo homers. But it was last night that provided the real cause for concern moving forward.
For starters, the Gators' lack of pitching depth hurt them- again- throughout the course of the weekend. But against the Owls, it was Kowar who got assaulted for eleven hits and seven runs in six innings of work. His teammates made things worse by committing three errors, which led to three Owls crossing home plate. And aside from a two run homer from Blake Reese that came with Florida down 5-0 and a solo homer Deacon Liput down 7-3, the Gator bats went dead.
Luckily, the Gators got a second chance at the Owls by virtue of starting the Regional 2-0. And they took advantage. Though FAU would grab two first run innings off of Jack Leftwich, he would then settle down- and he and his successors Tommy Mace and Michael Byrne would keep them off the scoreboard the rest of the way. On the other side of things, Jonathan India got Florida on the board with an RBI single in the third, and Jonah Girand gave the Gators a lead they would not relinquish with a two run bomb over the left field bleachers. For good measure, India and Dalton launched back to back homers in the fifth to make it 5-2, which with a nine out save from Byrne became the final score. And so Florida, while far from perfect, is moving on.
Next up: a Super Regional rematch with Auburn, a team that Florida beat two out of three times back in March and that boasts the #1 overall MLB Draft pick in pitcher Casey Mize. The Gators beat Mize that day, 3-2, thanks to an outstanding effort from Brady Singer.
And yes, there are reasons to believe Florida will beat Auburn again this weekend. The Gators appear to have unearthed a gem in Girand, the Gainesville Regional MVP. Florida will also probably get JJ Schwarz back this weekend, meaning Kevin O'Sullivan has the delightful problem of being forced to choose between the hottest bat on the team and the reliable senior team captain when he fills out the catcher position on his lineup card. It's going to be hard to not start both, which will likely force Nelson Maldonado to play a position in the field and yield his DH spot to one of them. Plus, of all times to discover that you have a big bat you never knew you had, there is no better time than the NCAA Tournament.
But Florida is assured not to beat Auburn again if they don't play significantly better than they did this weekend as a team. They're going to need to clean up their defense, get more and better innings of work from Kowar, and get hits in situations where they need them as opposed to the ones where they certainly won't mind them but do not absolutely need them. And while you don't have to be perfect to win a national championship- last year's team proved that- the Gators will need to be closer to it than they were this weekend if they want their quest to last beyond next week.
Hopefully, this weekend serves as a wake up call for a team that was and remains the favorite to win the national championship. And if this team can take home a second consecutive title, this Regional will be fondly looked back at as the wake up call that led to it.