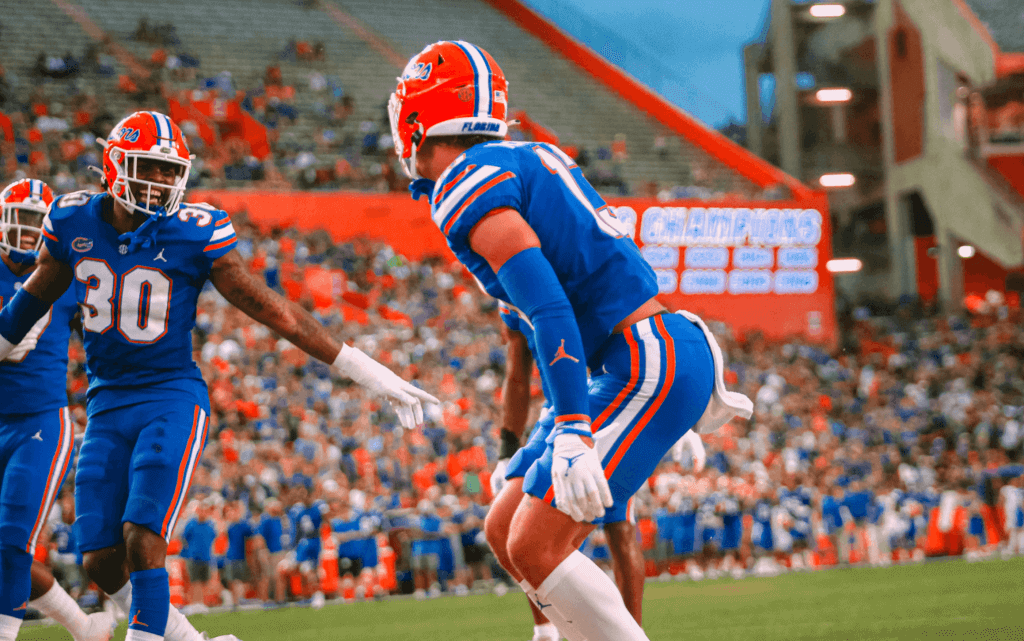 The Florida Gators held their annual (yet first since 2019) Orange and Blue spring game on Thursday night in front of a crowd of approximately 45,000 fans. After rewatching the game a second time, five winners in particular distinguished themselves from the pack.
1) K Adam Mihalek
Yes, that's right, I'm putting a kicker first. (For further explanation as to why, maybe this link will jog your memory.)
Tongue-in-cheek-ness aside, Florida was, as plain and simple as plain and simple can be, BAD in the kicking game last season. Kicking woes directly led to their demise against both Alabama and Kentucky- win those two games to start 5-0 and who knows how the season turns out- and speaking more generally, neither Jace Christmann nor Chris Howard could ever establish themselves as a reliable option at kicker. And sure, a spring game doesn't exactly prove reliability in clutch situations either.
But Mihalek was absolutely fantastic on Thursday, stirring up buzz of a real kicking competition this fall with fellow newcomer Trey Smack for the kicker role. Mihalek calmly drilled long-range field goals of 48 and 52 yards- the latter tying Eddy Pineiro and Chris Hetland for a spring game record- and connected on all four extra points. For someone who may have been forgotten about by some, Mihalek made sure that won't stay the case.
2) LB Diwun Black
What a life Diwun Black has had so far. The journey Black has had to take to become a Florida Gator featured commitments to three different schools, a redirection to JUCO, a love for Dan Mullen that was quickly overtaken by a love for Florida as a school, and sitting on the bench in 2021 for no apparent reason as he gnashed his teeth waiting for his turn. But now Black is in a leadership role on his defense, and thrived in that role on Thursday.
His stats from the spring game are tricky to evaluate because he was not allowed to make contact with the quarterbacks. If you factor in plays in which he invaded the backfield and had the opposing QB (mostly Jack Miller) dead in his sights but pulled back because he had to, by my unofficial estimation, he would have had two sacks and seven tackles on the evening.
Black is so athletic, and so versatile, that it's understandable for him to be projected as a starter at multiple slots on Florida's defense. But he does appear to be set in at least pencil at middle linebacker for now, and his Orange and Blue spring game performance did nothing to take away from that.
3) CB Jordan Young
The big winner that twitter seemed to come to a consensus on was Jordan Young, who had a hand in six tackles and probably could have had up to four more if he'd been allowed to barrel full steam toward the white jersey-clad quarterbacks. And indeed, in terms of using the Orange and Blue spring game to find new faces that could step up in 2022, Young, a corner who primarily played the STAR role, was as big a winner as you'll find.
Whereas players were obviously not allowed to touch quarterbacks, they were allowed to make as much contact as the game legally allows them to with other players wearing colored jerseys- and boy, did Young do that. The speed he displayed coming downhill and into or near the tackle box to make plays was impressive, and he looked extremely confident and technically sound as he wrapped up and made plays in the open field. He also broke up a fourth down pass in the second half to force a turnover on downs.
Not to point fingers, but there was one play where another defensive back- Kamar Wilcoxson- had JaMarkis Weston in his sights but didn't bring any arms with him in his attempt to tackle him, and just slammed a shoulder into Weston after he caught a simple slant; Weston casually bounced off him for a touchdown. Now compare that to the play of Young. They're not the same position- Wilcoxson is a safety and Young is a corner- but Young will undoubtedly look leaps and bounds better to Patrick Toney when he's rewatching the film of the game to figure out who should start summer ball at the STAR position.
4) TE Noah Keeter
Keon Zipperer is thought to be Florida's TE1, and Dante Zanders drew all kinds of praise for making the move from defense to the tight end position. And both did just fine in the Gators' Orange and Blue spring game. But it was another converted tight end, Noah Keeter, who stole the show there.
Keeter reeled in three passes for 53 yards and a touchdown on Thursday night. He's not a Kyle Pitts type of guy in terms of speed, but his route running and hands were more than good enough to carve up the Gators' first team defense on a 29 yard reception down the right sideline, a 6 yard touchdown pass right over the middle, and an 18 yard grab down the middle.
The former outside linebacker for Florida also looked good as a blocker throughout the course of the evening. Where exactly Keeter will fit into Florida's offense has yet to be determined. All of a sudden, after the opposite was accepted as the truth, Florida has real options to go to at tight end. But Keeter made a real case for himself on Thursday night.
5) QB Anthony Richardson
Last but not least, we come to the Gators' starting quarterback, Anthony Richardson. Richardson had all the eyeballs glaring down on him, and though he didn't do anything particularly special- in part because he wasn't supposed to- he provided enough highlights on Thursday to validate his position atop the depth chart. Richardson's stat line was right in the range it was supposed to be in.
He finished the night 18-24 with 204 passing yards and a pair of touchdowns, and although- again- the QBs were not allowed to be hit, he did peel off a couple of solid runs that would have been fruitful endeavors in real games in which he would be fair game for contact. The one play that especially raised some question marks was his short touchdown run, in which Trey Dean had a chance to make a tackle, but did not attempt to for obvious reasons. (Feel free to debate amongst yourself whether or not Richardson would have beaten him to the goal line.)
Beyond the mere stats, Richardson looked the part of a starting QB, too. The mechanics looked mostly good. He didn't make any mistakes, which was nice to see after struggling a bit with that both in 2021 and early on this spring. He made a couple of nice throws on the run, too, which is something he's going to need to do consistently moving forward. I'm sure that the summer practices will see more of the playbook get rolled out to him, and that will be an additional challenge, but Richardson's play on Thursday did zero to dissuade anybody from thinking that he's the clear cut starter.