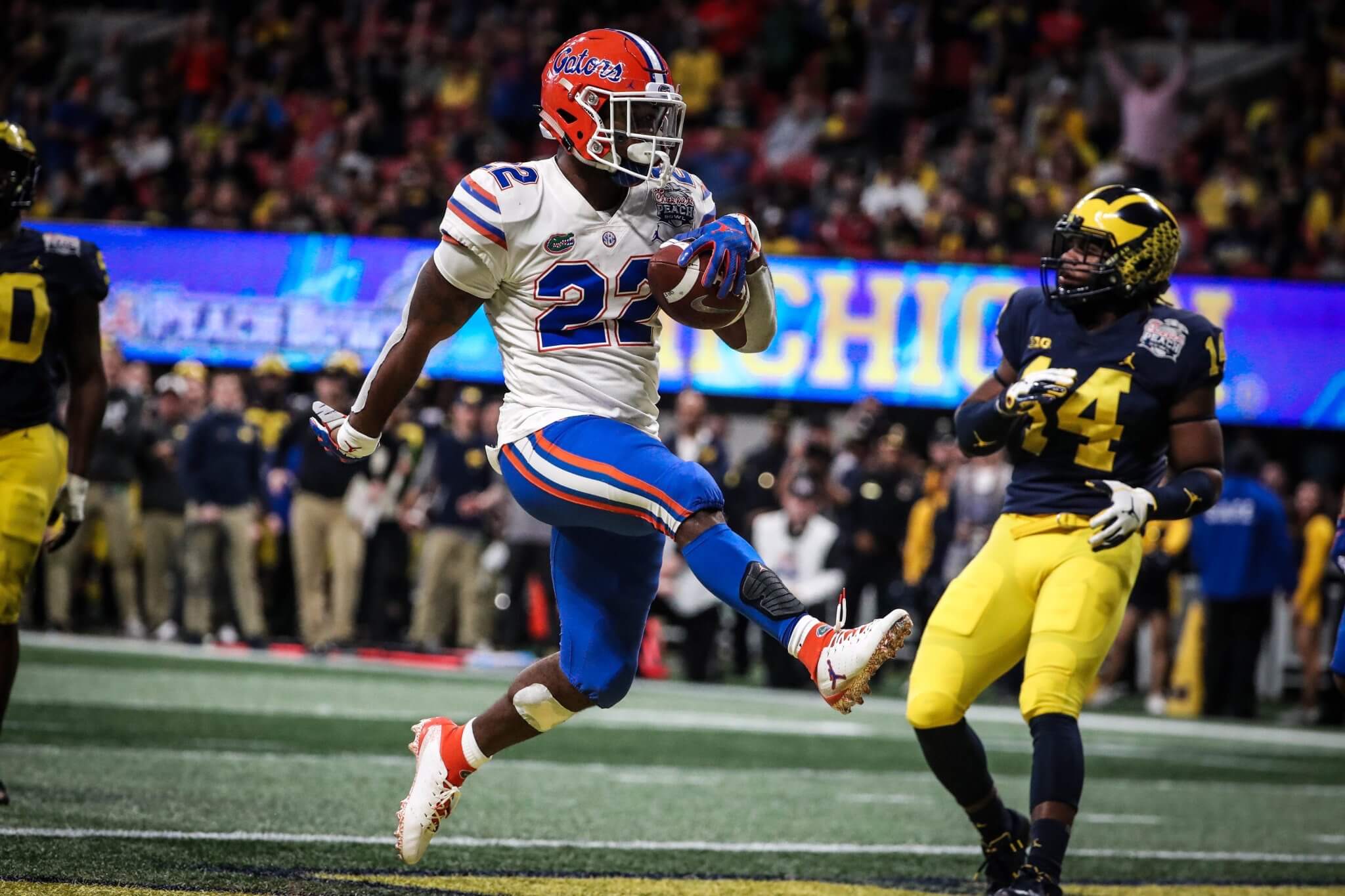 2018 has been anything but normal for the Gators, for both better and worse.
With a stunning blowout loss to Missouri, a rare win in Dan Mullen's former stomping ground of Starkville, the first loss in 32 years to Kentucky, and the first win over FSU in six years balancing each other out, the Gators managed to navigate their way to the New Year's Six for the first time since its inception in 2014. On that new stage, Florida capped its season by delivering one more unfamiliar result- a win over Michigan.
Chauncey Gardner-Johnson picked off two passes (one of which he took the house), Jordan Scarlett and LaMical Perine each ran for a score, and Florida finally broke through against Michigan in its fifth try with a 41-15 blowout in the Peach Bowl. The win puts Florida at 24-21 in postseason bowl games, and makes Dan Mullen the first coach in school history to win ten games and a bowl game in his first season. More importantly, the win completes an amazing turnaround from a year ago. Florida's leap from four wins a year ago to ten this year is the greatest one year improvement since 1979-1980.
As for Michigan, the loss completes an absolutely devastating and stunning late season swoon. The Wolverines entered the final week of the regular season ranked #4, only needing to beat Ohio State to clinch the Big Ten East; had they then beaten Northwestern to win the conference, they would have booked a trip to their first College Football Playoff. Instead, Michigan suffered a 62-39 loss to the Buckeyes to drop them down to an at-large selection for the New Year's Six, where they suffered an even more lopsided loss to Florida.
As it did a year ago against the Wolverines, the Gators scored first with a field goal. Feleipe Franks never saw an open Kadarius Toney on a second and goal from the three, so the Gators had to settle for three. Michigan would come right back with a touchdown pass from Shea Patterson to Donovan Peoples-Jones, who got Trey Dean turned around the wrong way on his route, for a 7-3 lead. The two teams would trade field goals, making it 10-6 Michigan late in the first half.
And then Florida decided it was tired of losing to Michigan, and began raining touchdowns upon the stunned Wolverines.
Franks began the barrage with a 20 yard touchdown run on a designed draw, barreling through a pair of trailing Michigan defenders before extending the ball beyond the goal line to give Florida a lead it would not relinquish with 2:41 remaining in the half. Michigan was forced to settle for a field goal attempt on its next drive- which Jake Moody hooked left to leave the score at 13-10 going into halftime. 
From there, the pendulum of momentum broke off and swung all the way toward Florida. Patterson came out in the second half and promptly drove the Wolverines into Florida territory, but then made the critical mistake of floating one into double coverage. Gardner-Johnson glided over and easily snatched it out of the air near the goal line before taking it 53 yards down the right sideline to set Florida up in Michigan territory. Mullen dialed up a jet sweep to Kadarius Toney that gained 30 yards to put the Gators at the shadow of the goal line before Franks hit Perine on the slip screen to make it 20-10 Florida. That marked the first double digit lead Florida ever had over Michigan, in the second half of the fifth all time meeting.
And Florida would extend its largest lead ever over Michigan with a fatal flurry of big plays. Scarlett busted off a 30 yard run inside the five on the next drive- a drive that he finished off three plays later by waltzing in on an option pitch. Perine would follow that by shredding the Michigan defense for a 53 yard touchdown run on a third and 20, and Gardner-Johnson would unplug the Wolverines' breathing tube with a 30 yard pick six off the deflection from Kyree Campbell's arm. Michigan, for its part, could only manage another field goal from Moody and a blocked punt out the back of the end zone for a safety. That all added up to 41-15, and a major celebration in Atlanta for the 45,000 or so Gator fans who had made the trip up for the game, and gotten a great deal of enjoyment out of it.
One person who clearly did not enjoy the game was Jim Harbaugh. The notoriously petulant Michigan coach left the field in a huff, refusing to shake Dan Mullen's hand when the drubbing was complete.
No matter. Mullen knew what he'd done.
Looking forward, Florida has a few questions to answer. The Gators will have to replace at least three and possibly four of their five offensive linemen depending on the decision of Jawaan Taylor. Florida will also have to figure out who the best fit at quarterback is between Feleipe Franks and Emory Jones, a reality that was absolute ridiculous to predict as recently as early November.
But the one question Florida has already answered, and quite emphatically so, is that they're back as a contender on the national scale. Winning ten games, reclaiming dominance in the state of Florida, reaching and then winning a New Year's Six Bowl, and finishing ranked in the top ten in every major poll, is considered a successful season by any objective measure for any program not named Alabama or Clemson. It's not the top of the mountain, but it's as close to it as Florida has finished a season since Tim Tebow's final season in 2009.
By any way you want to look at it, Florida is truly back among the nation's elite. Now the goal becomes staying there- and taking that final step from elite to the best.