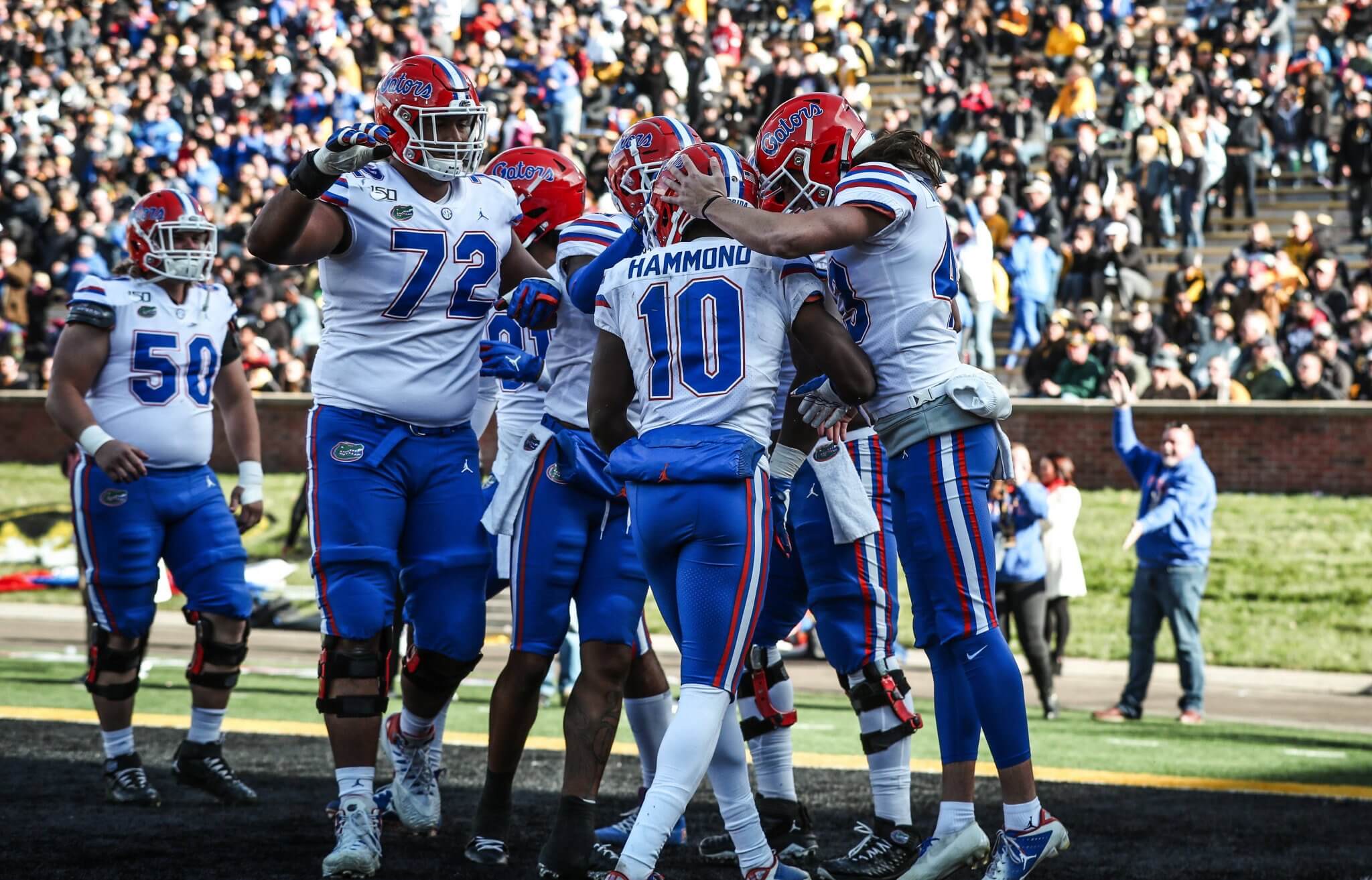 On a bittersweet day in the chilly Show-Me State, the Gators at least proved one thing: no longer would the Missouri Tigers stand in their way.
Kyle Trask shook off a gruesome first half to throw two third quarter touchdown passes, Jonathan Greenard recorded two sacks and six tackles and Florida handled its business over Missouri, 23-6. The win snaps an ugly two game losing streak to the Tigers, and evens the head to head record at four apiece since Mizzou joined the SEC in 2012. Better yet, Florida is now one win away from its second straight double digit win season, something that hasn't been done since 2008-2009.
The day wasn't all positive, to be sure. A few hours after Florida had finished off its victory, the Gators' worst fears were realized. Georgia beat Auburn, 21-14, meaning that Florida's awful performance in the World's Largest Outdoor Cocktail Party did indeed cost the Gators a trip to Atlanta. Instead, Georgia will go for the third straight time.
But nevertheless, Dan Mullen's team did display an encouraging sign that was absent last year. Florida beat an inferior team that has historically been quite pesky to deal with despite not playing anywhere near its best.
Again operating without the slightest hint of a running game, Florida took the opening kickoff and Air Raided its way into Missouri territory before a sack killed the drive. Evan McPherson then kicked a field goal to put Florida up 3-0, and thus began a four quarter defensive battle.
Each team punted on their next three possessions before Missouri finally found some offense. Tiger QB Kelly Bryant (who you may remember transferred from Clemson) lofted a rainbow that Jalen Knox hauled in for a 44 yard gain to set Mizzou up just outside the Gators' red zone. But Greenard then blew up Dawson Downing for a seven yard loss to force a game tying field goal attempt by Tucker McCann- which banged off the upright and through to knot the game at three.
Florida would respond with a field goal of its own. Kyle Trask hit Trevon Grimes for back to back big plays of 17 and 41 yards before the drive stalled; McPherson then returned Florida's lead to three with a 39 yard field goal that split the uprights.
The Gators finally found the end zone on their first drive of the third quarter, albeit with some help. On a second and twelve, Trask found Van Jefferson for thirteen yards and a first down. After the play, Missouri's Tre Williams was flagged for a personal foul, moving the ball down to the Tigers' 34 yard line. Trask took advantage of the gift, lobbing a bomb for Josh Hammond in the front corner of the end zone that he tracked down and secured for a touchdown, and with the ensuing extra point, Florida had a 13-3 lead.
Missouri would cut the deficit back down to one score with another field goal, but the Gators would quickly reply back with a knockout blow. Almost exclusively through the air, Trask led Florida down the field, completing seven of eight passes on the drive to five different receivers. He capped it by finding Perine on a wheel route into the back corner of the end zone, who fought off a defender and managed to tap his foot down inbounds for the reception and the score to make it 20-6 late in the third quarter. For good measure, the Gators forced Missouri to punt once again and then tacked on a field goal for the final 23-6 margin.
Now, Florida sits at 9-2, ranked #10 in both the AP Poll and the Coaches' Poll, and still with quite a lot to play for.
A national championship and an SEC Championship are off the table, but the Gators can win the Florida Cup and claim the state championship next Saturday night with a win over FSU. Florida would also book passage to a second straight New Year's Six game with that win, which would be ten on the year to match 2018, and winning that New Year's Six Bowl- likely the Cotton Bowl- would be a clear improvement from last year with that eleventh win. And pending results elsewhere over the next few weeks and in bowl season, Florida could wind up with its first top five finish in the AP and USA Today Polls since 2009.
Surely, Florida had bigger aspirations than that at the beginning of the season, and that loss to Georgia won't stop stinging until next season gets underway. But, big picture: with a team that is far from his own, Mullen has now shown signs clear progression from the preceding season in each of his first two years.
And now with the first of two hurdles that stand between his team and that clear progression being reflected at the end of the season being a down FSU team that's already fired its coach and playing for nothing but pride, it's a fairly safe bet that at absolute worst, Florida will match its wildly successful 2018 campaign, and prove that it was no fluke.