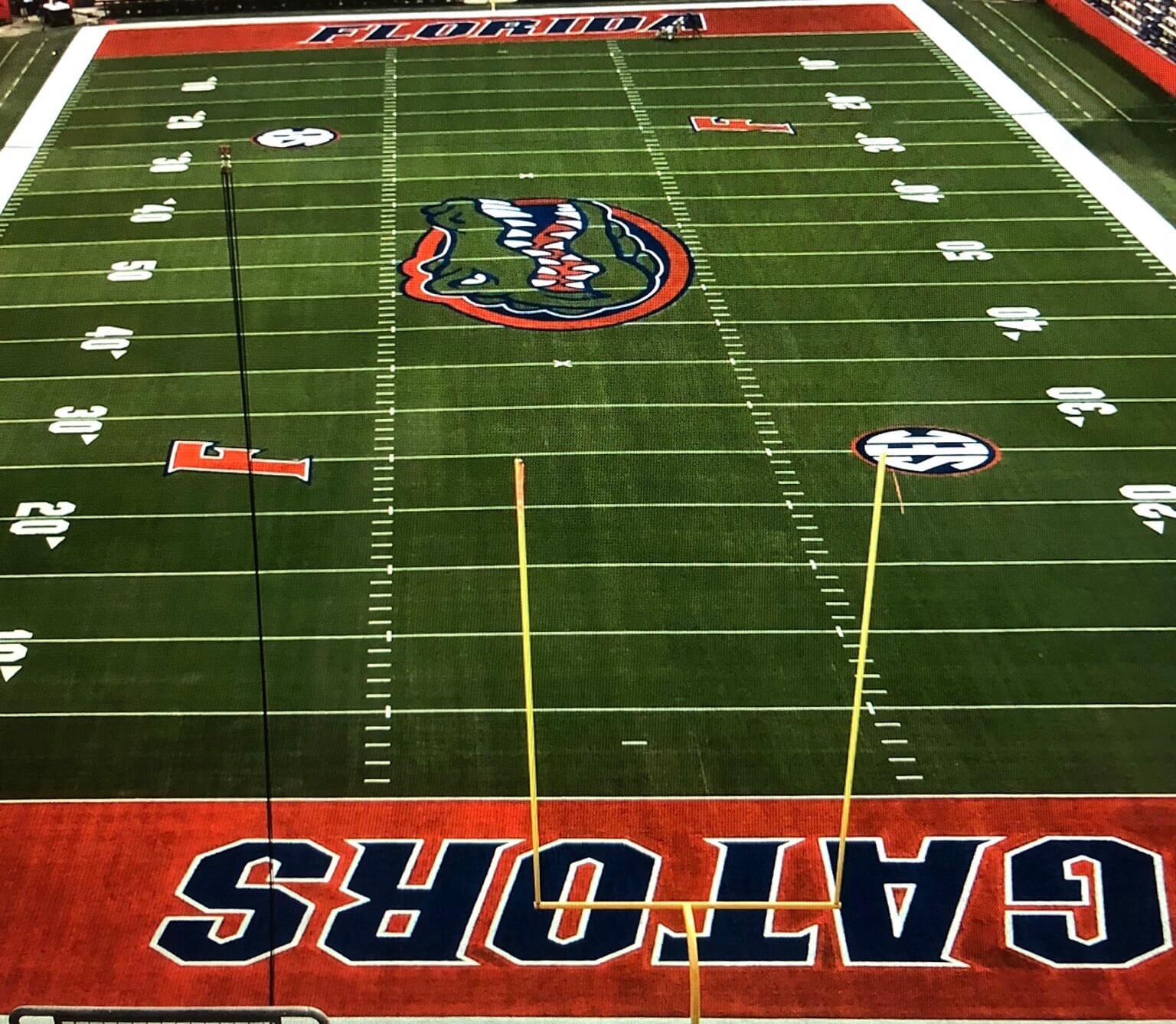 Florida Field is going with a new look to welcome back the old folks home.
Last night, Florida announced that it was going with its oldest, and trademark, uniform combination of orange helmets, blue tops and white pants for tomorrow's homecoming game against Missouri. What UF didn't announce was that the field on which the game will be played was getting a rare makeover- its first since 2012 when Florida removed the block F as its midfield logo and replaced it with the Gator head.
Florida has painted the backgrounds of the end zones in the Swamp solid orange. Yes, solid orange. The "Florida" and "Gators" wordmarks in their respective end zones remain untouched, with blue font and white outlines.
Twitter user Thomas, aka NWF, aka @NaturalWorks_, got a picture of the stadium last night and broke the news. And Florida AD Scott Stricklin seemed to confirm this was not an illusion or photoshop job:
— Scott Stricklin (@ScottStricklin) November 2, 2018
While the uniform combo is a direct nod to the past- which is what homecoming is all about- the same can't be said about the orange end zones. Florida has actually had orange end zones before, but only very briefly and the seasons in which they did (1988-1989) were not exactly remembered fondly. It's not like there's a rich history of success with orange end zones the way there is with the classic jersey combo.
That said, Dan Mullen does have a history of filling in the backgrounds of his end zones with maroon at Mississippi State mid season when a big game rolled around. So maybe that's his thing.
Tradition or innovation, though, I'm a huge fan of this move. No, I'm the first to tell you that this isn't the most important thing about the Gator football program, but I've always been perturbed by how Florida's end zones have been non-colored, i.e. left green, for just about its entire history, while fellow traditional powerhouses Alabama, Oklahoma, Texas, Ohio State, LSU, FSU, USC and most recently Michigan have their end zones painted in solid with their primary color(s). Your home field is your territory. Mark it as such to the largest extent you possibly can.
Now it's up to the team to play in a manner that reflects that.