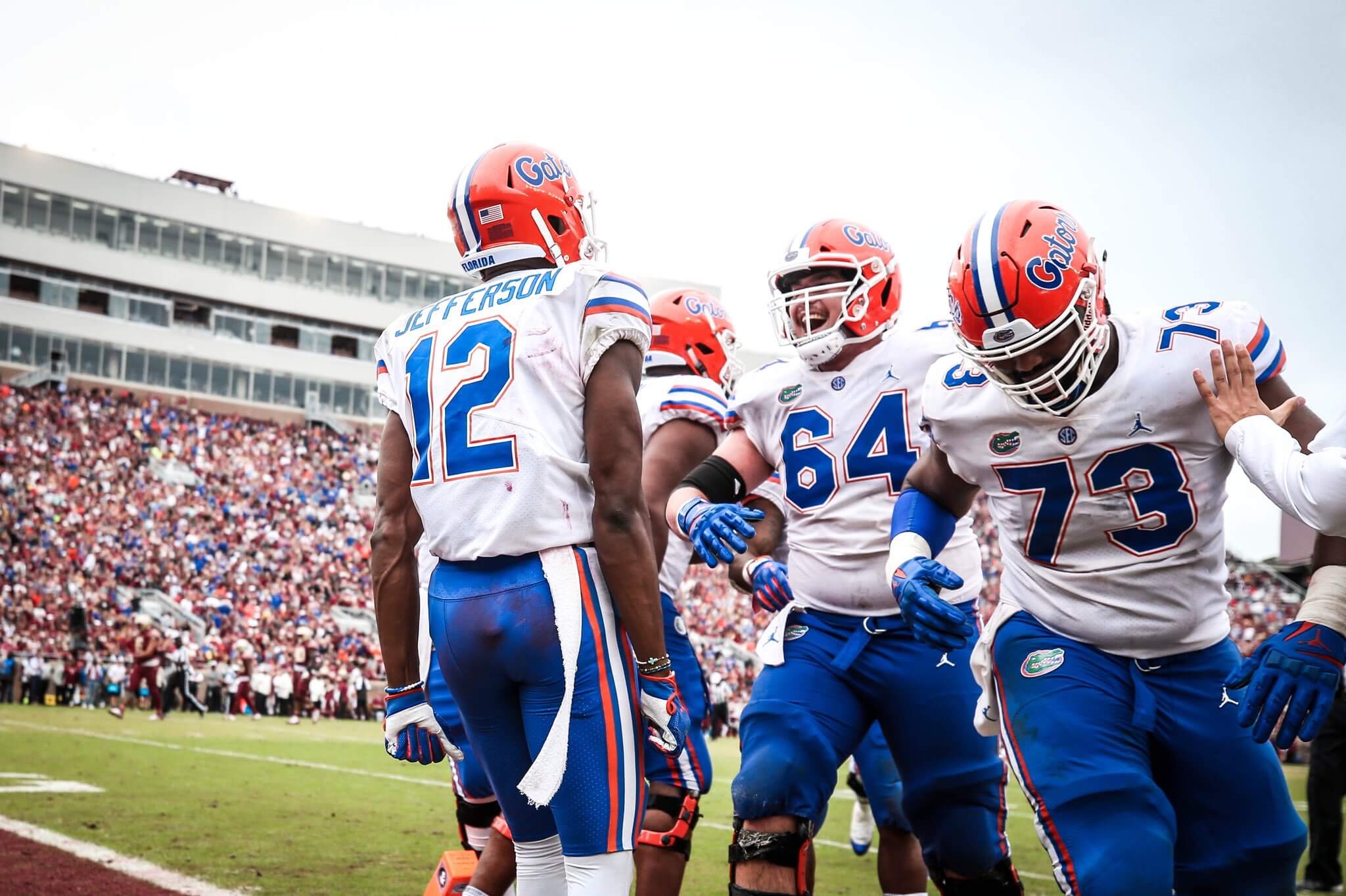 Maybe watching FSU hoist up a severed Gator head after the last five games served as a little extra motivation for Dan Mullen's Gators. Maybe Florida just wanted to reach a New Year's Six Bowl. Or maybe Florida saw a rare opportunity to turn all kinds of FSU bragging rights into memories in one performance.
Whatever the motivation, it worked.
Thanks in part to 536 yards of offense, ten FSU penalties- one of which wiped out a 70 yard touchdown catch and run from Cam Akers- and an opportunistic defense, Florida ended a half decade of misery with an emphatic 41-14 chomping of the Noles in Tallahassee. The 27 point bludgeoning the Gators delivered also snapped FSU's streaks of 41 consecutive winning seasons and 36 straight seasons of participating in a bowl.
Florida scored first on this day on an Evan McPherson field goal on the final play of a first quarter that was played mostly in FSU's own end of the field. The Gators got turned away on a fourth and two inside the FSU ten yard line, but the failure to convert kept the Seminoles pinned on the shadow of its own goal line, and the Noles couldn't generate the offense needed to move away from this precarious position. The game appeared to reach an early breaking point when LaMical Perine suddenly broke off a 74 yard touchdown run to make the score 10-0.
HE'S GONE!!!@LP_deucedeuce busts off a 74 yard touchdown run and it's 10-0 #Gators! pic.twitter.com/FHgxHixipf

— InAllKindsOfWeather.com (@AllKindsWeather) November 24, 2018
Florida would find itself right back in the red zone mere minutes later, but would again have to settle for a field goal. And when Deondre Francois hit Cam Akers over the middle for a touchdown that sliced the lead down to 13-7 at halftime.
Little went right for the Noles after that, though.
Florida came out of the locker room and marched right down the field for a 12 play, 75 yard drive that featured some strong running behind impressive push from the offensive line and was capped by a simple three yard toss from Feleipe Franks to Josh Hammond. The drive was aided by an unbelievably stupid personal foul penalty from FSU cornerback Stanford Samuel III (even announcer Dave Pasch labeled it as such) after a third down run by Jordan Scarlett that came up well short of the line to gain. Samuel threw a punch at receiver Josh Hammond about four feet from an official, which gave Florida the automatic first down. Two plays later, Franks found Hammond for the score and a 20-7 lead.
Instead of stopping the bleeding, FSU simply sliced its own gash open wider. Two possessions later, Francois was strip sacked by Jachai Polite, and Cece Jefferson fell on the ball at the Noles' 22. On the very next play, Franks bought some time, rolled out, and fired a laser to Trevon Grimes in the end zone to increase the score to 27-7 late in the third.
There was the faintest, slightest glimmer of worry that arose when Florida's defense suspiciously took the next drive off and allowed the Noles to gouge them for a seven play, 75 yard touchdown drive that Francois finished off by running it in himself. But Franks then administered the dagger- or the spear- by hitting a wide open Van Jefferson on the first play of the fourth quarter for a 38 yard score to immediately return the margin to 20. For good measure, and with the past five years well in mind, the Gators added one more score, a nine yard run for Jordan Scarlett to make the score 41-14.
And the party was on.
CHOMP CHOMP!@ScarlettFever25 says bye bye to FSU's bowl streak! pic.twitter.com/jqEQE0noCk

— InAllKindsOfWeather.com (@AllKindsWeather) November 24, 2018
Scarlett rode lineman Fred Johnson like a pony back to the sideline and waved goodbye to the few Seminole fans who remained. Jachai Polite had some fun yawning at the cameras and telling FSU fans to go to sleep. And when it was all over, several players made sure to enjoy what they had just done by mockingly doing the War Chant and the Tomahawk Chop, making snow angels in the end zone and ripping up the end zone's famed garnet paint.
The only hiccup in the celebration was when Chauncey Gardner-Johnson attempted to plant the Gator flag on the Seminoles' midfield logo and was stopped by none other than Dan Mullen, who broke up what could have possibly been a postgame melee by telling him to knock it off. But that didn't stop Gardner-Johnson's fun. He promptly ran the Gator flag into the end zone and planted it there before cutting off the Seminole head and parading around the field with it.
Chauncey Gardner Johnson (@CGJXXIII) CUTS OFF THE SEMINOLE HEAD 😂😂😂 pic.twitter.com/MWqy2qaJRL

— InAllKindsOfWeather.com (@AllKindsWeather) November 24, 2018
Florida isn't without its flaws, to be sure. Florida's defense was fine, for the most part, but it took droves off again and got run over by the Noles' up tempo offense. To boot, the Gators' play calling inside the red zone was questionable to say the least, and getting turned away inside the red zone twice in the first half simply won't win many of the types of games Florida needs to win in order to truly become an elite team.
But at least Florida isn't where FSU is. The Seminole program appears gutted by a penchant for self destruction that cost them their streaks of consecutive winning seasons and seasons with a bowl appearance, and could set them back a few more years if it doesn't get fixed quickly. The Noles also got absolutely manhandled on both sides of the line of scrimmage, a drastic 180° turn from what happened in the trenches last year. And it's clear that by every objective measure, the Gators aren't just better than they were last year, but that they're exponentially so. A New Years Six Bowl is all but a certainty now, and if Florida wins it, they will have officially taken the first step toward its ultimate goal of winning a national championship.
And in Year One for Dan Mullen in what many coined a rebuilding job, that's more than we could have ever dreamed of.