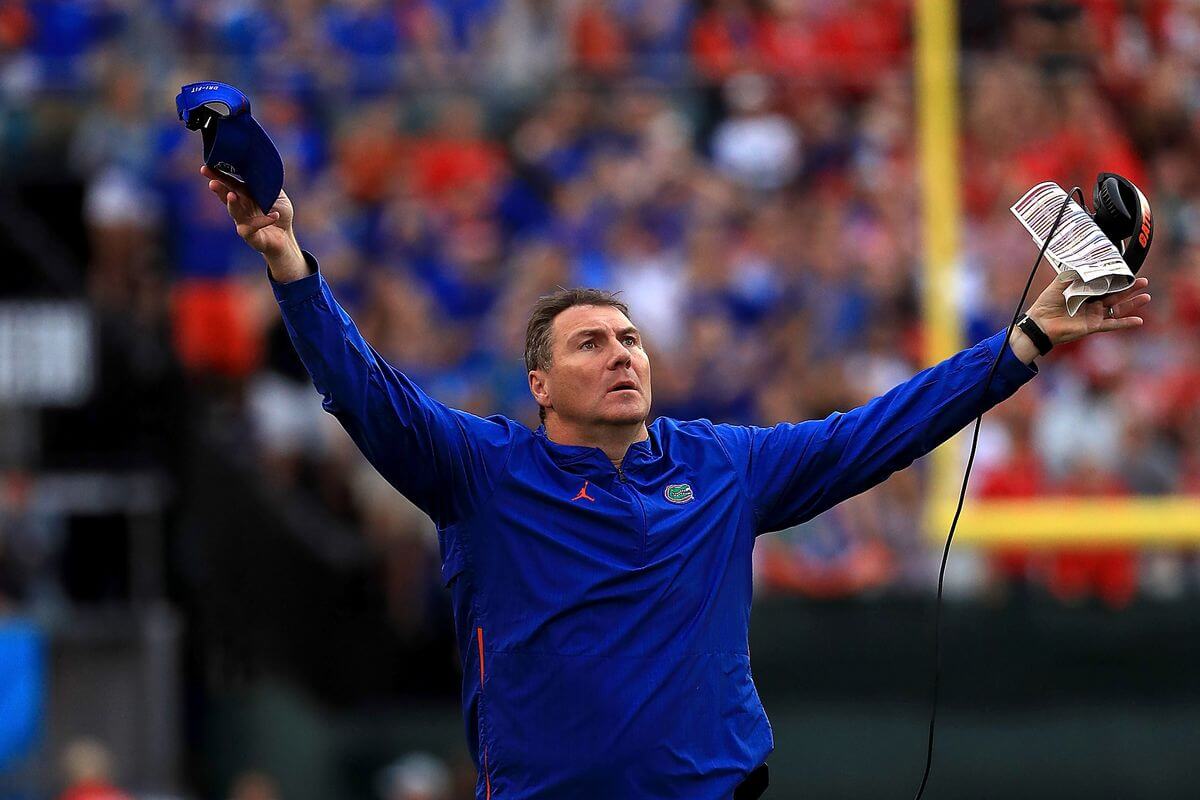 I'll begin with a quick disclaimer: no, the title and thesis of this article are not motivated by the idea that the next game is always the biggest game for a player or a team. The gravity of this game is caused by several other, deeper factors.
And when you add it all up, it's plain to see that Dan Mullen has never served as a head coach for a game of the magnitude of this year's Florida-Georgia game.
Before we look forward, we must look back. The World's Largest Cocktail Party has a long, fabled history that's way, way, way too deep to go into here (to learn more, check out the history lesson I wrote on the rivalry), but for now, just know that since the rivalry's birth in 1915, the two combatants have taken turns joyfully battering each other around for two decades at a time. Georgia started it off with a 23-5-1 run in the series, Florida responded with a 13-5-1 spurt in the 1950's and 60's, Georgia came back with a 15-4 stretch (mostly under Vince Dooley), and the Head Ball Coach teamed up with Ron Zook and Urban Meyer to tally up an astonishing 18-3 record over Georgia between 1990-2010.
However, in 2011, the series may have veered off course. Beginning with Georgia in 2011, each team orchestrated a three game winning streak, and now the Bulldogs are a win away from another one. Or maybe this is all part of the rivalry's weirdness, as the pattern does suggest that 2011-2030 or so is Georgia's turn to own the series, and the Bulldogs have gone 5-3 in Jacksonville since Meyer's departure. It's not exactly the level of 20 year domination that this rivalry is used to, but it's definitely a break from the pattern that Florida created in the 1990's and 2000's. And there's no debating the demonstrable gap between the programs over the last two seasons. So part of Mullen's challenge is to buck the historical trend and create a new path with which to take this rivalry down.
When you look beyond the mere streaks and runs of dominance, though, you can unearth a deeper reason for them. Of course, this rivalry has seen its fair share of upsets, but for the most part the results were indicative of where the programs stood in those respective time periods. For example, Florida was certainly not the better team in its 1992, 2002 or 2003 wins in Jacksonville, and yet they certainly were the better program throughout the twenty year period in which those games occurred. And as of right now, Georgia has had the superior program since 2011.
Now, in his second year, Mullen has had time to start rebuilding the program in his image. He's begun to get some of his handpicked players into the program, he's pretty much weeded out the "problem" guys from the previous regime and his ultimate recruiting pitch- winning games- has garnered attention around the country. Taking back the state, guiding his team to a New Year's Six Bowl game, winning that game in dominant fashion over a Michigan program that had beaten Florida like a drum not once but twice in the prior three years all helped him get the Gators back off the ground. And that's all been great. Mullen gets an A+ for the job he's done so far, as the turnaround from 4-7 and an unprecedented amount of internal dysfunction to 10-3 and then 7-1 on a team that believes in itself is not something that many coaches could pull off.
But while the old adage "focus on you and not others" certainly holds weight when discussing a college football program, at some point there comes a time where what the other guy is doing matters just as much. And I'm not talking about obvious things like in-game personnel packages, play-calling or even recruiting. I'm talking about the large-scale fact that at a point in time not too far away from right now, Dan Mullen's program is going to be measured by whether or not it's the best in the SEC East, because that's a tangible, measurable and clear achievement that is a prerequisite for accomplishing pretty much anything else. Or to put that another way, Florida is a win in Jacksonville away from unlocking the door to the biggest prizes in the game.
Mullen has never had such an opportunity in his head coaching career. Though he did take Mississippi State as far as that program could go, it doesn't come close to how far he can go when at the controls of the right program. And yes, he had big games at Florida last year, but each of those games were opportunities to solidify the program's status as a solid one. Even the buildup to last year's Cocktail Party felt like more of a chance to re-prove that Florida was on its way back to the top as the game felt like a true uphill battle, whereas this year's iteration of the showdown feels like- and is- a legitimate opportunity for the Gators to launch themselves into the College Football Playoff conversation.
Working in Mullen's favor will be the fact that Georgia is clearly not the same team it was two years ago. Quarterback Jake Fromm has been fine, but he certainly hasn't grown into the difference maker many Georgia fans thought he would be after his freshman year. The Bulldogs don't have nearly the array of weapons to go throw the ball to, and though their running game is still unmistakably very, very good with D'Andre Swift leading the way, it's also not as stockpiled from top to bottom as it has been in recent years. And while their defense has been strong so far (sixth in the nation in yards allowed per game) it hasn't been tested yet; the strongest offense they've faced so far was Notre Dame (62nd best in FBS).
Also working to Mullen's advantage: his team should be fully healthy for this game. Florida has sorely missed defensive terrors Jabari Zuniga and Jonathan Greenard these last few weeks, as well as offensive playmaker Kadarius Toney. All three will be back on Saturday. That means that for the first time since Florida hosted UT-Martin on September 8th, the Gators should be fully healthy.
So, not that he ever looks for them, because he doesn't, but there are no excuses this year for Dan Mullen and his Florida team in Jacksonville. The Gators are as healthy as you can ever ask a football team to be two months into the season, and the Bulldogs are as weak as they've been since 2016. A loss by Florida wouldn't be the end of the world or even the season by any means, but it would be a hint that maybe the Gators are still a year or two away from getting back to where they really want to be. A win, however, and the previous accomplishments of the 2019 team are validated with a pattern of statements that the country cannot ignore- and Florida takes that critical step from a very good team to one of the nation's elite.
This is a showdown between two programs at seemingly equal heights. One team has fallen down a little over the last two years, and the other team has risen astronomically in those two years in order for their altitudes to match. This game on Saturday will determine which one can climb higher by the end of this year. And if it's Florida, Mullen will be rewarded by coaching his team in even bigger games.
Which, really, is the ultimate sign that your program is elite. Because the more games you win, the more frequently you can accurately state that the next game is the biggest one yet.