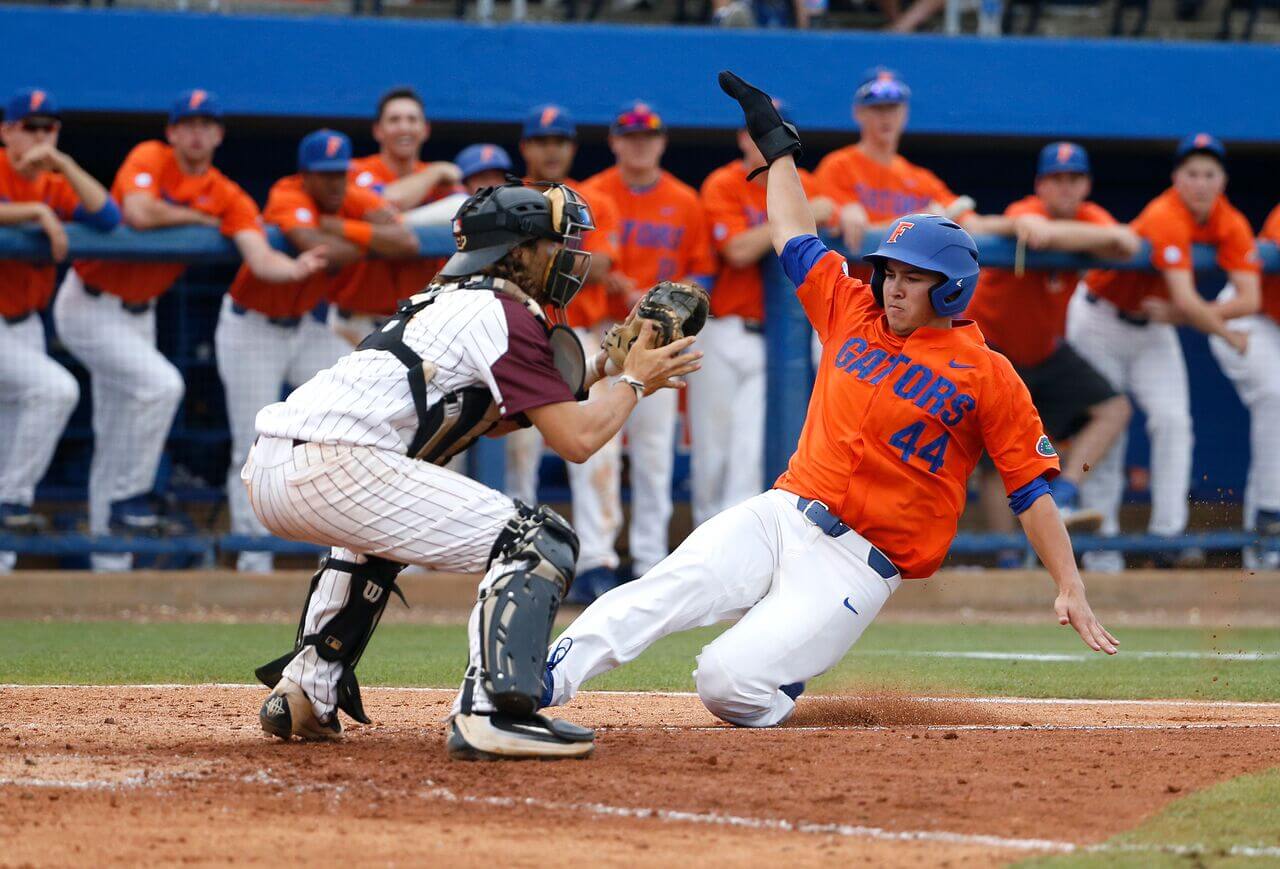 Those who live in Alachua County shouldn't be too alarmed by the increasing winds they heard last night. It was probably just the collective sigh of relief that came from the Gator baseball team after staving off what would have been the most embarrassing loss in school history.
And as a byproduct, advancing to the Super Regionals for the seventh time in the last nine years.
Florida shook off a slow start to pound Bethune Cookman 6-1 in the Gainesville Regional Final and keep their season alive. BCU had forced the decisive winner-take-all final by coming out of the loser's bracket in the Regional, defeating South Florida and then Florida in an 11 hour span on Sunday. The Wildcats had already made school history by getting the #3 seed in the Regional, made more history by making it to the Final, made still more history by beating Florida for the first time ever, and were looking to make more by advancing to their first ever Super Regional.
It didn't happen.
Austin Langworthy blasted a three run homer in the sixth inning to break a scoreless tie, and an inning later Dalton Guthrie delivered an RBI single. Langworthy's shot proved to be the direct cost of a grave BCU mistake, as the Wildcats' first baseman dropped a popup from Mike Rivera. But the Gators didn't stop there, as Nick Horvath's sac fly in the eighth and Nelson Maldonado's RBI single in the ninth gave the Gators six runs on the day.
As it turned out, that was more than enough.
Without a true starting pitcher to turn to (which is what happens when you play four games in four days), Kevin O'Sullivan was forced to turn to a pitcher by committee approach. Florida used three relief pitchers on the day who combined to allow one run on seven hits, and never allowing BCU to get a rally going. Kirby McMullen started the game and went 2.2 innings before turning things over to Langworthy, who held the Wildcats to just two hits and one run in four innings. Closer Michael Byrne then finished the game off with a 2.1 inning save.
So, back to the Super Regionals go the Gators, this time for a date with the Demon Deacons of Wake Forest. The Gators know they flirted with disaster against Bethune Cookman, but maybe it provided them with the experience and adversity that they need to win a national championship.
And given the program's inability to win a national championship to date, it's worth keeping in mind and not discounting it as the ingredient they've been missing all these years.