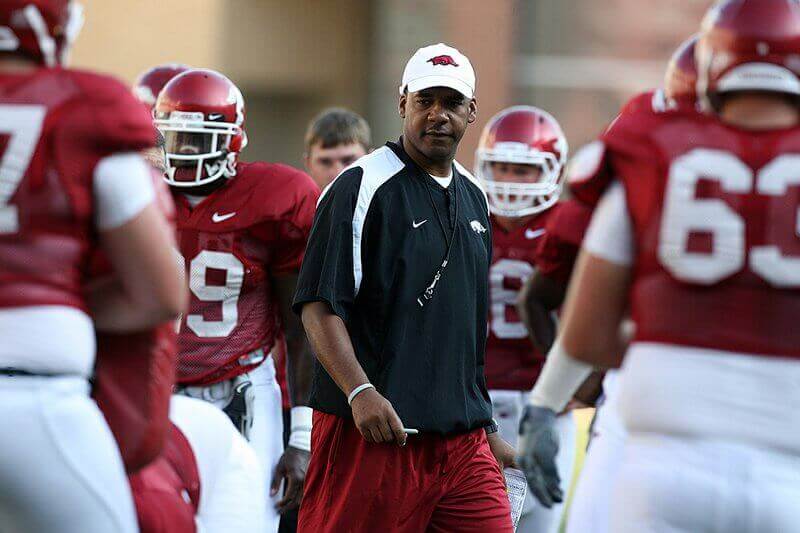 The virtual equivalent of a collective groan went up within the Florida fan base when Garrick McGee was announced as the Gators' new quarterbacks coach. And on the surface, that does seem like an appropriate reaction.
Many fans, admittedly including myself, were hoping that Dan Mullen would fill that slot with a big name- either someone with a known talent for developing quarterbacks or a recruiting ace. Maybe someone like Tom Herman, the now ex-Texas coach who somehow turned Greg Ward into an adequate QB in Houston. Or maybe Mullen could have done what Alabama has developed a tendency of doing and lured in an NFL assistant with a slight raise and a higher title.
Instead, Mullen chose to fill the vacancy left by Brian Johnson with Garrick McGee. And predictably enough, the consensus feeling among fans was disappointment. But just because McGee wasn't the hottest coaching commodity that Mullen could have landed doesn't make it a downright bad hire. Because a deeper look into his history indicates that he just may be the guy to work with Emory Jones.
The first major bullet point on McGee's resume is his time at Northwestern. As the Wildcats' wide receiver coach in 2004, McGee played a major part in Northwestern's offense finishing 33rd in the country with 409.5 yards a game. The following year, he helped guide the Wildcats up to fourth in the FBS with over 500 yards a game and seventh in the FBS with 306.8 passing yards a game. As a reward, he was promoted to offensive coordinator in 2006 under new coach Pat Fitzgerald. The Wildcats struggled offensively in his first year as the OC, but bounced back in 2007 to finish with the 11th best passing attack in the country (307.9 pass YPG).
But McGee's stock really began rising when he departed Northwestern for a job as the quarterbacks coach with Bobby Petrino at Arkansas in 2008. That first year didn't go too well, but then came 2009.
Enter Ryan Mallett, fresh off the slow-boat-to-China-version of the transfer portal that existed back then, and his career took off. Arkansas' offense exploded in 2009 for 295.8 passing yards a game, good for tenth best in the country despite having to face two of the four best defenses in the nation in Alabama (2nd ranked defense and eventual national champion) and Florida (4th ranked defense and eventual Sugar Bowl champion). Along the way, Ryan Mallett developed into one of the most promising quarterbacks in the country heading into 2010. Though Arkansas had struggled as a team thanks to a porous defense, Mallett had lit up the scoreboard with 3,627 yards and 30 touchdown passes in 2009. For perspective, only twice in Gator football history has a Florida QB thrown for more yards in a season, and only five times in Florida's history has a Gator QB thrown more touchdown passes.
Then, in 2010, McGee was promoted from quarterback coach to full time offensive coordinator. And Mallett and the Razorback offense really went hog wild. With McGee in complete command of the offense, Arkansas finished that 2010 season with 482.5 yards per game (ninth best in America) and 333.7 yards per game through the air (fourth best in the country and the best in the SEC in a runaway). Conversely, Mallett finished with 3,869 yards and 32 total touchdowns. In ten of the Hogs' thirteen games, Arkansas scored 31 points or more. The Razorbacks finished the season at 10-2 and lost to Ohio State in the Sugar Bowl- which cost them their first top ten finish since 1982.
When it was all said and done, Mallett had broken sixteen different school records at Arkansas, including: most passing yards in a season (3,627), most consecutive passes without an INT (141), most passing yards in a game (408), most passing touchdowns in a game (5… three separate times), only quarterback to pass for over 400 yards in a game (twice), most 25+ yard completions in a season, and most passing TD in a single season (30). Not bad. Not bad at all.
After 2010, Mallett left for the NFL, and in his place stepped Tyler Wilson, a kid that McGee had handpicked in the recruitment process to be the successor to Mallett. All Wilson did in his first season as a starter in 2011- McGee's second season as the Razorbacks' OC- was come fairly close to matching Mallett's incredible 2010 season, throwing for 3,638 yards and 24 touchdowns. The Razorbacks couldn't match the prior season's offensive numbers, but they did finish with a healthy 438.1 yards per game (29th in the country) and 300.7 pass yards per game (thirteenth in the country). And this time, unlike the previous year, the Hogs were able to win big games, beating four top fifteen teams and capping the season with a victory over Kansas State in the Cotton Bowl to finish with a top five ranking for the first time since 1977.
But McGee's work in Fayetteville was more than just with his quarterbacks. He also helped finish off the recruitment of, and worked with, a trio of ultra-talented receivers as part of one loaded 2008 recruiting class: Gregory Childs, Joe Adams and Jairus Wright. All three of them hauled in over 2,000 receiving yards and 15 touchdowns or more in their careers, and Wright went on to enjoy a long, successful career in the NFL.
In fact, Garrick McGee was so highly thought of that UAB chose to make him their next coach in 2012. That didn't go nearly as well. His Blazers stumbled to a 5-19 record in his two seasons, and that was the end of that.
But then he reunited with Petrino at Louisville the following year, and then revived his coaching stock with perhaps his most notable work of all: true freshman Lamar Jackson at Louisville in 2015. McGee was the Cardinal staffer who initially noticed him as a prospect out of Boynton Beach, and put in a lot of the work to land him on the recruiting trail. Eventually, Jackson committed to Louisville over in-state schools Florida and Miami, as well as Nebraska.
Jackson, though, was a project. The running threat was always there with him, but Jackson struggled mightily as a passer at first. He could make some big throws, but the decision making and the accuracy weren't there. He threw three picks against just 268 yards in his first two games, losses to Auburn and Houston. It got so bad that he was benched the following week against Clemson, and then began splitting reps with Reggie Bonnafan and Kyle Bolin the rest of the year.
But towards the end of the 2015 season, the future Heisman Trophy winner began showing promise. Following Louisville's rivalry week win over Kentucky, McGee began priming Jackson to run the show in the Music City Bowl. Jackson wasn't perfect, but made more than enough throws, dazzled on the ground as usual and earned MVP honors with a grand total of 453 yards and four touchdowns.
Then McGee made what was easily the dumbest decision of his coaching career. Following the 2015 season, he chose to leave Louisville and Lamar Jackson for the opportunity to work with successful former NFL coach Lovie Smith as the offensive coordinator/QB coach at Illinois- the same position he held at Louisville. The next year, Jackson won the Heisman Trophy, while McGee's stock began a sudden nosedive. In 2016, Illinois' offense averaged a meager 315 yards per game, which qualified for sixth worst in the entire FBS. And somehow, 2017 was even worse, as the Illini offense finished fourth worst in the FBS with a paltry 280.4 YPG. It was no coincidence, then, that Illinois went 5-19 in the two seasons with McGee as the OC, and predictably enough, he was then fired.
McGee then rebounded by taking a job as an analyst in 2018 with Missouri, where he helped with the development of quarterback Drew Lock (albeit not nearly in as direct a fashion as he worked with Mallett or Jackson). The following year, he was promoted to wide receivers coach. Following the 2019 season, when Barry Odom was fired, he was not retained, came to Florida as an analyst, and, well, we know the rest.
Now we look forward. And incredibly, McGee has stumbled into a chance at redemption, and the closest real-life example of revisiting a past save-point.
To compare Lamar Jackson to Emory Jones is silly, and unfair to both players, and therefore not something I'm going to indulge in. But one thing they do have in common is where Jones stands right now as a quarterback compared to Jackson at the end of the 2015 season. To these respective junctures, both dual threat quarterbacks were raw, and had previously done things to irritate fans and coaches alike… but they'd also shown enough promise both by air and by ground to be considered the heir apparent to the QB role the following season.
Garrick McGee walked out on Jackson at the exact stage of Jackson's career that Emory Jones is at now, and came to dearly regret it as Jackson blossomed into a star the following season and won the Heisman as he suffered in Champagne. Now he takes a job with a chance to help another promising dual threat quarterback make the leap from promising but inconsistent into a star. Will he turn Jones into a Heisman Trophy winner? I can't say that. The odds are significantly against it as they are with any first time starting QB. But McGee does have the chance to do so now after missing out on such an opportunity in 2016, and that adds another layer of intrigue to his story.
So yes. It's always going to make fans feel better when Florida adds a coach with white-hot stock, a rising star in the profession, the guy that everybody wants. But it's imperative to remember that not too long ago, Garrick McGee was that guy. He was considered one of the top assistants in college football during the 2010-11 seasons, and then again as Lamar Jackson began piecing it all together towards the end of the 2015 season. That was just six years ago. Until they hit the age where maybe their mental capacity is leaving them and they should call it a career, most coaches don't just forget how to perform their duties- and McGee is just 47. Nowhere near that age.
Yes, it may be easy to label the promotion of Garrick McGee from analyst to quarterbacks coach as lazy of Dan Mullen when he could have conducted a national search for Johnson's replacement. But with that role opening up as late in the coaching carousel as it did, Mullen wasn't likely to find too many better candidates than the one he already had on staff, not with all the experience McGee has. And whatever you want to say about Mullen's inability to cut bait with assistants who hold him back- and trust me, I have quite a bit to say about that myself- coaching continuity has played a large role in Mullen's success at both Mississippi State and Florida.
And yes, McGee's two year stint as the OC at Illinois was about as bad of a move for his career as someone in his shoes could have made, and we can't just ignore those two years. But even though it was his most recent role tutoring quarterbacks, it's easy to just acknowledge that it happened, and then acknowledge it as the outlier when you stack it up against his success at Northwestern, Arkansas and then Louisville.
So Garrick McGee may not have been the perfect hire. But this late in the coaching cycle, it might have been the best hire for our quarterbacks coach we could have reasonably asked for.