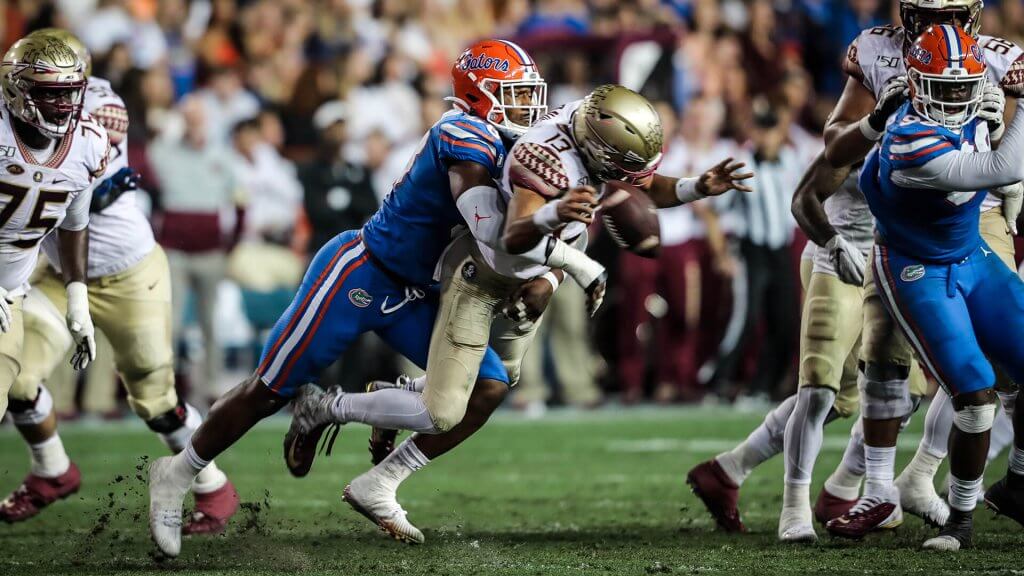 The journey of Jon Greenard will continue in the Lone Star State.
The Houston Texans selected Greenard in the 3rd round, with the 90th overall pick in the 2020 NFL Draft. Greenard becomes the fourth Gator to be taken off the board: CJ Henderson went to Jacksonville 9th overall, Van Jefferson went to Los Angeles with the 57th pick and Jabari Zuniga went to the Jets 79th overall. Greenard also becomes the 353rd Gator draftee all-time, and the 77th since the 2007 Draft.
A Louisville Cardinal for three years who grew up a Florida Gator fan, Greenard transferred to his childhood favorite team for his final season of eligibility and immediately became a terror. Greenard sacked opposing quarterbacks ten times in 2019, blew up six additional plays in the backfield to finish with 16 TFL's, batted away four passes and intercepted a fifth, and forced three fumbles en route to being selected as a first team All-American. He also recovered a fumble against Vanderbilt, and casually strolled 80 yards for a touchdown with it.
Greenard is a natural in the art of rushing the passer, and it starts with his ability to beat the tackle off the snap. He has a great first step, gets around the corner well and excellent closing speed. On top of that, he possesses terrific spin, swim and rip moves and can disengage from prospective blockers instantly. Double teaming him helps, but he's got an inherent nose for the pigskin and simply finds a way to make plays, especially when the game is in the balance.
But Greenard is most deadly because of his instincts and intelligence. Pair them together with his quickness and agility, and he could be sacking quarterbacks well into the 2030's. Greenard can actually line up in a way that positions the tackle to get beat by a specific pass rush move he wants to perform in advance. On rare occasions when Greenard gets stoned, he can sometimes detect it mid-block, quickly reset and deliver a second wave of his attack.
While Greenard's pass rush abilities are off the charts, he's not as dominant against the run, a fact that likely kept him out of the first round. He also projects much better in a 3-4 defense than a 4-3, given how well he flourishes in the hybrid edge/outside linebacker role Todd Grantham had him at. He's not small, but he's also not huge, so he might need help at the next level if opponents target him with downhill running plays. He's a gritty, tough kid, but that only works so well in the NFL.
Still: good pass rushers are like CPAs in that there are never enough of them to satisfy the demand, and Jon Greenard more than fits that bill. He's one of the smartest players Florida has ever had suit up, and when you combine that with his instincts, you have the makeup of an elite NFL edge defender. Greenard earning multiple trips to the Pro Bowl is a real possibility.