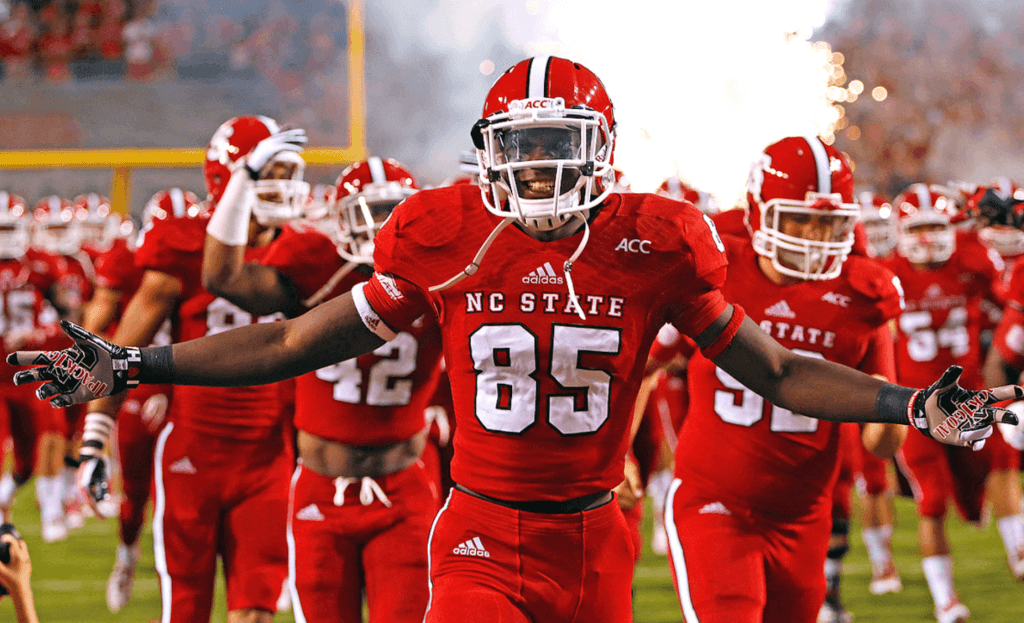 Last year, Scott Stricklin promised to start significantly strengthening Florida's football schedule with respectable opponents. It's fair to say that since issuing that promise, he's more than delivered on it. Over the next dozen years, Florida is slated to revive its dead rivalry with Miami, partake in a blockbuster series with Texas, and do battle with literally a third of the Pac-12 in a rapidly growing array of home and home series with fellow Power Five conference teams.
Today, Florida added another one.
On a date TBD in 2026, Florida will make the short flight up to Raleigh, North Carolina, to take on the NC State Wolfpack. Six years later, in 2032, NC State will return the favor and pay a visit to the Swamp.
The Gators and Wolfpack actually have more of a history with each other than newer fans may think, albeit an ancient one. The schools used to play regularly for a brief stint in the late 1920's and 1930's, reunited for a pair of games immediately after World War II, and then got together for home and homes in both the 1960's and 1970's. The most recent chapter of the series was the 1992 Gator Bowl in Jacksonville; Steve Spurrier's Gators took that meeting convincingly, 27-10.
Florida leads the overall series 9-4-1.
Additionally, I'm told by sources that Florida is currently in a holding pattern with at least two additional fellow Power Five teams regarding potential home and home series. I don't know more than that at the moment, and this next part is purely speculation on my part, but that might have something to do with the six year gap in between meetings (which is extremely rare for home and homes, although not altogether unheard of).
Even if neither one of those works out, though, Stricklin has already sent a strong message. His Gator football program, as Tom Petty says, won't back down from playing anybody moving forward. That's a stark departure from Jeremy Foley prioritizing hosting seven games a year in the Swamp, and it's a change of tactics that I imagine is going to age really, really well.
With the attendance numbers falling off a cliff for so-called "cupcake" opponents over the past few years, Stricklin has realized on top of the fact that hosting seven games in the Swamp a year doesn't really have the desired financial effect if there are 10,000 empty seats for several of them, college football is moving in a direction where this type of scheduling is going to be rewarded. We've already seen the sport expand its championship determination method from two teams to four in the past decade with the introduction of the College Football Playoff. With the allure of again at least doubling the money that would roll in with a playoff field twice as large (to say nothing of the legitimate criticisms of the way the Playoff has operated), it's a matter of if, not when, the CFP will expand to eight teams. When it does, it's going to be virtually impossible for the Committee to find eight undefeated or one loss teams to insert into the field, and when you open up the field to include two or potentially even three loss teams, strength of schedule is going to become an even more heavily weighed factor than it is now.
Teams are going to be crucified in that conference room in Grapevine, Texas for playing a non conference schedule like the one Florida is slated to play in 2020 (Eastern Washington, South Alabama and New Mexico State… although with COVID-19, who knows). Even a schedule like the one the Gators played last year, with the brownie points Florida got for playing both Miami and FSU being negated by facing two FCS teams in the other half of the non conference slate, is likely not going to be received well- especially if those two Power Five teams wind up being under .500 on the year the way the Hurricanes and Seminoles both were.
So Stricklin, who has been in those meeting rooms in Grapevine and seen this happen himself, anticipated potential problems brewing down the road and took immense steps to remedy them. Beginning in 2022, Florida is now slated to face at least two Power Five opponents every year through 2032 (one of them being FSU). In three of those years- 2026, 2028 and 2031- they'll play three.
Sorry, Central Florida.