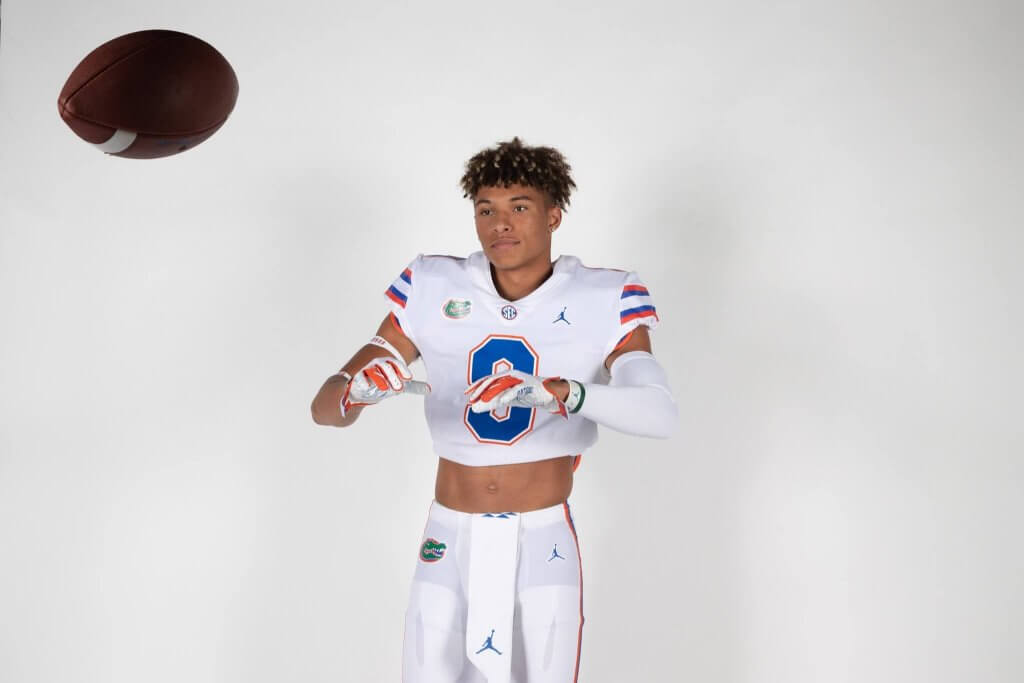 Earlier today, Dan Mullen and the Gators scored a huge win on the recruiting trail by poaching linebacker Shemar James out of Mobile, AL. Barely 300 minutes later, Mullen and the Gators landed a second commitment- this time Chandler (CJ) Smith, a fringe three/four star wide receiver prospect out of Orlando.
The commitment itself isn't really that surprising. Smith has visited Florida twice this month: first on an unofficial visit on June first, and then for his official visit this weekend. Nevertheless, it's worth getting excited about adding him for a variety of reasons.
The first thing that's worth addressing about Smith, right away, is his three star rating on 247Sports. Despite that rating, Alabama, Auburn, Georgia, FSU, Notre Dame, Penn State, Utah, Tennessee, South Carolina, Arkansas and Virginia Tech all thought he was worth a scholarship offer. That's not a mistake.
Here's his highlight tape, which might have something to do with all those offers.
Chandler Smith did miss a lot of time in 2020 with an injury, which could at least partially explain the lack of hype from the recruiting services. But there's no debating the fact that the physical talent is there.
For starters, there's the speed. Smith also runs track, and has been clocked at 10.28 in the 100 meter dash. He's used that speed to win Florida's state title in both the 100 and the 200 meter dash, and anchored a 4X100 relay team that finished second in the state. And as you can probably guess, that speed comes in handy on the football field. He can take the top off of a defense on simple nine routes, and is hard to track down in the open field.
But Chandler Smith is much more than just a track guy who tries to play football. He's a damn good wide receiver who also happens to be a track star (and yes, there's a major difference). Within the first minute of his hudl tape (linked above), there are multiple plays where he comes back for under thrown passes and picks them out of the air away from the defenders. Those kinds of ball skills are hard to teach. He also displays quick feet, and can consistently use his hands to disengage from corners' jams at the line of scrimmage.
The addition of Smith gives Florida its eighth member of the 2021 recruiting class, which has now vaulted all the way up from outside the top 30 to #24 in the 247Sports Composite Rankings and #23 in the Rivals rankings after the pair of commitments today.
Florida sure has some momentum on the recruiting trail right now, to say the least. Here's hoping they can keep it up.