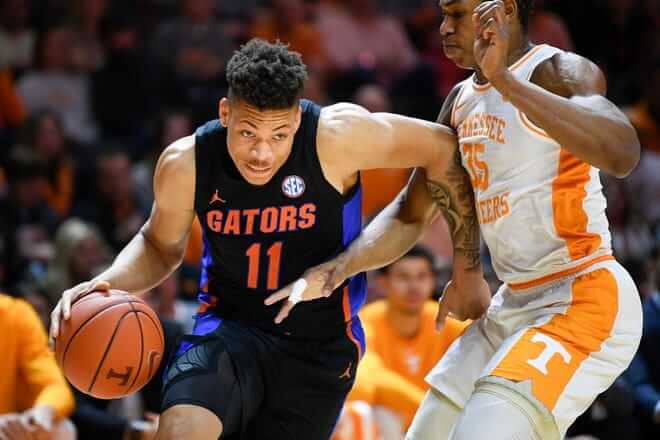 Keyontae Johnson has been placed into a medically induced coma, according to the USA Today, who spoke with Johnson's grandfather.
His grandfather, Larry DeJarnett said in a phone interview that his grandson was transported to Gainesville earlier today after receiving his initial treatment at Tallahassee Memorial Hospital, where he collapsed early in Saturday's game against rival FSU. DeJarnett added that the hope is that he will be brought out of the coma this afternoon.
"They're just not sure," DeJarnett said in his interview with USA TODAY Sports. "He may have had activity in the brain, so they induced the coma. They put him on medication to keep him sedated."
Soon after that USA Today article broke, Florida's official men's basketball Twitter account put out a statement that Keyontae is "following simple commands" and that he remains in "critical and stable condition."
— Florida Gators Men's Basketball (@GatorsMBK) December 14, 2020
As this is a fluid (and horrifying) development to an already fluid and horrifying situation, more details will be provided when they become available. There's no more information to provide, and therefore no analysis to provide, so please remember to not speculate and spread rumors in what's obviously an extremely difficult situation for everyone involved. And yes, that does extend to people who witnessed the event or are even simply fans of the game of basketball… or not even fans of the game of basketball, and merely want accurate information to be provided on a fellow human being that, the last time they saw him, was not OK.
We love you, Keyontae Johnson, and we're sending our strongest and most heartfelt prayers your way.