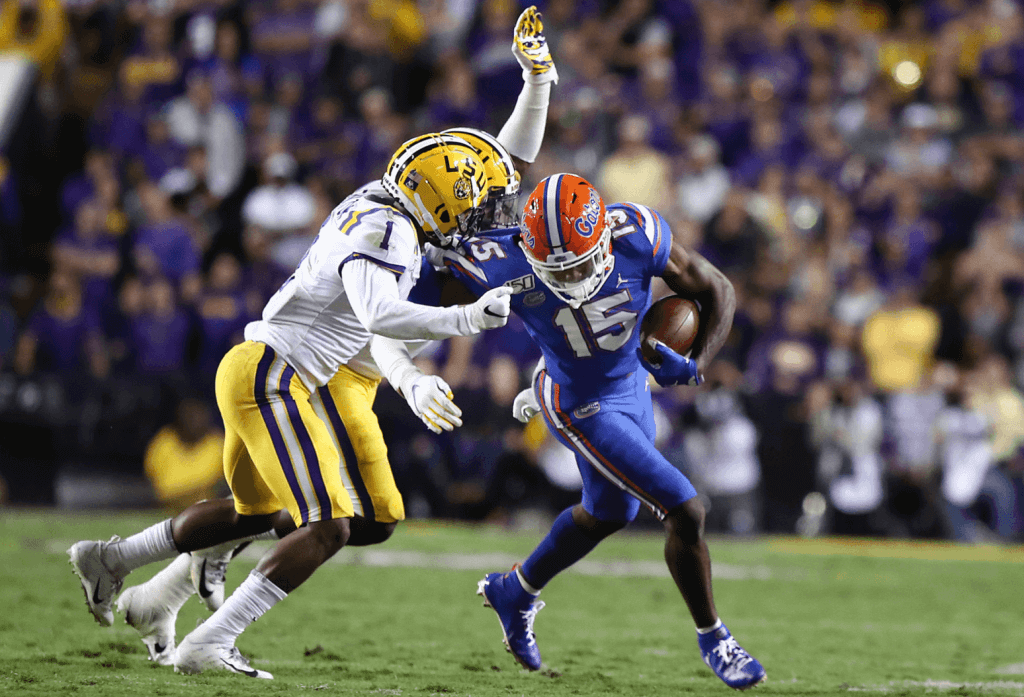 Our Florida Gators post-spring position breakdown segment rolls on today with a look at the guys who will be catching the passes. Having delved into the quarterbacks and the running backs, let's talk about the wide receivers.
This is a wide receiver corps for the Florida Gators that somehow manages to lose over 60% of its statistical production from the prior season for the second year in a row. But massive overhauls haven't thrown receivers coach Billy Gonzales yet, and despite losing Kadarius Toney and Trevon Grimes, Gonzales yet again has another strong batch of playmakers to work with.
You'll notice a theme here: this unit has talent, and that talent has flashed potential, but can it develop into results in 2021?
The X: Justin Shorter
Shorter was once Penn State's prized winnings out of the middle of New Jersey, but that didn't work out and now the Lions' loss is the Gators' gain. Shorter, a former five star recruit, was limited in his production in 2020 thanks to the prominence of Trevon Grimes, Kadarius Toney and Kyle Pitts, but it does well for him that even within that limited production, he did flash some major potential. The question is if he can translate that into more plays now that he's in a larger role.
There's no question that Shorter has the physical skill set to be the featured piece of this offense. He's 6'5 with great hands and tremendous ball skills, and when he had his chances to make plays last year he did. Even standing fifth in the pecking order for targets, he reeled in 25 passes for 268 yards and three touchdowns.
Now, though, he'll be relied upon much more heavily as one of the Gators' top receiving targets along with Jacob Copeland. That means he'll routinely have eyes and serious coverage on him like he hasn't before. Even in an offense that's going to run the ball far more than it did a year ago with dual-threat QB Emory Jones at the reins, Shorter is going to be counted on as something of a powder keg in the passing game.
The slot: Trent Whittemore
Whittemore appeared to be on his way to a breakout 2020 season after the first two games before COVID hit and kind of shook everything up. But before said COVID outbreak, Whittemore showed signs of major promise.
The local kid from Buchholz High School logged five catches for 56 yards and a touchdown in the Gators' first two games against Mississippi and South Carolina last year. In that small sample size alone, Whittemore displayed extremely reliable hands, an impressive vertical leap and the ability to go get the ball in traffic. He then returned to play against Georgia and Arkansas before getting hurt and missing the rest of the regular season.
Whittemore isn't as fast, shifty or electric as most guys you'd typically see playing in the slot for Florida. Nobody is going to mistake him for Kadarius Toney. But he's both fast and tall enough to be a problem on routes down the middle of the field, and a strong enough possession receiver that I see him taking over the role and giving Jones a security blanket.
The Z: Jacob Copeland
The closest thing to a proven playmaker in the Gators' wide receiver room has to be considered Copeland. A long, frustrating recruiting saga yielded some sporadic moments of on field success in the first two years for Copeland in Gainesville, where he sat behind several future NFL receivers in the pecking order for passes. But he exploded for five catches, 123 yards and a touchdown against LSU, and now there seems to be nobody standing between him and the WR1 role.
For starters, he's fast. Like, really fast. Various 40 yard dash times have been recorded in the low 4.40's, which is about .2 seconds slower than Olympic sprinters. He's got extremely quick feet, and thus can be deadly on combo routes and double moves. And his incredible natural athletic ability, featuring an impressive vertical leap, makes him a bona fide playmaker deep down the field.
We've seen him demonstrate capability of all this before. Copeland's got more experience and has amassed greater statistics than anybody else in his position group. The hope is that installing him into the Z spot on a full time basis will convert "capability" into "doing it constantly."
Copeland does have some work to do in order to become a more complete wide receiver, not unlike Toney or Trevon Grimes a year ago. He's a great route runner when he's going long, but tape doesn't give me the ability to say the same on shorter routes. If he can bring that up a couple of levels- and cut down on his drops- he just might be the next breakout receiver that Billy Gonzales sends off to the NFL.
And for our purposes as Gator fans, a devastating weapon on the Florida Gators' 2021 football team.
The dark horse: (X) Xzavier Henderson
Baby Hendo, as he's sometimes referred to, is going to have a difficult time unseating Shorter at the top of the X receiver depth chart. But that doesn't mean he can't still contribute to the Florida Gators' offense in a big way this year.
Henderson is another speed demon, and lining up alongside Shorter and Copeland with that speed makes him a dangerous No. 3 or even No. 4 receiver for opponents to have to designate bandwidth to. He's got 4.55 40 yard dash speed, quick feet and a big catch radius. Like Copeland, Henderson is a proven threat deep down the field, but will need to add some short and intermediate routes to his arsenal in order to become a more well-rounded receiver.
Worth noting: if there's anybody that I list as a "dark horse" in any positional breakdown in the segment that's most likely to lead his position group on the stat sheet, it's Henderson. Billy Gonzales likes to shuttle a lot of receivers in and out of the game, so make no mistake, this kid is going to have a much more prominent role in 2021. The question is whether that prominent role becomes a starring one.
Don't forget about: Rick Wells, Jordan Pouncey, Daejon Reynolds, Ja'markis Weston and Ja'Quavion Fraziars
It's really remarkable how two years in a row, Florida loses so much production in the passing game, and at least on paper, the Gators find a way to somehow be potentially even deeper the ensuing year.
Of course, none of these guys have proven much of anything yet, unless Pouncey's touchdown reception to turn a 55-13 game into a 55-20 game in the 2020 Cotton Bowl proved anything. But the talent is there with each and every one of them.
The guy to really watch for here is Wells. He's the last remaining member of the 2016 team as a sixth year senior; all that talent Florida has had that has been talked to death in the receiver room has reigned above him, but maybe this is finally the year he takes that step forward.
Elsewhere, Pouncey will likely step into a key reserve role, maybe as the fifth or sixth receiver in the pecking order. Of the remaining, unmentioned guys in this wide receivers corps, he's probably the one who's drawn the most praise to this point.
He'll get some push from Weston and Fraziars, though, younger guys who, like Pouncey, recorded their first career receptions in the Cotton Bowl. Look for some combination of the three to step into role player type functions in the passing game in 2021.