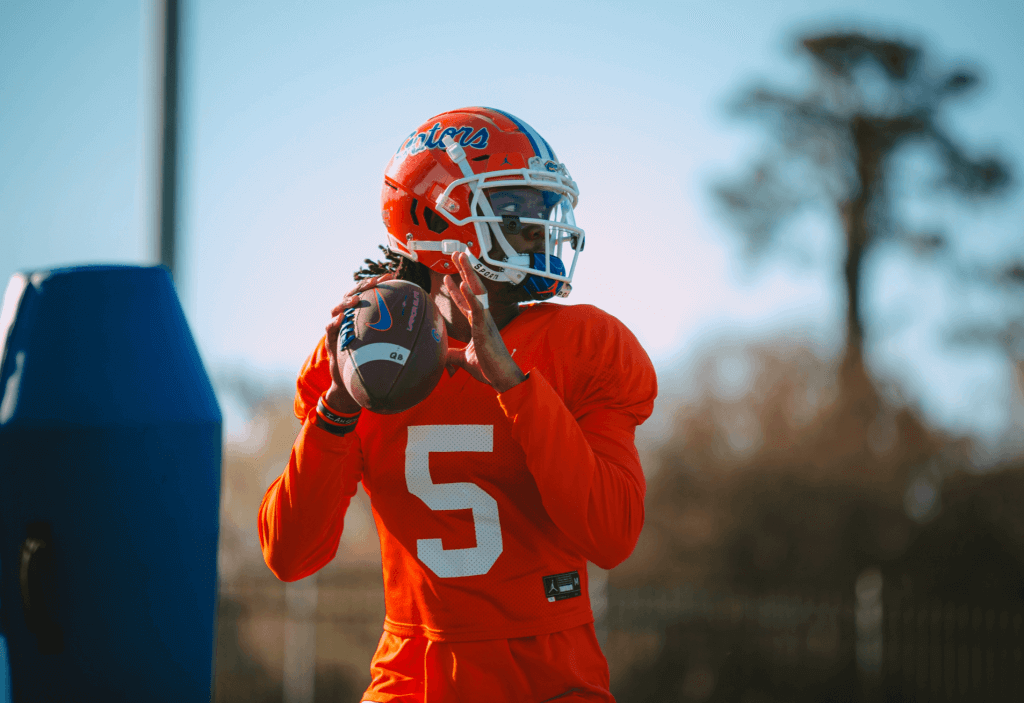 Spring practice is a month in the rearview mirror now, and with fans' impressions of what they saw in the Gators' live streams of various practices now fading and recentism gone, let's take a look at the various positions on the field and see who stands where before we head into summer ball.
We begin today with the most important position on the field: the quarterbacks.
The leader: Emory Jones
Anthony Richardson turned some heads this spring, and showed flashes of the game that I truly believe will one day have him as a legitimate Heisman Trophy contender. In 2023. Which is not this year.
This offense belongs to Emory Jones, plain and simple.
Jones, of course, is a very different type of quarterback than what Gator fans have seen in Dan Mullen's offense so far, but the converse to that is that Jones finally presents Mullen with the type of quarterback that's most naturally suited to run his offense. In fact, Jones will be the first quarterback that Mullen himself recruited and signed to start a game at QB since Mullen's arrival at Florida in 2018.
The obvious upside to Jones- and the reason he was frequently inserted into the game even in the days of Feleipe Franks and Kyle Trask- is his running ability. His pure speed and vision as a runner makes him a true dual threat, and because he has lots of experience in real game situations, he allows Dan Mullen the ability to open things up with him from the get-go. Which, again, is not a fresh revelation.
The real key with Jones, though, is his passing ability. Or, more precisely, the consistency with which he displays his passing ability. He's shown off his arm strength before (it's way, way stronger than Kyle Trask's), he's made clutch throws before, and he's thrown some absolutely picture-perfect balls through some tight windows before. But he's also one-hopped and airmailed open receivers before, too. And indeed, he did not look great in some spring practices and scrimmages.
That said: Jones was absolutely lethal at other points in the spring. The big project for him as a passer has been learning when to loft rainbows and when to fire bullets, not just in the film room, but in the heat of battle. He's also been developing a true sense of pocket awareness, particularly in the last week or two of spring ball. And because he's been making strides in those areas, because he's even more of a running threat than Richardson, and because of his experience, he's the clear cut favorite to start and take most of the snaps.
The second in command: Anthony Richardson
Florida got a gift with the blanket eligibility waiver for everybody in 2020 across the board, but perhaps nowhere on the roster will it pay off as much as it will at quarterback. Because of the waiver, Richardson could appear in four games in 2021, and still be considered a freshman in 2022. But Richardson might simply be too difficult to resist limiting to four games.
For starters, Richardson is a much bigger guy than Jones. He's three inches taller with 25 additional pounds of muscle, and therefore is much closer to a Tim Tebow style of power rusher than a Lamar Jackson style of elusive runner. That alone makes him an extremely enticing option to insert into the game in short yardage situations.
But as is the case with Jones, the label of "dual threat quarterback" is not to be mistaken for a run first, pass later guy. Richardson can sling it. Like Jones, he's been working on his pocket awareness, when to throw lasers or lobs, and increasing his consistency. If he continues to make strides in summer ball, which I have no reason to believe he will not, he figures to be a featured staple of the offense.
The dark horse: Carlos Del Rio-Wilson
For purposes of uniformity, I'm including a dark horse for every position, even though it's hard to really give the man fans are just calling "CDRW" that notation. It's nearly unfathomable to envision Del Rio-Wilson beating out both Richardson and Jones for the starting job. If any QB is going to be used for just four games and take advantage of that free year, it's probably him. But the future for him is extremely bright.
The talent's there. Del Rio-Wilson has a gun for an arm, and though he's not a true dual threat QB like Jones or Richardson, he's more than mobile enough to beat you with his legs if you give him space, and is plenty capable of making throws on the run. He's also a big dude, a few pounds more than Richardson at 238 lbs. and while he won't be trucking people, he could be a strong option to convert in goal line or short yardage situations.
Again, it's difficult to think of a scenario where he beats out either of the two guys ahead of him on the depth chart. But in a nightmare scenario where both Jones and Richardson get sick or hurt, you could do a lot worse than Carlos Del Rio-Wilson as your third string QB- inexperienced as he is.
Don't forget about: Jalen Kitna
Kitna is an interesting case study of what happens when a long time NFL vet breeds offspring that doesn't have the raw throw power, accuracy or ground speed to wow scouts, but does possess extremely high intelligence, grew up around the game and works himself to complete exhaustion. There's no such thing as "the next (insert player here)", so wondering if he's the next Kyle Trask probably isn't the healthiest thing to do. But if you're looking for another great story of a lightly recruited kid who defied the odds to become a star, here's your candidate.
Jalen, the son of Jon, definitely has room to grow, both physically and as a passer. He's less than 200 lbs. and, as is to be expected for a newcomer, made some sub-optimal decisions with some throws. But he also showed flashes of the brainpower that drew Dan Mullen to him in the first place this spring, and figures to get more looks this summer than most fourth string QBs do elsewhere.