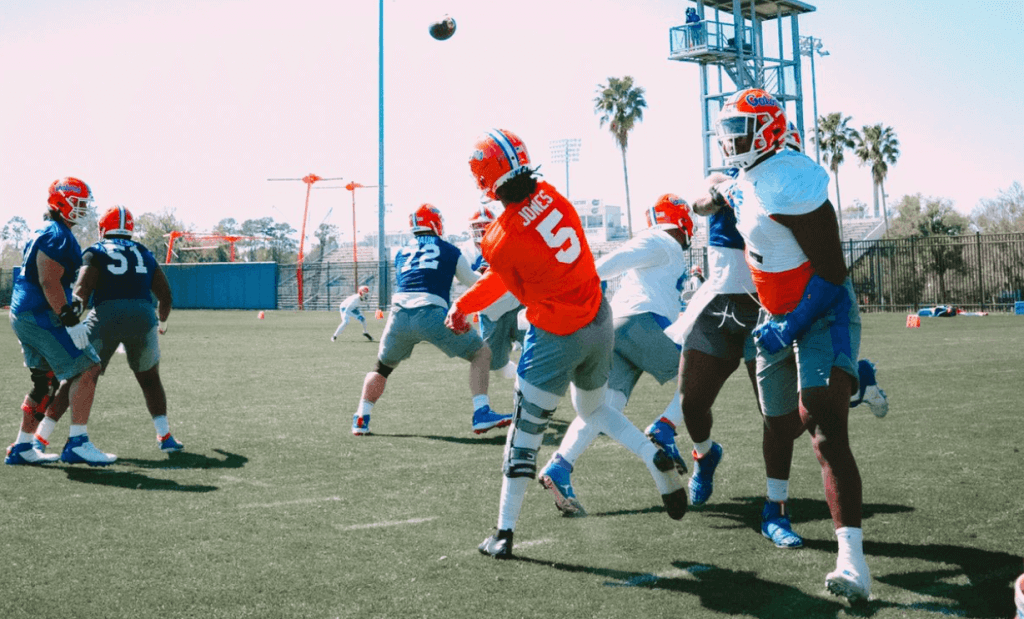 As the calendar is about to flip to March, Florida is now almost two weeks into spring practice. Thus, the outer coat of rust has been knocked off, and it's time to begin publishing observations about what has been happening in those spring practices.
(Quick note: these observations are a combination of what we see from Florida's virtual open practices as well as what a couple of people within the program tell me.)
Observation number one is the observation I had a hunch I'd one day be making ever since he flipped from Ohio State to Florida in December of 2017: this team now belongs to Emory Jones.
This, by the way, is not a knock on Anthony Richardson. I'm extremely high on him, as are the people within the program I speak to. He's going to get some looks this fall, and in an emergency, you could do a hell of a lot worse than him. And one day, he will not only be the starting quarterback of the Florida Gators, but a very successful one.
But as it stands right now, this is Emory Jones' offense, and his team. All the stories of how he's waited his turn since 2018 don't do him justice, because it isn't merely a matter of "it's his turn now." He's won that turn, both with his performance on the field and at practice. Jones has been playing like a guy who's waited his turn since 2018, all the while ready to step in and perform (which we saw against Auburn in 2019). That means he wasn't given his turn, but that he deserves it.
We all know Jones is elusive as a runner. He's twitchy, he's fast, he's stronger than his size would suggest and he has running back-level vision. But this offseason, he's begun to make some real strides as a passer to become a real dual threat.
For starters, Jones is working on his consistency with his accuracy. One on one receiver vs. defensive back drills don't really give you a chance to see a quarterback go through his progressions, since there's only one place for the QB to throw the ball, but even when everyone knows Jones is going to a certain spot, he's starting to consistently put the ball where only the receiver can get it. And in seven on sevens, he's overall looking very solid.
One big thing some of his teammates are noticing is that he's showing an understanding of when to fire a bullet and when to lob a rainbow. He's comprehending the concept of a fast-closing window, not just in principle in the film room where everybody can understand everything, but in real time, with pads clashing and him being forced to put principle into action. And on deeper throws, he's learning to put the perfect amount of arc on the ball to let his receivers' speed carry them away from the defenders and make the catch in stride.
The other thing people within the program have told me- and that I've witnessed a little for myself in the open practices- is that Emory Jones is becoming deadly accurate in the swing game. And that, with the dynamic running back room Florida has with Malik Davis, Dameon Pierce, Nay'Quan Wright, Demarkcus Bowman and Lorenzo Lingard, could cause a lot of problems for opponents as an extension to the running game.
One might think that swing or flare routes don't need to be thrown with pinpoint accuracy, at least not compared to downfield routes, but these actually has to be one of the most accurate throws a quarterback makes. A well thrown ball to a running back behind or right at the line of scrimmage leads him just enough so that he doesn't slow down or break stride, but not too much that he has to break off his route to jump or fully extend to make the catch. The idea is that your best ball carriers on the team are your running backs, so you give them the ball, but you do so in a way that bypasses the tackle box at the line of scrimmage and allows the vision that they were recruited for to create big plays against the second and third levels of the defense. When this works, it's an easy completion for a large chunk of yards to help the quarterback feel confident and get into a groove.
But the ball needs to be delivered in a very specific spot for them to best be able to do so. Whereas earlier in his career Jones wasn't always great at doing this, he's now starting to bullseye his targets on swing passes more often than not. If he can continue to improve his accuracy on deeper throws, this could be a lethal staple of the 2021 offense.
Of course, as is the case with virtually everybody in late February, he's not where he wants to be yet. This is the purpose of spring practice. But with more reps, his development as a passer is coming along. And for this early stage of the offseason, Emory Jones is looking more and more like he wasn't given a turn to commandeer Florida's offense, but rather earned it.