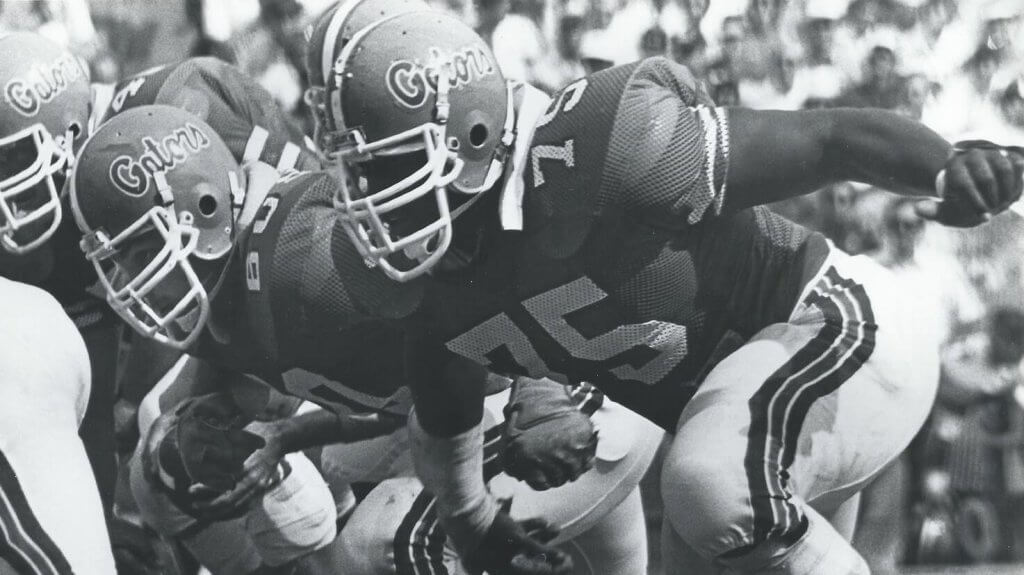 They own three national championships, eight SEC titles, ten major bowl game wins, and 735 wins overall. And thanks to Lomas Brown, the Florida Gators have now placed a baker's dozen of its former football members into college football's most elite fraternity.
Brown, an offensive tackle for Florida from 1981-1984, just became the school's thirteenth member into the College Football Hall of Fame in downtown Atlanta. He's also the fourteenth overall induction from the University of Florida. Steve Spurrier, who won the 1966 Heisman Trophy and coached Florida for a dozen highly successful years, was inducted twice, once as a player and once as a coach.
Brown was instrumental to some of Florida's earliest success on the football field. Starting at tackle for 34 games in his four years in Gainesville, Brown became an All-American his senior year and anchored the famed "Great Wall of Florida" offensive line. Brown also earned the Jacobs Blocking Trophy, which was given to the best offensive lineman in the SEC, and helped guide the Gators to their first ever SEC Championship in 1984. The title was subsequently vacated due to coach Charlie Pell committing NCAA violations, but Brown's teammates roll their eyes at that. "We still have the shirts, the coke bottles and the rings," Ray McDonald Sr., a receiver on that 1984 team, told me back in November. "We know who really won the SEC that year." McDonald then flashed his ring and smiled.
Brown went on to become the sixth overall pick in the 1985 NFL Draft, kicking off a long and successful NFL career. During his eighteen years in the pros, Brown earned Pro Bowl honors seven times and a Super Bowl ring with the Tampa Bay Buccaneers in 2002.
In being inducted to the College Football Hall of Fame, Lomas Brown joins:
Steve Spurrier (2X), QB (1963-66) and coach (1990-2001)
Carlos Alvarez, WR (1969-71)
Charlie Bachman, coach (1928-32)
Wes Chandler, WR (1974-77)
Doug Dickey, coach (1970-78)
Ray Graves, coach (1960-69)
Marcelino Huerta (1947-49)
Wilbur Marshall, LB (1980-83)
Emmitt Smith, RB (1987-89)
Dale Van Sickel, end (1927-29)
Danny Wuerffel, QB (1993-96)
Jack Youngblood, DE (1967-70)
Florida also has a long list of recent former players who are currently issues of when, not if, they'll join Brown and the other twelve Gators in this category. Keep your eyes peeled for the likes of Alex Brown, Jevon Kearse, Lito Sheppard, Jabar Gaffney, Rex Grossman, Tim Tebow, Brandon Spikes, Joe Haden, Ahmad Black, Mike and Maurkice Pouncey, Matt Elam, Vernon Hargreaves, Johnny Townsend, and others who have met the Hall of Fame's main criteria of receiving All-American honors.