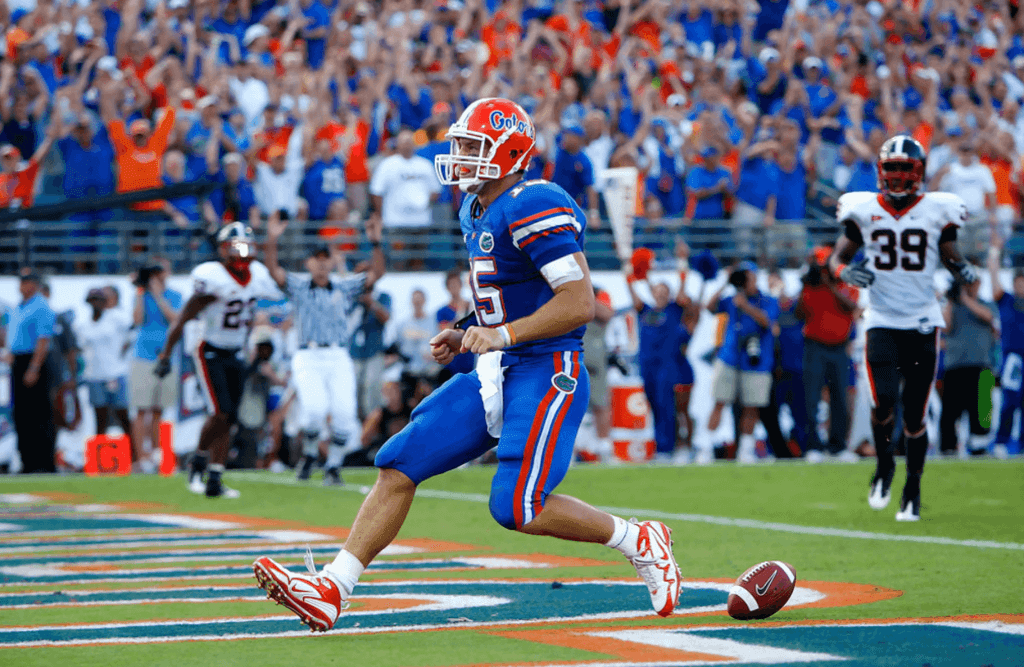 Tim Tebow, perhaps the greatest player in the history of college football, appears to be giving the NFL one last go.
Reports are swirling around that Tebow, the 2007 Heisman Trophy winner at Florida and a two time BCS National Champion, is reuniting with the man who coached him to all that success not too far from where Tebow first made a name for himself.
Urban Meyer, now the head coach of the Jacksonville Jaguars, is reportedly going to be bringing Tebow onto his team, but with a catch. The Jaguars, who already have Gardner Minshew on their roster and just drafted Clemson's Trevor Lawrence with the top overall pick in last month's NFL Draft, will be adding Tebow to the roster as a tight end. If the move shocks you, it shouldn't completely; Tebow did work out with the Jaguars as a tight end last month.
Of course, aside from the fact that he's returning to his home town of Jacksonville, this is all new territory for Tebow… even though some did project him as a tight end coming out of college.
Everybody who's ever heard of him- and at this point, you'd have to have been living under a rock in order not to- knows him as a QB, albeit one who could also run effectively. Everybody knows him for his career 9,285 passing yards at Florida from 2006-2009, for the 2,947 rushing yards he tacked on along the way, for the 145 touchdowns he was responsible for, and for the unforgettable moments that made up those statistics.
And people also remember Tim Tebow for quarterbacking the Denver Broncos to an unforgettable season in 2011, guiding the Broncos from the cellar of the AFC West to the top of the division. He even led the Broncos to a magical overtime win against the Pittsburgh Steelers in the Wild Card round of the Playoffs that year before eventually losing to the eventual AFC champion New England Patriots. Tebow threw a "walk-off" 75 yard touchdown pass to Demariyus Thomas to cement that victory.
Tim Tebow also tried his hand at baseball, a venture at which he was less successful but still collected some money through thanks to some minor league contracts. He shared the field with current New York Mets star Pete Alonso a few times in the Mets' spring training a few years ago.
But this isn't about his past successes or failures, either on the gridiron or the diamond. This is about Tebow embarking on a new adventure that, yes, very well could be a publicity stunt for Urban Meyer to try to sell the few seats that his presence combined with Lawrence's can't, but also a new adventure that Tebow is doing simply because he can. Maybe he's not a Hall of Famer in either sport he played professionally, or close to it, but to be able to rack up any amount of money at all for your skills in multiple sports is something worth acknowledging and being impressed by.
Put simply, this is just another example of what an unbelievable athlete Tim Tebow is, and it's another feather in the cap of his argument to be labeled as one of the greatest all-around athletes the Florida Gators have ever produced.