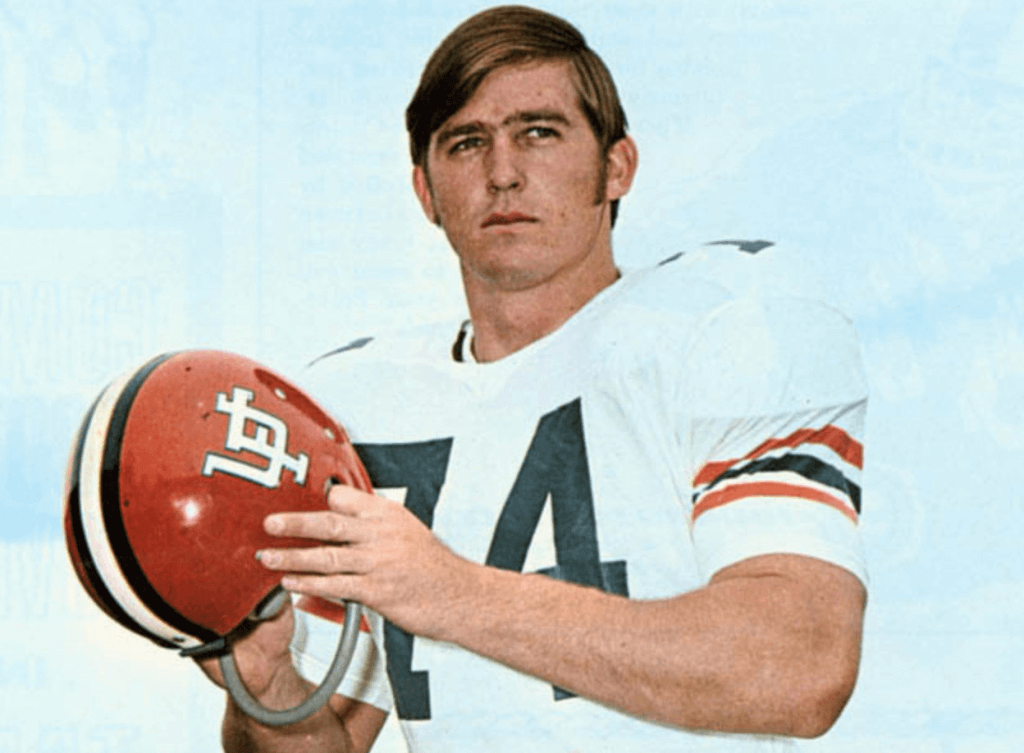 Eight Regionals down, one underway, and seven more to go in Round One of our #GreatestGatorEver tournament. Next up is the 11 Regional.
The bracket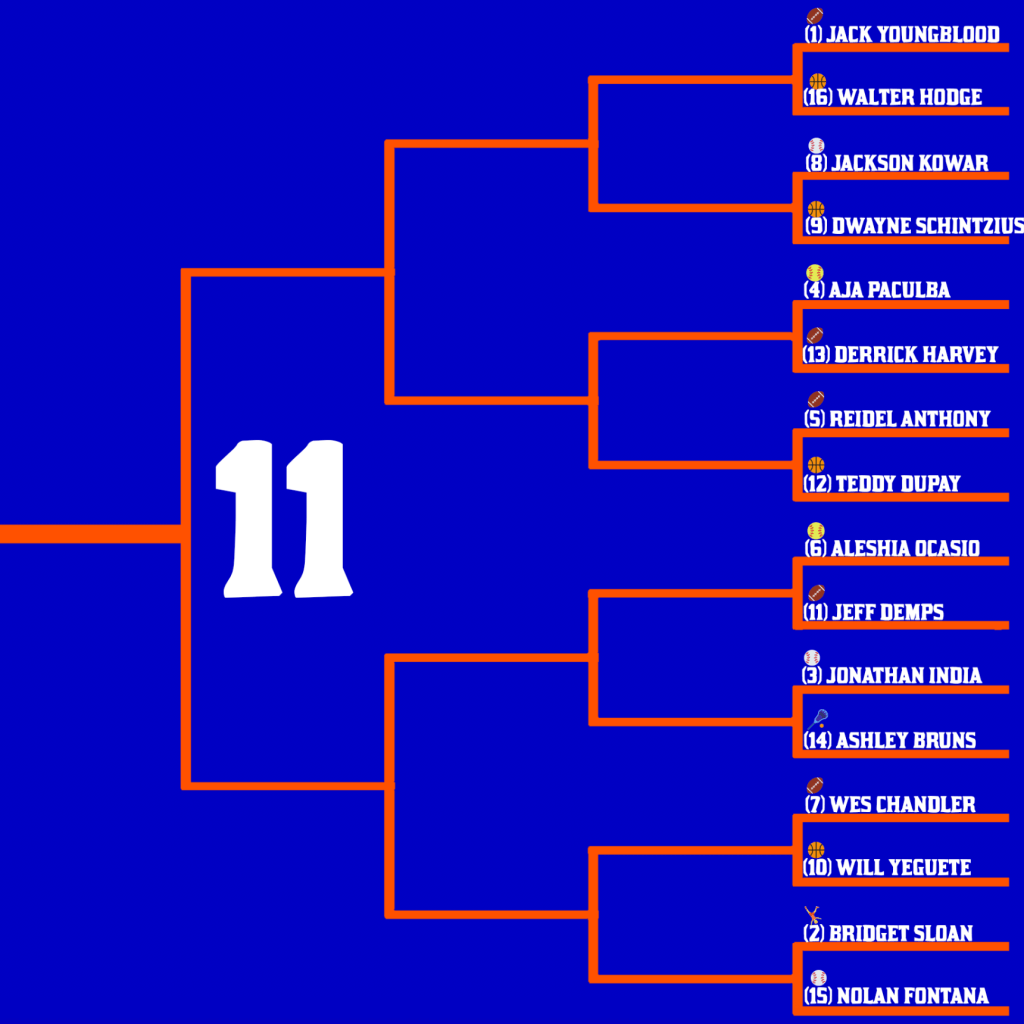 Regional participants
(Players are listed in order they appear on the bracket.)
(1) Jack Youngblood (football, DE/DT/K- 1968-70). Clutch factor: stuffed Georgia running back Ricky Lake at the goal line, stripped the ball and recovered it in 1970. 1970 first team All-American. Florida Ring of Honor member. College Football Hall of Fame member. First round NFL Draft pick (#20 overall, Rams). Fourteen year NFL career with Rams. 7X Pro Bowl: 1973, 1974, 1975, 1976, 1977, 1978 and 1979. 8X All-Pro selection; 5X first team All-Pro: 1974, 1975, 1976, 1978, 1978. 151.5 career NFL sacks; would be fifth all time in NFL history*. NFL Hall of Fame member.
(16) Walter Hodge (basketball, G- 2006-09). Winningest player in school history (117 wins). 2006 and 2007 national champion. 50th in school history with 1,074 career points.
(8) Jackson Kowar (baseball, P- 2016-18). Clutch factor: saved the Gators' national championship clinching win over LSU in 2017 CWS (1.2 innings). 2017 national champion. Tied for seventh all time at Florida with 25 career pitching wins; tenth all time with 243 career strikeouts.
(9) Dwayne Schintzius (basketball, C- 1987-89). Eighth all time at Florida with 1,624 career points. 1989 consensus All-American. First round NBA Draft pick (#24, Spurs). Thirteen year NBA career.
(4) Aja Paculba (softball, 2B- 2008-11). 2008, 2009 and 2011 All-American. Second in Florida history with 253 career runs scored; third with 279 career hits; fifth with 452 total bases; seventh with .340 career batting average and with 176 RBI.
(13) Derrick Harvey (football, DE- 2005-07). 2006 national champion; 2007 BCS Championship Game Defensive MVP. 2006 and 2007 All-SEC. 2007 team captain. Four year NFL career.
(5) Reidel Anthony (football, WR- 1994-96). 1996 consensus All-American. 1996 national champion. Third all time at Florida with 1,293 receiving yards and 72 receptions in a single season (both in 1996). Fourth all time at Florida with 2,274 career receiving yards. First round NFL Draft pick (#16, Buccaneers). Five year NFL career.
(12) Teddy Dupay (basketball, G- 1999-01). Led Florida on their run to the national championship game with 62 made three pointers on the season.
(6) Aleshia Ocasio (softball, P/DH/UTIL- 2015-18). 2015 national champion. 2015 and 2016 All-American. 4X All-SEC. 2017 WCWS All-Tournament team. Fourth all time at Florida with ten career pitching saves; sixth all time with 1.41 career ERA; seventh all time with 71 pitching wins. Clutch factor: hit walk-off home run in the twelfth inning to beat FSU in 2016.
(11) Jeff Demps (football, RB AND track- 2008-11). FOOTBALL: 2008 national champion. Ninth all time at Florida with 2,470 career rushing yards; tied for tenth with 23 career rushing touchdowns. TRACK: 3X individual NCAA champion: 2010 and 2012 60m indoor sprint; 2010 100m outdoor sprint. 60m sprint 2012 (London) silver medalist in 4X100m relay.
(3) Jonathan India (baseball, 3B- 2016-18). 2017 national champion. Fifth all time at Florida with 21 home runs in a single season (2018). 2016 consensus first team Freshman All-American; 2018 consensus first team All-American. 2018 SEC Player of the Year. First round MLB Draft pick (#5 overall, Reds).
(14) Ashley Bruns (lacrosse, A- 2010-13). 2010 ALC Rookie of the Year. 2010, 2011, 2013 All-ALC. Florida's all time career assist leader with 94. Third all time at Florida with 283 career points.
(7) Wes Chandler (football, WR- 1974-77). 1976 and 1977 first team All-American. Eighth all time at Florida with 22 career touchdown receptions. College Football Hall of Fame member. First round NFL Draft pick (#3 overall, Saints). Eleven year NFL career with three teams. 4X Pro Bowl: 1979, 1982, 1983, 1985. Led NFL in receiving yards in 1982*. Averaged 129 receiving yards per game in 1982, an NFL record that still stands.
(10) Will Yeguete (basketball, F- 2011-14). 3X SEC Champion: 2011, 2013, 2014. Shared 2014 Lieutenant Fred Koss Memorial Award (for leadership) with Patric Young. Member of 2014 Final Four team.
(2) Bridget Sloan (gymnastics- 2013-16). 2013, 2014 and 2015 national champion (team). 6X individual national champion: 2016 NCAA All-Around, Bars and Beam, 2014 NCAA Uneven Bars, 2013 NCAA All-Around and Beam. 3X all-around All-American: 2013, 2015 and 2016. 13X event All-American: 2013 BB, UB, FX, 2014 V, UB, FX, 2015 V, UB, BB, 2016 V, UB, BB, FX. 16 total All-American honors are the most in Florida history. Shares the Gator high mark for all-around (39.825), vault, uneven bars, balance beam and floor exercise.
(15) Nolan Fontana (baseball, SS, 2010-12). 2010 Freshman All-American. 3X All-SEC selection, 2010-12. Sixth all time in Florida history with 586 career assists. First player in school history to be named to the Rawlings NCAA Division I Gold Glove Team.
(Note: "national champion" labels are only attributed to starters or critical backups/role players on the team.)
*Strike shortened season.
The favorite: (1)Jack Youngblood
Other than recentism, there really isn't anything that works against Youngblood here. He played football, the flagship sport. He was clutch, as evidenced by the "Rip, Strip and Grip" against Georgia's Ricky Lake in 1970. He put together phenomenal college and pro careers, and in fact is a member of both the college and pro football Hall of Fames. This Regional goes through him.
The second favorite: (2)Bridget Sloan
Every bit as accomplished in her sport as Youngblood was in his (at least in college), Sloan could be a sleeper candidate to do some major damage in the national stage of this tournament (I'm calling the Sweet 16 through the championship the "national stage") if she can top Youngblood. It's hard to compare gymnastics All-American honors to being the Gator football program's sixth all time receiving yards leader, but it's just very hard to argue that too many Gator athletes are more accomplished than Sloan. Beating Youngblood won't be easy, but if she does- watch out.
The sleeper: (3)Jonathan India
In terms of the seeding process for this tournament, India is another Matt Elam type in that he earned this seeding mostly as a result of one amazing season (in India's case, 2018). But unlike Elam, India also has a national championship on his resume. And India still has a promising pro career ahead of him to boot. There's a reason he's seeded #3 in this Regional behind Sloan and Youngblood, but the heroism he displayed in the Gators' magical 2017 national championship run might just be enough to propel him on a magical run on his own in this tournament.
The dark horse: (5)Reidel Anthony
To be frank, the only reason Anthony didn't have better stats than he did at Florida and therefore wasn't a higher seed in this tournament was because the Gator teams he played on were stockpiled with talent at wide receiver. Yet, as a testament to how terrifying he was: despite having to share the targets with Ike Hilliard and Jacquez Green, and leaving after his junior year for the NFL, he's still the fourth all time leading receiver in Gator history yardage wise. Plus, due to the fact that he played on one of the greatest Gator teams of all time- in any sport- he just might have what it takes to really screw with the chalk and launch a deep run.
The co-Cinderella candidate: (6)Aleshia Ocasio and (11)Jeff Demps
Whoever wins this first round matchup is going to be a tough out for any and all ensuing opponents. Both athletes excelled in two very different athletic areas at Florida; Ocasio was an outstanding two way softball player as both a great pitcher and a hitter, whereas Demps tore it up both on the football field and the track. So of course I paired them together in a fun first round matchup the instant I noticed that they came out on #6 and #11 seed lines. Neither would be favored to take down Youngblood, Sloan or even India in Round Two for that matter, but their versatility could make for some major drama post-Round One.