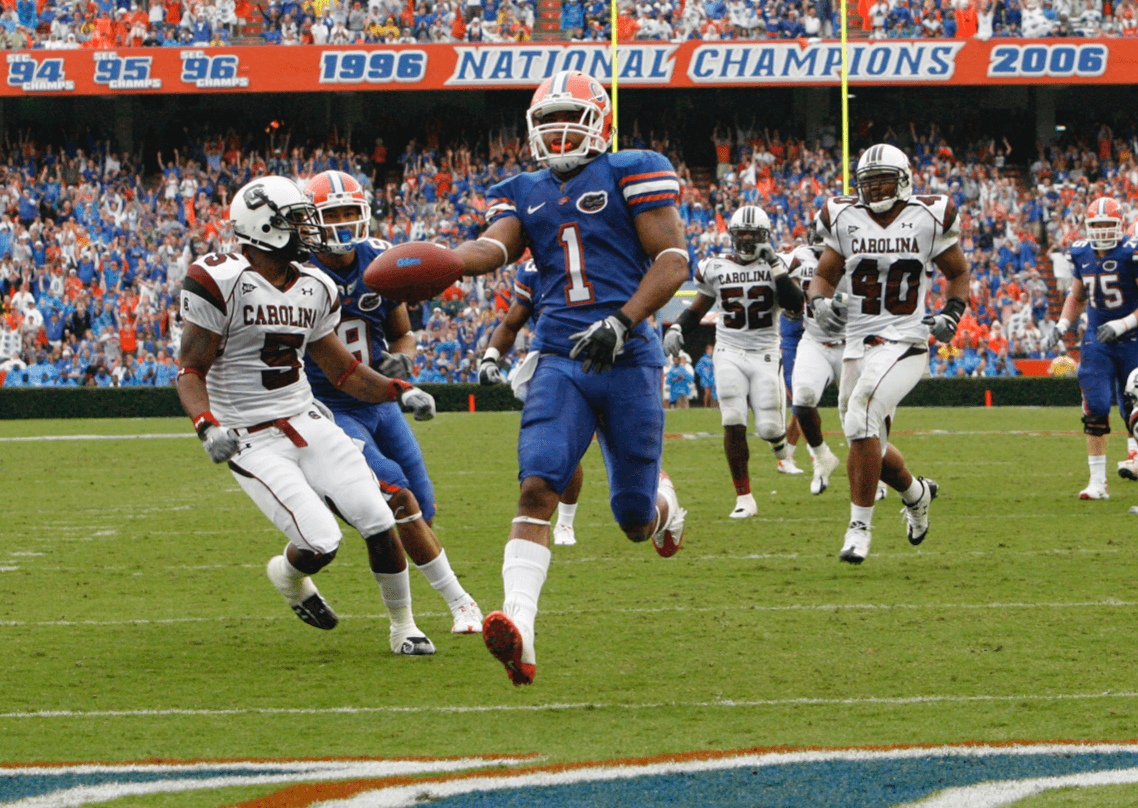 Our #GreatestGatorEver tournament rolls on today with Round one of the 5 Regional. As was the case for the previous Regionals and will be for all ensuing Regionals, let's take this opportunity to refresh our memories regarding what, exactly, the sixteen players in this bracket did.
The bracket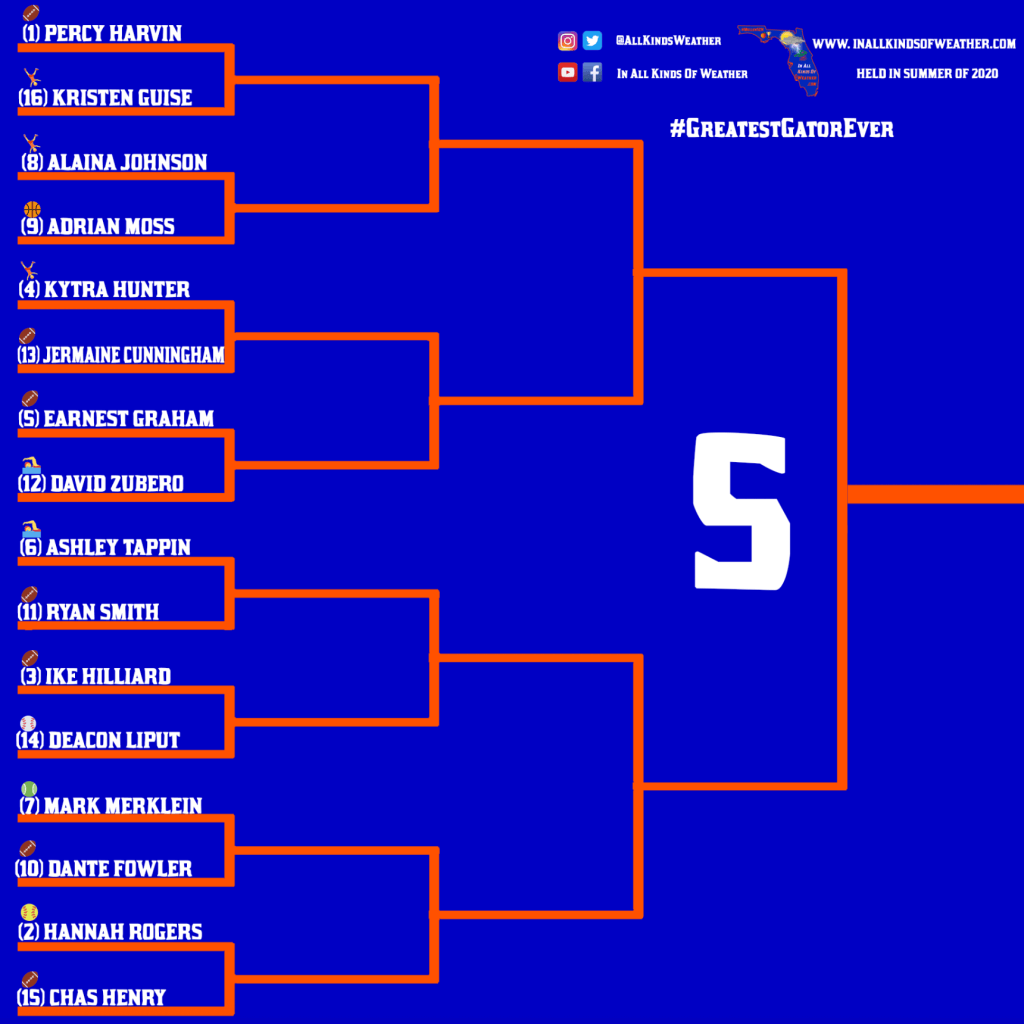 Regional participants
(Players are listed in order they appear on the bracket.)
(1) Percy Harvin (football, WR/RB- 2006-08). 2006 SEC Freshman of the Year. 2007 and 2008 (first team) All-American. 2006 and 2008 national champion. 2006 SEC Championship Game MVP. First player in Florida history to have 100 yards rushing and receiving in a single game. Holds several Florida records for wide receivers: most career rushing yards (1,852), most rushing yards in a single season (764 in 2007), and most overall touchdowns (32; 19 rushing, 13 receiving). 2009 first round NFL Draft pick (#22, Vikings). 2009 NFL Rookie of the Year. 2009 Pro Bowl selection. Super Bowl XLVIII champion with Seahawks.
(16) Kristen Guise (gymnastics, 1993-96). 1994 and 1996 all-around All-American. 9X event All-American: 1993 UB, 1994 and 1995 UB and BB and 1996 UB, BB, FX and V.
(8) Alaina Johnson (gymnastics, 2011-14). 2013 and 2014 national champion (team). 2012 and 2014 all-around All-American. 12X event All-American: 2011 V, UB and FX, 2012 V, UB, BB and FX, 2013 V and UB and 2014 V, UB and BB.
(9) Adrian Moss (basketball, F- 2003-06). 2006 national champion. Clutch factor: came off the bench in the 2006 national championship game to score nine points and grab six rebounds.
(4) Kytra Hunter (gymnastics, 2012-15). 2013, 2014 and 2015 national champion (team). 4X all-around All-American, 2012-15. 2015 Honda Sports Award winner. 11X event All-American: 2012 V, UB, BB and FX, 2013 V, BB and FX, 2014 FX and 2015 UB, BB and FX.
(13) Jermaine Cunningham (football, DE- 2006-09). 2006 and 2008 national champ. 2009 All-SEC. Five year NFL career with three teams.
(5) Earnest Graham (football, RB- 1999-02). Fourth all time at Florida with 33 career rushing touchdowns; fifth all time 3,065 rushing yards. 2001 All-SEC. Nine year NFL career with Buccaneers.
(12) David Zubero (swimming, 1978-81). 1979 and 1981 NCAA 800 yard relay champion. 14X event All-American. 1980 Olympic 100m butterfly bronze medalist.
(6) Ashley Tappin (swimming- 1993-94). 1994 4X100 medley NCAA champion. 3X Olympic gold medalist: 1992 (Barcelona) 4X100 freestyle, and 2000 (Sydney) 4X100 freestyle and 4X100 medley. 1991 World Championships 4X100 freestyle gold medalist.
(11) Ryan Smith (football, S- 2006). 2006 All-American and national champion. Led the country with eight interceptions in 2006 (second most in a single season in UF history).
(3) Ike Hilliard (football, WR- 1994-96). Clutch factor: orchestrated "Stop N Pop" touchdown catch in 1997 Sugar Bowl against FSU. 1996 consensus All-American. 1996 national champion. Second all time at Florida with 29 career touchdown receptions; seventh all time with 2,214 receiving yards. First round NFL Draft pick (#7 overall, Giants). Twelve year NFL career with Giants and Buccaneers.
(14) Deacon Liput (baseball, 2B/SS- 2016-18). Clutch factor: 2-RBI single in 8th inning of Game 2 of 2017 CWS Finals against LSU. 2016 freshman All-American. 2017 national champion.
(7) Mark Merklein (tennis- 1991-94). 4X All-American: 1993 and 1994 singles and doubles. 1993 NCAA doubles champ and 1994 NCAA singles champ. Fifth all time at Florida with 190 career wins. Finished all four seasons ranked in the top 50 of both the ITA singles and doubles rankings (singles: #45 in 1991 and 1992, #9 in 1993, #2 in 1994; doubles: #37 in 1991, #15 in 1992, #1 in 1993, #7 in 1994). Two time US Open main draw singles participant; won at least one doubles match in main draw of all four Grand Slam events. 2000 (Sydney) Olympic doubles quarterfinalist.
(10) Dante Fowler (football, DE- 2012-14). 2013 and 2014 (first team) All-SEC. First round NFL Draft pick (#3 overall, Jaguars). Six year NFL career and counting with three teams.
(2) Hannah Rogers (softball, P- 2011-14). Clutch factor: came in off the bench for the save in Game 2 of the 2014 WCWS Finals against Alabama to clinch the Gators' first national championship. 4X All-American, 2011-14. 2014 national champion, WCWS All-Tournament team and Most Outstanding Player. 2014 SEC Female Athlete of the Year. Second all time at Florida with 127 career wins and 14 career saves; third all time with 833 strikeouts; ninth all time with 1.63 ERA. Three year NPF career with USSSA Pride.
(15) Chas Henry (football, K/P- 2007-10). Clutch factor: made the game winning field goal in overtime to beat Georgia in 2010. 2010 consensus first team All-American. 2010 Ray Guy Award winner. Two year NFL career with Eagles.
(Note: "national champion" labels are only attributed to starters or critical backups/role players on the team.)
The favorite: (1)Percy Harvin
The stats aren't quite there for Harvin; injuries turned out to be the one thing that could slow him down. Yet nobody who watched him play will ever forget him. Harvin complemented Tim Tebow beautifully in 2007 and 2008 in Urban Meyer's Death Star of an offense after playing a similarly key role as a freshman in 2006. Having had so much to do with two thirds of Florida's national championships, Harvin has to be the obvious favorite to advance out of this Regional. His path is littered with gymnasts, a sport with an enormous following on twitter and has already rallied for one upset over a football hero so far ((10)Kennedy Baker over (7)Lawrence Wright in the 1 Regional), but Harvin is an entirely different animal. The margins may be closer than some expect, particularly later in the Regional, but I'll be stunned if he doesn't make it to the Sweet 16.
The second favorite: (2)Hannah Rogers
If anybody has a chance to take the 5 Regional's Sweet 16 spot away from Harvin, it might be Rogers. Four straight years of All-American honors and capping the last one with Florida softball's first ever national championship is nothing short of masterful. Like Harvin, the stats aren't all there for Rogers (though in her case it was because of having to share time on the circle with so many other talented pitchers) but those who got to witness her mastery with their own eyes will remember it forever. She'll have problems in the Regional final against Harvin assuming chalk holds, but her resume might just be enough to push her through.
The sleeper: (3)Ike Hilliard
Hilliard is one of the five best receivers to ever come through the University of Florida, so of course I paired him in the same Regional as one of the other ones. Unlike Harvin, though, Hilliard does have the stats to bolster fans' fond memories of him, and that could potentially spell trouble for Harvin if Hilliard is able to slip by Rogers and get to the Round of 32. Harvin has an enormous advantage by virtue of winning two national titles to Hilliard's one, but Hilliard was the engineer of one of the most famous plays in Gator football history in the Stop N Pop. If the matchup comes to pass, it should be fun.
The dark horse: (4)Kytra Hunter
As far as big stage gymnastics-over-football upsets go, Hunter is as likely as any gymnast to orchestrate one. Only Bridget Sloan (16) has more All-American honors than Hunter (15) and Hunter was part of each leg of Florida's famous national championship three peat in 2013, 2014 and 2015. That sets up nicely as potentially seismic mano-y-mano combat in the Regional semifinal between football-first Gator fans and the gymternet. To reiterate, Harvin should be the favorite here, but don't dismiss Hunter out of hand.
The Cinderella candidate: (7)Mark Merklein
Merklein's initial placement on the bracket was actually flipped with his first round opponent (10)Dante Fowler because I brilliantly misread my own notes on my own Word Document. To clear up any confusion, Merklein is the #7 seed in this Regional and Fowler is the #10 seed, not vice versa as I initially published. But anyway: Merklein has quietly built up an amazing resume, and I'm even willing to call him one of the greatest Gator athletes that Florida fans have never heard of. Earning both singles and doubles All-American honors in his junior and senior seasons, claiming a pair of individual NCAA championships and finishing fifth at Florida with 190 career wins, Merklein has a college stat sheet that could rival many others ranked ahead of him in this bracket, and the only reason he isn't seeded higher is because he had an average, as opposed to great, pro career. But he could do real damage if he can get past Fowler in Round One.