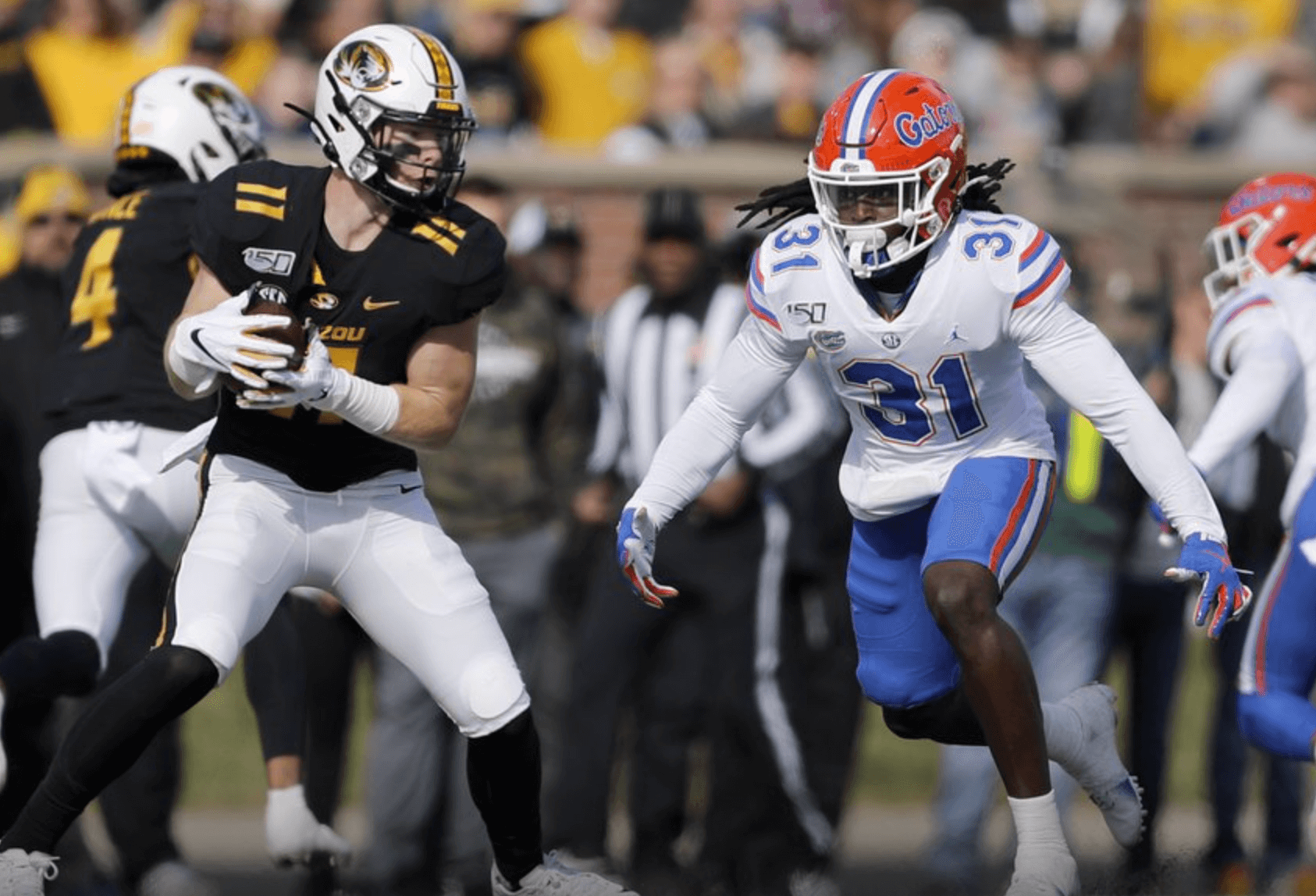 The Florida-Missouri game scheduled for October 24th will likely be postponed, according to multiple sources close to the team. Alternative dates are currently being explored by Florida and the SEC.
UPDATE: an additional source told In All Kinds Of Weather Thursday morning that there's "virtually no chance" the Florida-Missouri game is played on October 24th. The source explained that "it doesn't make sense logically" to play the game then, and that message has been conveyed to members of the football team.
Per the sources, the football staff held a virtual meeting with the players and their families and informed them of all the details early Wednesday afternoon.
The decision means that each of the next two games on the docket for Florida will have to be rescheduled. The Gators' matchup against LSU scheduled for Saturday, October 17, was also postponed earlier today. That game is tentatively set to be played on December 12th.
Florida and Missouri do not share a bye week, which would complicate the matter of making the game up. One feasible option appears to be November 7th, but that would require some finessing of a third team's schedule. Georgia, like Florida, is off on Halloween; meanwhile, Missouri has a bye week on November 7th. So Florida could move its game against Georgia back to its originally scheduled date of October 31st, and instead play Missouri on the 7th. A variation of that option would be playing the Florida-Missouri game on the 31st, when Missouri is supposed to play Kentucky, and move the Kentucky-Missouri game back a week to November 7, when both teams have a bye.
Complete contact tracing is not possible since the Gator football team was not on campus for most of Friday and Saturday, but symptoms within members of the team were traced back to Friday, October 9th- the day the Gators flew to College Station for their game against Texas A&M. The team then shared a plane for a pair of two hour flights (one each way), as well as buses, a locker room, and likely several doorknobs and handles. That means that although the virus did appear to have spread throughout the Gators' program during their trip to Texas, it may not have been introduced to various members of the program by a Texas A&M fan or player as some have speculated since symptoms appeared the day before the game took place.
Per standard protocols, players were tested en masse on Monday upon returning from College Station. This time, though, as first reported by the Alligator's Payton Titus, nineteen positive tests quickly emerged by late Tuesday afternoon. On top of the nineteen confirmed cases that Titus unearthed on Tuesday, three new players tested positive on Wednesday. That triggered a shutdown of the team's facilities- a shutdown that In All Kinds Of Weather has learned through multiple sources is currently set to last through Sunday, October 25th.
SEC COVID procedures mandate that all those who test positive must remain quarantined for ten days; those who were within close proximity of people with the virus must quarantine for fourteen days (from last known contact with someone who has the virus). Though sources have not provided a precise figure- in part because contact tracing for a team that was off campus for two days is extremely difficult to do with 100% accuracy- sources have indicated that contact tracing would likely keep a "significant" number of players sidelined for a game on October 24th, as they would be barred from all practices and workouts until, at the very least, the day before the Florida-Missouri game.
The sources said that as of early Wednesday evening, the status of each person to test positive remained stable- all players and coaches with the virus remain either asymptomatic or only displaying mild symptoms.
Updates will be published when they become available.