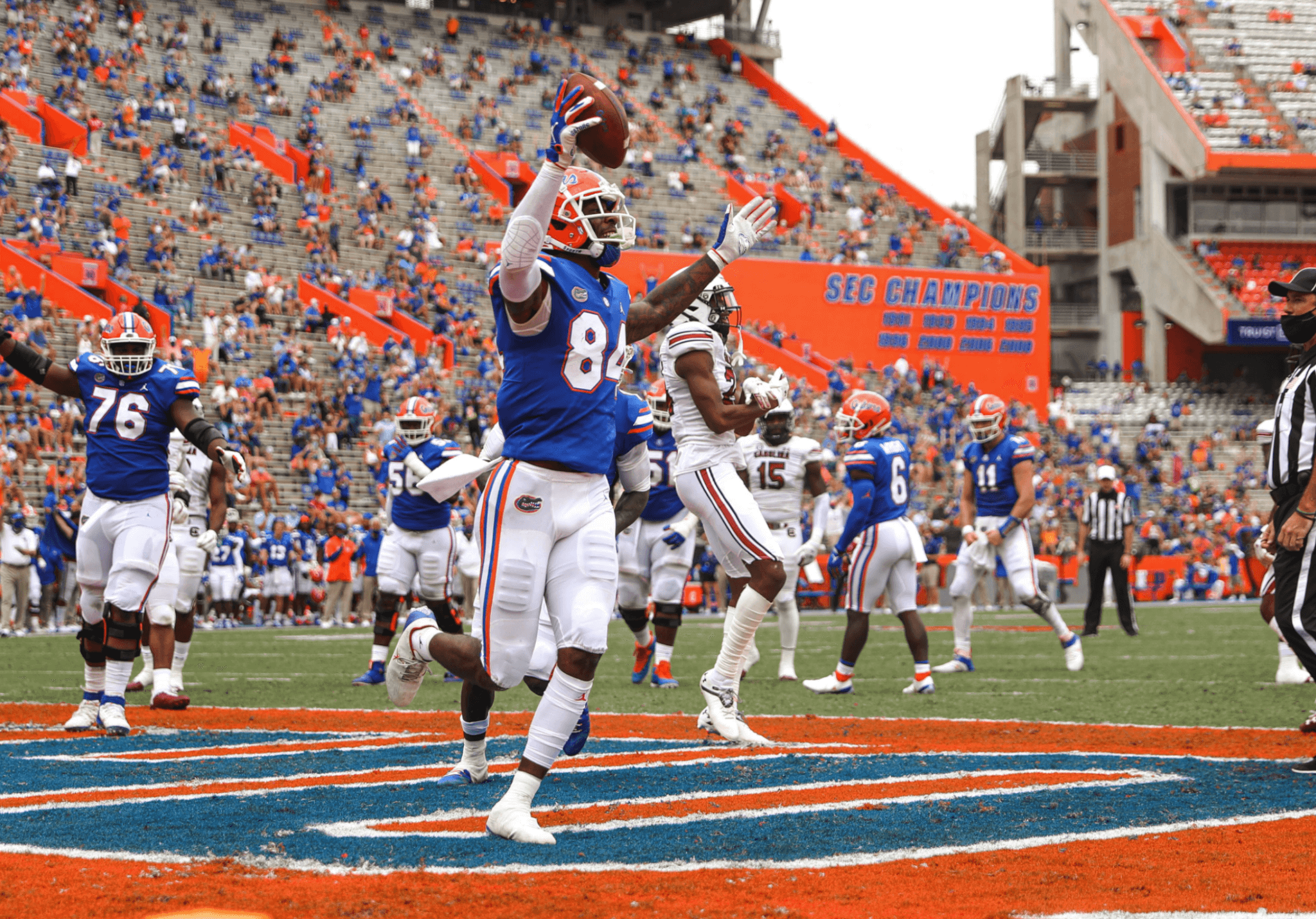 It wasn't pretty down the stretch, but the Gators did take care of business against South Carolina, 38-24. And therefore, we have some helmet stickers to give out. You can rewatch the full game- and specifically, the plays that earned helmet stickers- right here.
So who earned the accolade in that two touchdown victory?
13:59 1st quarter: Ventrell Miller for his TFL. Miller diagnosed this screen pass immediately and therefore the play was over before it started. This is what happens when you combine tremendous athletic ability with a high football IQ.
5:45 1st quarter: Kyle Trask and Kyle Pitts for their 20 yard connection. You know the saying "you can't defend the perfect throw?" Well, you really can't defend a perfectly timed and perfectly thrown ball from the ultra-accurate Trask. And Pitts did some Mackey Award-worthy stuff to get open, too, making Gamecock corner Jaycee Horn look utterly helpless in the process.
3:50 1st quarter: Jean DeLance for his pull block. Pierce gets the touchdown in the stat sheet, but this touchdown was all DeLance. The Gators' right tackle immediately maneuvered himself left and drove a Gamecock defender several yards backwards- several yards to the outside of the left hashmarks, clearing a runway for Pierce to tie the game.
3:43 1st quarter: Kaiir Elam for his PBU. Because PBUs, like turnovers forced and touchdowns, get an auto-sticker more often than not. Even though the throw would have only gone for five yards or so, this was still a great play by Elam.
2:00 1st quarter: Kyle Trask X2 and Kyle Pitts X2 for their 20 yard connection. This was a great throw by Trask to put it where wither his teammate got it or nobody would. And what a catch by Pitts to go up and get it- and then have the presence of mind to keep plowing forward and add some yards after the catch.
:41 1st quarter: Kyle Trask X3 and Trent Whittemore for their 25 yard connection. Again, this was a hell of a throw by Trask to put it where only his guy could have a chance at it- and after escaping pressure and buying himself some time in the pocket, too. But Whittemore made this play work by leaping several feet into the air and hauling it in when, at first glance, it seemed to be a foot too high. (Play of the Game nominee)
:15 1st quarter: Kyle Trask X4 and Kyle Pitts X3 for their 15 yard touchdown connection; Nayquan Wright for his block to seal the edge. An expertly designed play that was executed to perfection: Pitts pretended to block for about a second to sucker Carolina into thinking that he wasn't running a route, and then turned a simple crossing route into his fifth touchdown reception of the year. And Wright made sure he wouldn't be touched by landing a fatal block on the only Gamecock defender with a prayer of catching Pitts. (Play of the Game nominee)
10:37 2nd quarter: Kaiir Elam X2 for his TFL. Defending against the option is mainly just assignment football, and Elam couldn't have done his assignment any better on this play. He shed a block and made a flying tackle on Deshaun Fenwick for a one yard loss in the span of two and half steps.
8:04 2nd quarter: Kadarius Toney for his 16 yard catch and run. When Trask threw this ball, it seemed extremely unlikely that Toney would make a first down out of it. But then he started running. He turned on the jets, beat his defender to the sideline and managed to pick up sixteen on third and fourteen. Never take this guy for granted, y'all.
6:56 2nd quarter: Xzavier Henderson for his 23 yard catch. This wasn't a bad throw from Trask by any means, but Henderson gets the helmet sticker because he got walloped right after making the catch- and he held on to the ball for the huge play. Welcome to the SEC, Baby Hendo!
3:37 2nd quarter: Evan McPherson for his 28 yard field goal. What a great feeling it is to not have to look away every time Florida kicks a field goal anymore. Remember when that wasn't the case?
3:24 2nd quarter: Kaiir Elam X3 for his PBU. Who knows how this game might have played out if South Carolina scored on their last drive of the first half? Elam did his part to make sure that didn't happen. Collin Hill went deep on the first play of the drive, aiming for Xavier Legette. But Elam got a hand in there and dislodged it, saving a potential 25-30 yard gain.
3:18 2nd quarter: Zach Carter for his sack. Though Carter himself didn't personally sack Collin Hill on this play, he drove the offensive lineman backwards- and right into him, tripping him up. Which is honestly way more impressive than getting the sack yourself.
2:45 2nd quarter: Malik Davis for breaking multiple tackles. You won't see too many five yard runs better than this one. First, Davis stepped out of a tackle at the line of scrimmage, and then put his foot in the ground and make a second Gamecock miss with a juke move. It may not look too impressive on the stat sheet, but that's part of what this segment is for! I see you, Malik.
1:27 2nd quarter: Kyle Trask X5 and Kyle Pitts X4 for their four yard touchdown connection. Simple pitch and catch here, but hey. A touchdown is a touchdown. And this one made six on the year for Pitts, meaning he only needed six quarters of 2020 to surpass last year's total of five.
9:25 3rd quarter: Ventrell Miller X2 for his fumble recovery. What a devastating blow for South Carolina this was: after driving into Florida territory, the Gamecocks went backwards thanks to back to back penalties, and then Deshaun Fenwick couldn't handle the pitch from Hill. A sea of bodies swarmed toward the loose ball, and Miller came up with us to completely flip the momentum.
7:23 2nd quarter: Kyle Trask X6 and Trent Whittemore X2 for their four yard touchdown connection. Trask schooled South Carolina with a nice play fake, and then Whittemore made the latter part of the play more nerve-wracking than it had to be, bobbling the ball and falling down before squeezing it. But neatness doesn't count. The catch was made. And Whittemore has his first touchdown as a Florida Gator.
6:48 2rd quarter: Zachary Carter X2, Khris Bogle, Amari Burney and Brenton Cox for their sack of Collin Hill. Total team effort here. The entire Gator defensive line completely dominated the South Carolina offensive line on this one. All four guys with a hand in it get a helmet sticker for this.
4:56 3rd quarter: Kadarius Toney X2 for his 57 yard catch and run for a touchdown. Trask did a solid job of rolling to his left and buying time before finding Toney on the shallow crossing route, but this touchdown was all Toney. And, well, an assist goes to South Carolina's defense for being so inept in the tackling department. Toney shook off not one, not two, not three… no, still not done… not four… but five South Carolina defenders in about a five yard span to turn what should have been about a 17 yard gain (after all, Toney did have a few yards of space after catching the ball) into a crippling 57 yard touchdown. (Play of the Game nominee)
12:47 4th quarter: Shawn Davis for his PBU. Davis was sorely missed in the secondary against Mississippi after getting ejected on the first drive of the game for targeting, and on an up-and-down day for the Gators defensively, he was definitely one of the positives for this play alone. Great instincts combined with a perfectly timed jump to knock the ball away equals an easy call for a helmet sticker.
11:08 4th quarter: Andrew Chatfield and Brenton Cox X2 for their sack of Collin Hill. Congratulations to Chatfield on his first sack as a Gator! Here's to many more. That's about the extent to which this play was useful, as the Gamecocks scored on the very next snap, but hey, you never forget your first. And Cox had a hand in it too, so he gets a helmet sticker as well.
6:23 4th quarter: James Houston IV for his sack of Collin Hill. Houston's a pretty strong dude, so I can't say it's a surprise to see him display that strength on the field, but he very nearly ended Deshaun Fenwick's life when Fenwick made the fateful choice to try to pick him up on a blitz. Bad idea. Houston channeled his inner Brandon Spikes-on-Knowshon Moreno and absolutely bulldozed over him. And then, lying facedown on the turf after alpha-rolling Fenwick, Houston got an arm out and tripped up Hill for yet another sack. (Play of the Game nominee)
:58 4th quarter: Jaydon Hill for his PBU. Great play by the youngster to beat Shi Smith to the spot and bat the ball away on third and goal. I wouldn't be surprised if we start to see a good deal more of him in the secondary as the year goes on.