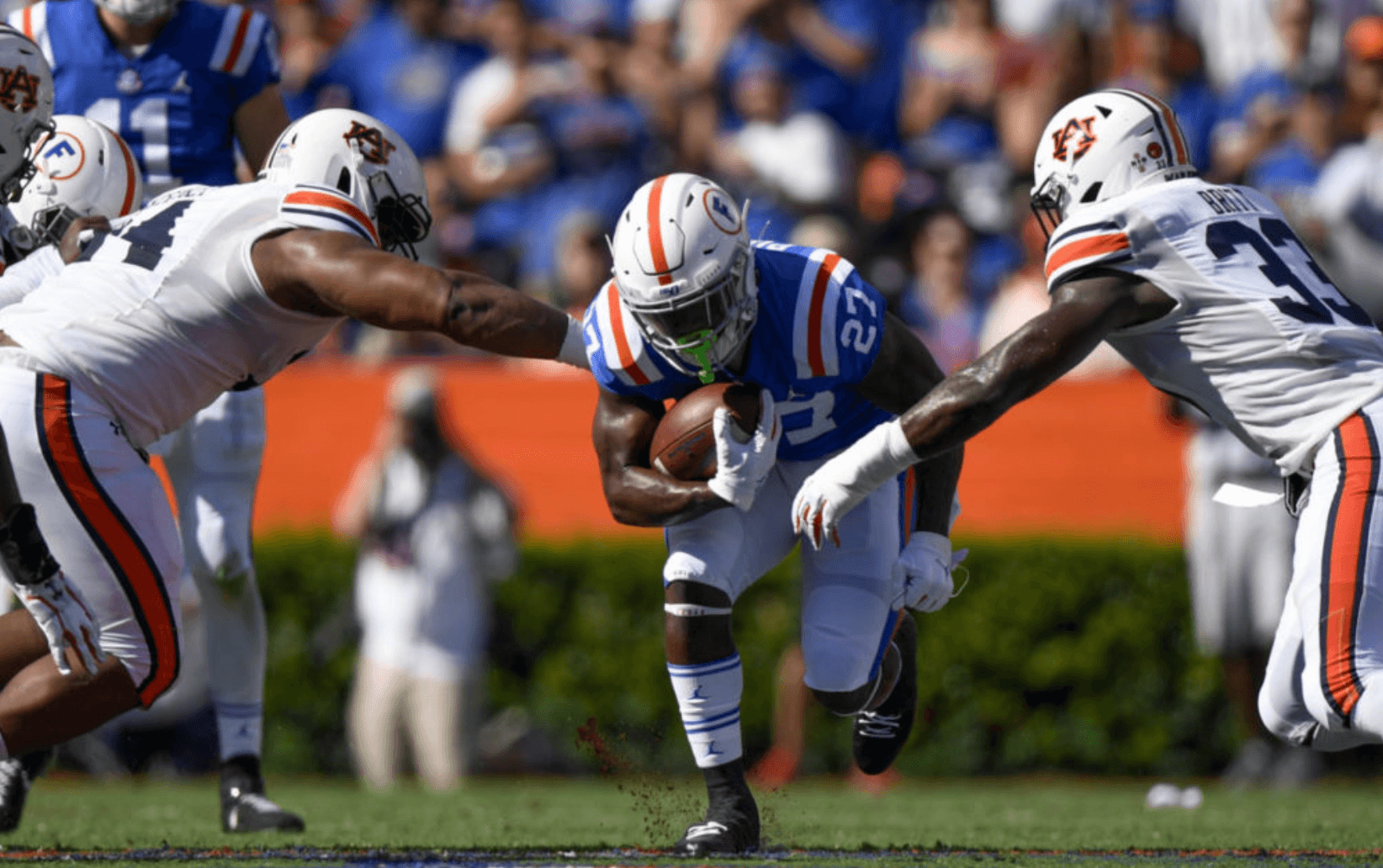 After a bit longer of a gap between position breakdowns than I intended, the series rolls on today with a look at Florida's running backs. What do the Gators have in stock in their RB room this year?
The leader: Dameon Pierce
The leading returning rusher from 2019 has to be considered the leader of the rushers heading into the 2020 season, right? Pierce, like everybody else who ever toted the rock, was limited on the stat sheet by a terrible run blocking offensive line last year, as his rushing total dipped from 424 yards as a freshman to 305. But there's no debating what he's capable of, and now he's finally first in line for carries after sitting behind LaMical Perine the last two years. We've seen enough flashes of both his power and speed to know that with even mediocre blocking, he's incredibly dangerous. And he's done nothing so far in summer ball to discourage that narrative. Pencil him in as the Gators' starter and most reliable every down back. With a little bit of help from the boys up front, he could sneak into the discussion for an All-SEC selection.
The second-in-command: Lorenzo Lingard
Lingard, like Pierce, has been biding his time, just waiting for his opportunities over the past couple of seasons. And like Pierce, Lingard boasts blazing speed that makes him a perennial home run threat. Unlike Pierce, however, Lingard transferred from Miami after not doing much of anything for the Canes and arrives in Gainesville looking for a fresh start, while Pierce has already been a part of the offense since Mullen's arrival and is more proven-not to mention familiar with the playbook. On the other hand, Lingard is additionally threatening as a receiver. He's impressed coaches and teammates alike in summer practices enough to where he's guaranteed to have a role in this offense. Look for Pierce and Lingard to combine to get the majority of the carries- at least to start the season.
The sleeper: Nay'Quan Wright
In truth, Wright is likely to start the season fourth on the depth chart behind Pierce, Lingard and Malik Davis. But he's also not likely to stay there for very long. He's impressed so far in practices, which for him means he simply picked up right where he left off in high school, dominating against some of the best talent South Florida had to offer. Though relatively small for a running back, Wright is shifty and agile enough to break tackles and turn three yard gains into 23 yard gains, and can catch passes out of the backfield to boot. Don't be surprised if he's getting a significant amount of touches by the time Florida heads down to Jacksonville for the Georgia game on November 7.
Others to watch for: Malik Davis and Iverson Clement
I love Malik Davis. I love his perseverance. But unless he's really, truly back to 100% strength and better than ever before following a season ending injury in 2018, he's going to get buried on this depth chart. And Iverson Clement faces a similar outlook… that is, assuming nobody ahead of them on the depth chart gets sick or injured, in which case Florida will be forced to resort to using fourth and fifth string backs who would probably start for half the other teams in the SEC. Not bad for a doomsday scenario at a given position. Dan Mullen really isn't likely to deploy five running backs on a regular basis, but if he needs to reach deep down the depth chart, Davis and Clement are more than serviceable safety nets.
Position overview
Though devoid of proven star power, Florida's running back room consists of five ball carriers who can play in the SEC. Better yet, Pierce, Lingard and Wright are very different types of backs, meaning they could complement each other well and each find a spot in this offense. Exactly how they fare depends on factors that they can't really control, like how their line blocks for them this year and COVID-19 testing. But the potential is definitely there.
Position grade: B
With too much unknown, I'm giving this running back group a B tag with the disclaimer that it has the potential to be an A if somebody breaks out for a huge season. That's very much within the realm of possibility, particularly with Pierce and Lingard, if only (yes, it's worth saying again) the offensive line helps them out. But one way or another, the depth, and the promise that everyone who makes up that depth boasts, means a relatively high floor for this unit. Florida isn't likely to get a Doak Walker Award finalist out of this running back corps, but this is an above-average unit at worst.