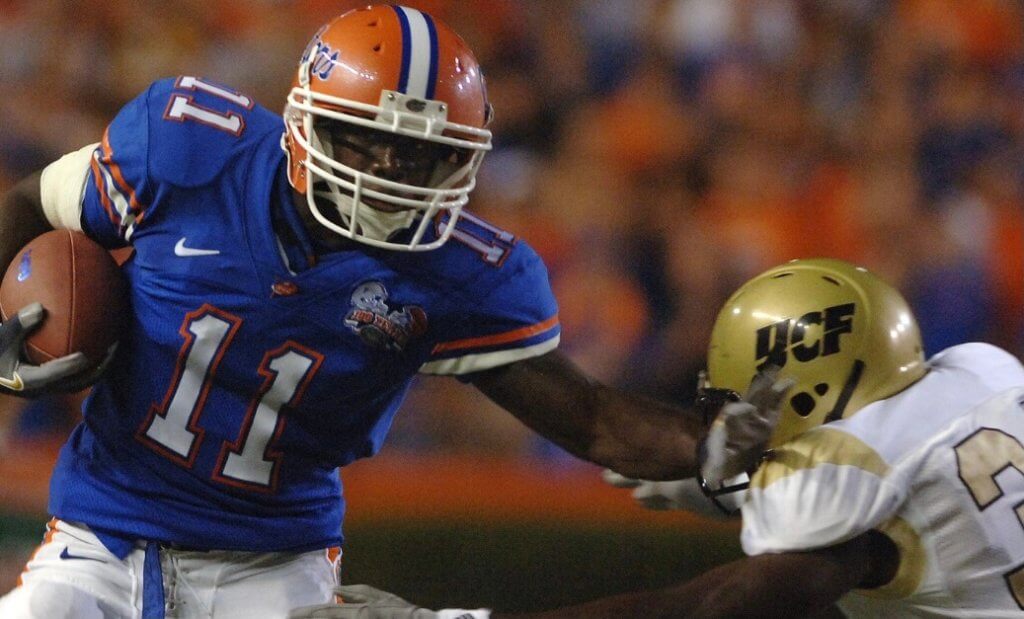 UPDATE: the social media teams of Florida and Central Florida have officially announced the three game series, confirming details of reports listed below. The original story begins below.
UCF Knights fans' dreams of playing the Florida Gators are apparently about to come to fruition. And it looks as though they'll get three shots at the mighty Gators.
According to various reports that cite sources from both Florida and UCF, the schools are "close" to an agreement of a two-for-one football series, meaning Florida would host UCF twice in exchange for playing a lone road game. The deal would see UCF come to Gainesville in 2024, Florida visit UCF in the "Bounce House" in 2030, and UCF make a return trip to Gainesville in 2033.
The two teams don't have much of a history on the field. They've played twice before, with Florida winning both games by more than 30 points. But recently, they've build up quite the drama off it.
It all started back in 2006. Florida had just hammered the (then) Golden Knights 42-0 in Gainesville, and the two teams were slated to play again the following year. Instead, Central Florida- perhaps still nursing its bruised pride and wanting to avoid repeating the experience- backed out of the game, and was forced to pay Florida $100,000 for reneging on its end of the deal. With no real animosity between the two schools at that point, that detail was kept quiet, and that appeared to be the end of that.
Except: in 2017, just two years removed from a perfect 0-12 season, Central Florida engineered a miraculous turnaround and went 13-0 on the year, capped it off with a Peach Bowl victory over a then 10-3 Auburn team… and then their fans began to jabber. A national championship was claimed (as opposed to, you know, earned) and plastered on the wall of the Knights' stadium. Boasts were made about how UCF had surpassed Florida, FSU and even Miami atop the Sunshine State's prestige rankings. And naturally, UCF fans began to conjure an inflated image of themselves.
But whereas the relationship between the two schools and their fan bases was certainly not friendly in the pre-2018 season, it turned more confrontational and downright hostile as the Knights kept winning in 2018. Florida, of course, had just poached Dan Mullen from Mississippi State, and after a bumpy takeoff to his tenure with a loss to Kentucky, the Gators rebounded to finish with a top ten ranking and a Peach Bowl win over Michigan (which I guess by Central Florida's standards makes the Gators national champions, right?) while UCF's winning streak ended at the hands of LSU in the Fiesta Bowl.
All the while, the two fan bases kept firing back and forth about which school would win if they played, as well as if UCF even deserved the chance to play Florida. As 2018 came to a close, though, some juicy details began to emerge.
For example, in early December, ESPN released the findings of a public records request, which revealed that UCF had paid Florida $100,000 to escape a second bludgeoning at the hands of the Gators in as many years. Days later, Dan Mullen casually announced that Florida had offered UCF a chance for a two-for-one series, and that the Knights had turned it down. Then-UCF AD Danny Knight responded by telling the world that the Knights were too good for a two-for-one, that they deserved a true home-and-home series with Florida, and that since Florida wouldn't consider that, talks between the schools to play football were over. (Which, coincidentally, was fine with me as both a writer and a fan.)
But then White departed for Tennessee, took head coach Josh Heupel with him, and now here we are, with Florida and Central Florida seemingly right in the position White claimed the Knights were too good to be in.
Such is life. And you can be sure that all three seasons in which these teams play, all involved on both sides will be briefed on the schools' war of words, and be ready to settle it on the field.
For UCF, it's a chance to show that they belong, that they really did have the right of way to run their mouths. And for Florida? It's a chance to put more distance between themselves- the flagship program in the talent-rich state of Florida- and the newcomers than there has been in over a decade, and relegate Central Florida to the directional school of silent Knights it always was before 2017.