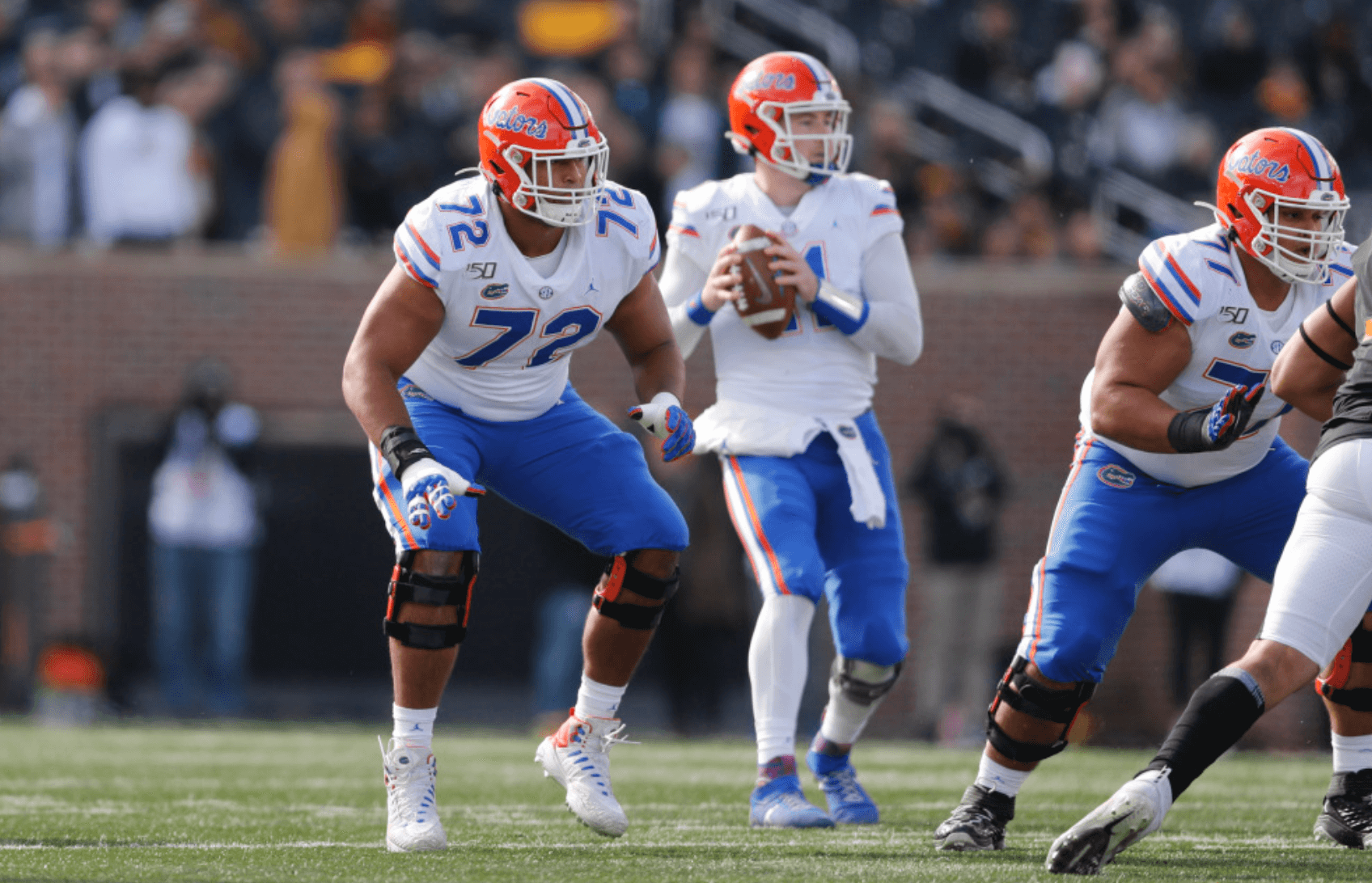 Fresh off our preview of Florida's tight ends, our 2020 Gator football position preview rolls on with a look at perhaps the key to the entire team: the offensive line. Last year, was so-so a year ago in pass protection, but really let the team down in the ground game. Can it take a step forward in 2020?
Previously previewing: quarterbacks  |  running backs  |  wide receivers
The leader: C Brett Heggie
As a redshirt senior, Heggie has been through the wars of the SEC before and has become a staple of John Hevesy's line. He's a smart, heady guy who isn't the most naturally gifted player you'll ever see but who gets the most mileage out of his talent that he possibly could, as evidenced by his journey from an unheralded recruit into a multi-year starter in the SEC. What little success Florida did have on the ground last year, Hevesy was usually involved in with a key block. Of course, he's going to need help from his teammates to open up the holes that weren't there last year, but I feel very comfortable with Heggie as the unquestioned captain of the unit as he moves over to center following the departure of Nick Buchanan.
The second-in-command: LT Stone Forsythe
One thing that you may not have noticed as Florida backs were getting eaten alive on play after play behind the line of scrimmage last year: on a large number of them, Forsythe was still engaged with his defender as the ball carrier got hit. Meaning, though everyone on the line was responsible for missed assignments here and there, he did his job more than some others on the line. Now in his second season as the starting left tackle, Forsythe will need to take that step forward from "doing his job more than some others on the line" to "anchoring the line as the protector of Kyle Trask's blind side." Coaches believe he's capable of taking that step, and giving the 2020 Gator football team a sizable upgrade at left tackle than what he gave them in 2019.
The sleeper: RG Ethan White
We're about to find out just how valuable White really is, as his offseason shoulder surgery will keep him sidelined for the Gators' season opener against Ole Miss. But White is another guy that rose from a virtually unwanted high school recruit into a serviceable starter in the SEC by the end of last season, bulking up under Nick Savage and turning into a veteran leader overnight. Once he returns, he's likely a set-and-forget piece at right guard as coaches have raved about his progress since he started getting real practice reps last season. And if all goes according to plan, White will be able to say a lot more about his contributions to the 2020 Gator football team than simple that he was a starter.
Others to watch for: RT Jean DeLance, LG Richard Gouraige, G Stewart Reese, G Josh Braun, T Michael Tarquin, T TJ Moore
How the Gators ultimately fare on the offensive line will have everything to do with how these guys perform. DeLance was, objectively speaking, a major liability last season at times, while Gouraige showed flashes of promise but didn't noticeably help matters. Behind them are three newbies: incoming freshmen Tarquin and Braun, as well as Mississippi State transfer Stewart Reese. The rookies are talented and Reese has started in the SEC before, which means that unlike last year, Florida actually has depth on the line. Thus, problems at one position could mean personnel shifting early and often in 2020.
Position overview
I feel pretty safe about saying that I believe the top dogs on this line- Heggie, Forsythe and White- will do their part. And I also see Reese as a dependable backup at guard. DeLance returning to his right tackle position leaves me wary, though, and much like a chain link fence, an offensive line is only as good as its weakest link. If he takes a mammoth step forward in 2020? Great; then the line as a whole can move forward together as a unit. If not, and if Tarquin fares no better? The right side of this line will get besieged and the running game will be stuck in reverse for the second year in a row.
Position grade: C
Florida is going to need a better performance from its offensive line if the Gators have any hopes of establishing a running game, and I think they'll get it. If nothing else, I do possess blind faith that John Hevesy cannot have a bad offensive line two years in a row. It's the question of how much better this line will be, with almost the same personnel as last year, in 2020 that makes this position a question mark. Given how far some of these guys have come from their high school days, I'll choose to instill my trust in Hevesy to turn this into a competent, if unspectacular group.