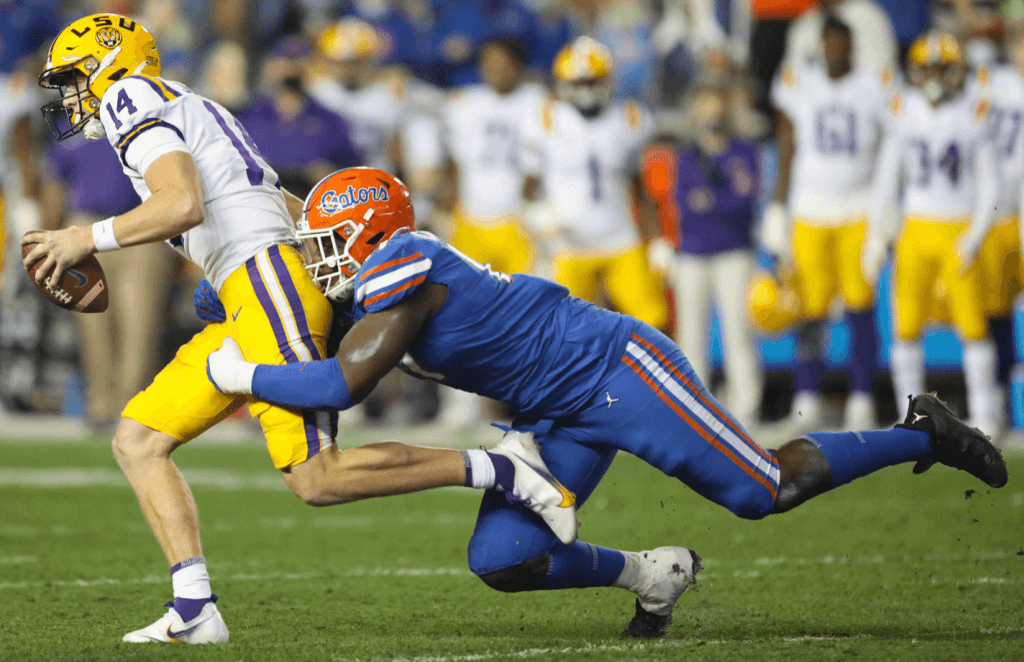 Having completed the position by position preview of the Florida Gators' offense last month, it's time to turn our attention to the other side of the ball: the defense. It was, for lack of a nicer possible way to put it, awful in 2020- and if Florida is to be any more than a sieve defensively in 2021, it needs to straighten things out. And that starts up front.
Florida's defensive line lost a couple of pieces from last year's team, but most of the keys to that line are back- and a few new pieces arrive via the transfer portal. Though you could say this about any position on the defense, this defensive line figures to be a key factor that determines if the Florida Gators can put forth a respectable defense in year four under Todd Grantham.
So without further ado, let's get to it.
Previously previewing:
Quarterbacks | Running Backs | Wide Receivers | Tight Ends | Offensive Line
Defensive End: Zach Carter
Now in his fifth year in the program, Zach Carter returns for his redshirt senior season as a grizzled veteran, and a leader on this defense. There's no question that Carter has progressed throughout his career, and made tremendous physical and emotional strides, nor is there any question about whether Carter can produce or not. The question is if Carter can take that final step from being a very good lineman into a truly elite lineman.
There wasn't a ton of pass rush in 2020 from the Florida Gators, but what little bit there was, Carter provided much of it, tallying five sacks in the shortened season. Tape shows that over the years, Carter has developed a nasty rip move to disengage from offensive linemen; the extra muscle mass he's added this offseason may make that rip move even more devastating. He's proven his versatility, too, having played both inside and outside on the line throughout his career, but now, he appears to have found a home.
Carter will need some help from his friends inside in order to truly produce the way many are expecting him to. After all, if opponents can run the ball between the tackles, there's no reason to do anything else, and thus, Carter's biggest strength is taken out of the game. But assuming Florida has an even competent interior of the defensive line, I expect Carter to put together a truly special senior season at the defensive end position.
Defensive Tackle: Daquan Newkirk
Sometimes, there's nothing like coming home. Such is the case for Newkirk, a native of Orlando who has made his way back to the Sunshine State to play for the Gators after three years at Auburn. Newkirk logged considerable playing time on the interior of the Tigers' defensive line over the last three years, and now, standing 6'3 and 282 lbs., he's come to Gainesville to do the same for Florida- thus filling a massive hole for the Gators.
Florida's run defense was porous last year, particularly between the tackles. Newkirk's combination of muscle mass and athleticism provides Florida with an instant, perhaps even automatic fix to that problem. Though not a pass rusher by trade, he's also proven adept at harassing opponents in the backfield, recording five TFL's and two and a half sacks in his time at Auburn.
If you're looking for a negative? Because let's face it, an instant plug-and-play piece on the inside of the defensive line does sound too good to be true? Newkirk has never played as much as he's probably going to play at Florida. But that also means he has yet to realize his potential. With nobody other than Gervon Dexter really threatening him for playing time, watch for Newkirk to blossom into a run-eating machine in his final year of eligibility.
Nose tackle: Antonio Valentino
Formerly known as Antonio Shelton, this massive nose tackle from Penn State represents the other half of the Gators' offseason solution to its defensive line problem. Like Newkirk, Valentino didn't exactly star at his first school- but he definitely made his presence felt when he got his chances to play. Therefore, he's Florida's second plug-and-play piece on the interior of the defensive line.
Valentino, who stands 6'2, 325, racked up six sacks in forty games at Penn State, showing more ability to pressure opposing quarterbacks than most nose tackles. That can definitely be of use to Florida, especially when Todd Grantham gets cute and orders stunts. But Valentino's bread and butter is stopping the run, which he did very well in the ground-and-pound Big 10 for the last three and a half years.
On top of all that, he's another veteran leader down in the trenches with a voice that his new teammates have come to respect already in the short time he's been in Gainesville. Together with Newkirk, Valentino should help make Florida's rush defense somewhat respectable again at the very worst- and potentially even a strength.
BUCK: Brenton Cox, Jr.
Pay no heed to the journalistic abortion of an article/wish piece from a Georgia fan site claiming that Brenton Cox Jr. would miss a portion of the 2021 season. After having surgery this past spring, Cox has made great strides in his recovery, and is expected to contribute early and often for Florida at the hybrid BUCK position. That's immeasurably great news for the Gators, as if he's indeed healthy, he and Carter could team up to wreak havoc.
The former five star recruit and Georgia Bulldog started all twelve games for Florida last year, and was one of the few bright spots on an otherwise dismal defense. He logged four sacks, nine and a half TFL's, and eighteen QB hurries. With no proven options to give him a real push for his role, Cox appears set to thrive.
As is the case with Carter, Cox will need his teammates on the interior to do their jobs in order to maximize his potential, but if they do, he could break out and become a bona fide weapon off the edge. The speed, athleticism and nose for the football that he repeatedly displays on tape translates into a first round NFL Draft pick. Here's hoping Todd Grantham doesn't find a way to f*** that up.
Depth: Princely Umanmielen (DE), Gervon Dexter (DT), Khris Bogle (BUCK)
Unlike a year ago, Florida has depth on its defensive line that's genuinely worth getting excited about.
Princely Umanmielen will one day take over for Carter at the defensive end position, and it's easy to see why the Florida Gators recruited him so heavily. His speed and instincts make him a terrifying weapon off the edge. Now it's just a matter of adding some run-stopping effectiveness to his repertoire. He'll play in 2021, though, possibly in large quantities and almost certainly in some key situations. Look for him to grow and develop as the season progresses.
Gervon Dexter is one of the most highly rated recruits Florida has signed out of high school in the last decade or so (which admittedly does have negligible value given Dan Mullen's inability to land top prospects). That means, as is the case with Umanmielen, he's certain to log snaps in bunches. He's relatively raw, having only started playing football late in high school, but his combination of size and athletic ability makes him a monster, and an extremely exciting prospect to watch in 2021.
Khris Bogle is the wild card. He's accumulated snaps at linebacker, at defensive end, and at BUCK. Though nobody expects him to usurp Cox's role atop the BUCK depth chart, coaches seem to be pleased with his development there this offseason. It's time to see if he can take that next step, and truly break out for the Florida Gators.