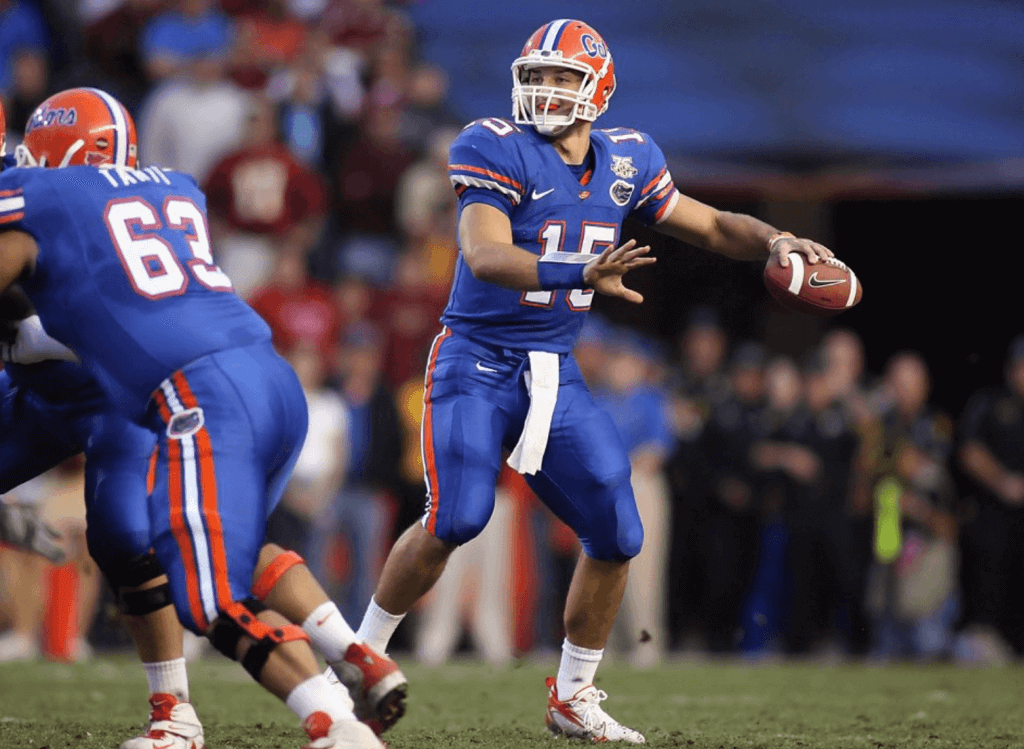 Voting for the #GreatestGatorEver bracket begins this afternoon. In the name of eliminating potential recentism in the voting, I thought I'd set the stage by previewing each Regional before the voting gets underway.
Today, we'll take a look at Regional 1, which of course features #1 overall seed and presumptive tournament favorite Tim Tebow…
The Regional 1 bracket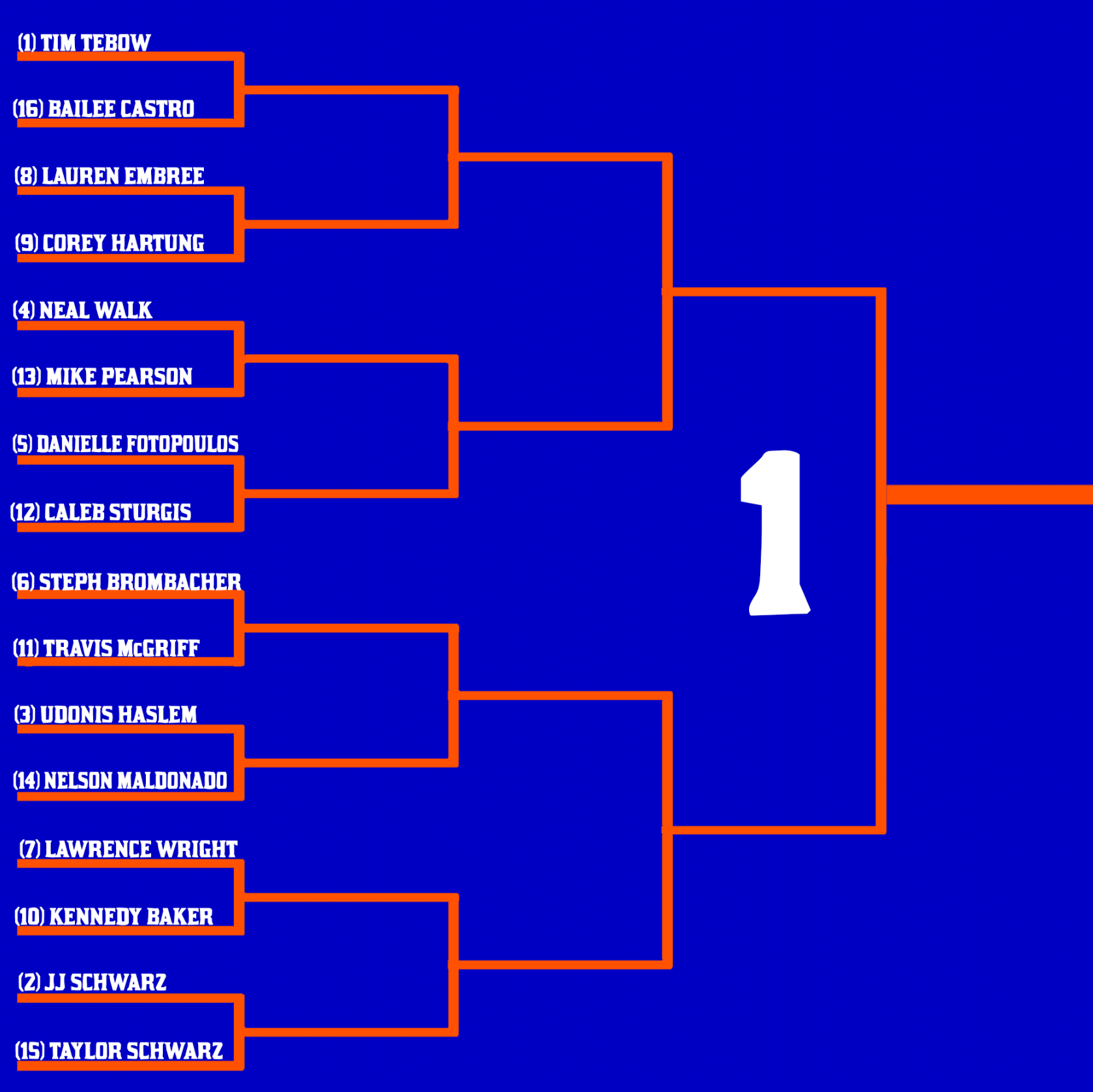 Regional participants
(Players are listed in order they appear on the bracket.)
(1) Tim Tebow (football, QB- 2006-09). 2006 and 2008 national champion. 2007 Heisman Trophy winner; 2008 and 2009 Heisman Trophy finalist. 2007 consensus first team All-American, 2008 and 2009 All-American. 2008 and 2009 team captain. Florida Ring of Honor member. Leads Florida all time in total yardage with 12,232, total touchdowns with 145 and rushing touchdowns with 57. First round NFL Draft pick. Three year NFL career with Broncos and Jets.
(16) Bailee Castro (softball, OF- 2012-15). 2014 WCWS All-Tournament team. 2014 national champion.
(8) Lauren Embree (tennis- 2010-13). 2011 and 2012 national champion. 4X All-American (2010-13). 2010, 2012, 2013 SEC player of the year.
(9) Corey Hartung (gymnastics- 2006-09). All around All-American in 2006, 2007 and 2008. 2009 floor routine All-American.
(4) Neal Walk (basketball, C- 1967-69). First All-American in Florida history. Only Gator basketball player to have his jersey number (#41) retired. Remains Florida's all time rebounds leader and 9th all time with 1,600 career points. First round NBA Draft pick (#2 overall). 10 year NBA career with Suns, Jazz and Knicks.
(13) Mike Pearson (football, OT- 1999-01). 2001 consensus first team All-American. Four year NFL career with Jaguars.
(5) Danielle Fotopolous (soccer, F- 1996-98). 1996 and 1998 All-American. 1996 and 1998 SEC Player of the Year. 1998 national champion and College Cup MVP. 1998 Honda Sports Award winner. 1999 FIFA Women's World Cup champion.
(12) Caleb Sturgis (football, K- 2008-12). 2011 and 2012 All-American. Florida's all time made field goals leader with 70. 2008 national champion. Six year NFL career with Dolphins, Eagles and Chargers.
(6) Stephanie Brombacher (softball, P- 2008-2011). 2009 and 2010 All-American. 7th all time at Florida with 1.50 ERA, 5th all time in strikeouts with 683.
(11) Travis McGriff (football, WR- 1995-98). 1996 national champion. 1998 All-American. Florida single season receiving yardage leader with 1,357 in 1998.
(3) Udonis Haslem (basketball, C- 1999-02). Fourth all time at Florida with 1,781 points. One of two players at Florida to ever score 1,700+ points and record 800+ rebounds. 16 year NBA career with Heat. 3X NBA champion in 2005-06, 2011-12 and 2012-13.
(14) Nelson Maldonado (baseball, OF- 2016-19). Second ever captain of Gator baseball in 2019. 2017 national champion.
(7) Lawrence Wright (football, S- 1993-1996). 1995 All-American. 1996 Jim Thorpe Award winner. 1996 national champion. Two year NFL career with Bengals.
(10) Kennedy Baker (gymnastics- 2015-18). Three time floor routine All-American, 2015-17. 2016 all around All-American. 2015 national champion.
(2) JJ Schwarz (baseball, C, 1B, DH- 2015-18). 2015 consensus Freshman of the Year. Second all time at Florida with 237 RBI and 518 total bases. Third all time at Florida with 293 hits. Fourth all time at Florida with 50 home runs. 2017 national champion. First ever captain of Gator baseball in 2018.
(15) Taylor Schwarz (softball, 1B- 2013-16). Ninth all time at Florida with .991 fielding percentage. 2014 and 2015 national champion.
(Note: "national champion" labels are only attributed to starters or critical backups/role players on the team.)
The favorite: (1)Tim Tebow
The only three time Heisman finalist in college football history and arguably most polarizing player in college football history leads the way in this Regional. To be blunt, it's going to be very difficult for anybody to take him out in Regional play.
The second favorite: (2)JJ Schwarz
Schwarz actually did the most damage as a freshman in 2015, but always came through in the clutch when his team needed him- like with a grand slam to bury FSU and send Florida back to the CWS in 2016. He's got an extreme incline to brave if he's going to make it out of the Regional, but hey- people have doubted him before, and that's usually when he's at his best.
The sleeper: (3)Udonis Haslem
One of Florida's best ever big men (and key contributor of Billy Donovan's first Final Four team) sits as a rather quiet three seed in this Regional. Truth be told, he probably doesn't have enough to knock off Tebow in a prospective Regional final, but if he's able to get past Schwarz in the Regional semis, that Haslem-Tebow matchup could get very, very interesting.
The dark horse: (7)Lawrence Wright
Florida's only ever Thorpe Award winner might present a challenge for Schwarz in the Round of 128 if he's able to knock out gymnast Kennedy Baker in the opening round. If he can get past Schwarz, look out.
The Cinderella candidate: (12)Caleb Sturgis
Wouldn't it be cool if two members of the 2008 football team- who were both arguably the greatest ever at their positions in Florida history- were to meet in the Round of 64? Sturgis would have to pull off a couple of upsets to get there, but the fact that he's Florida's all time field goal leader combined with the fact that he owns a national championship ring could spell trouble for his higher seeded opposition.