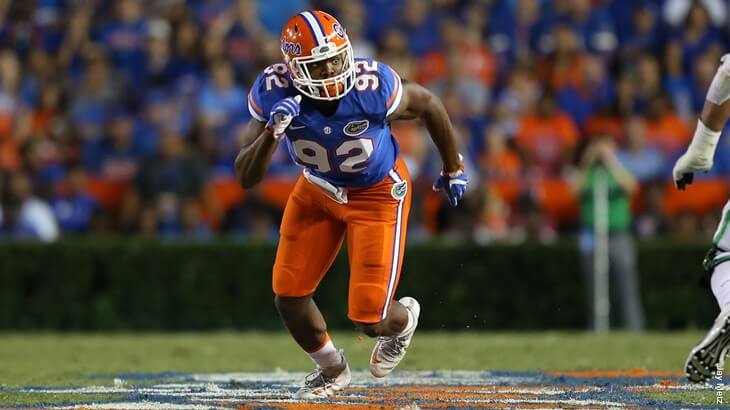 Jabari Zuniga is headed to northern New Jersey.
The New York Jets selected Zuniga, or "Zuu" as his teammates fondly call him, with the 79th pick in the 2020 NFL Draft. Zuniga becomes the third Gator off the board in this year's draft after CJ Henderson went to Jacksonville last night and Van Jefferson went to Los Angeles earlier tonight. Zuniga also becomes the 352nd Gator draftee all time, and the 76th since the 2007 Draft.
Zuniga was seldom healthy as a senior, but there was no debate as to what he could do when at full strength. He racked up 18 sacks and 33 TFL's in not even three and a half full years of action. As a junior in 2018, Zuniga teamed up with Jachai Polite as one of the most fearsome pass rushing tandems in the SEC, and finished second on the team with 6.5 sacks.
It's not because he's an off-the-charts athlete, either. Zuniga is a classic overachiever, one of those guys who gets more mileage out of his talent than most. The former three star prospect out of the Atlanta suburbs came in and earned a key role on Florida's defense almost immediately in 2016, and became a top-flight three down lineman as an upperclassman. His ankle injury from last season likely cost him about thirty or forty slots on teams' draft boards, but the draft is all about potential and value, and so Gang Green got a steal by taking a first round talent in the third round.
The biggest strength Zuniga brings is his pass rush ability. He's downright filthy coming off the edge. He boasts tremendous footwork and a nasty first step off the snap, a solid variety of pass rush moves and the ability to move laterally. His swim and rip moves are both exceptional, and he has a nose for the football that encouraged a lot of extra attention from opposing linemen in college. He also has strong hands, which he uses to play with great pad level and quickly disengage from blocks.
That said, his ankle injury is a legitimate concern, as is his good, not great, natural athleticism. There are also questions about how he'll fare as a run stopper at the next level given that he was good, not great in this department at Florida. His upside is unquestioned, but it won't be met if he can't stay on the field.
But Jabari Zuniga was an overall fantastic lineman when healthy at Florida, and if he does stay healthy, I would expect nothing less from him in the pros. There's obviously a risk attached here due to his injury history, but all things considered, the Jets got tremendous value with this pick.