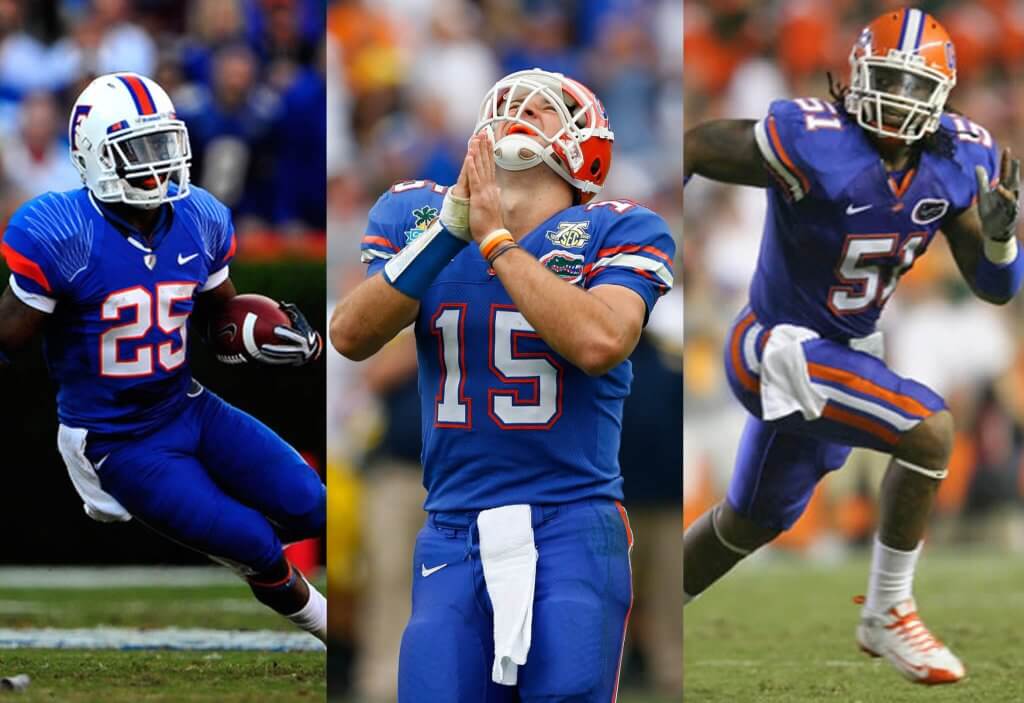 Three members of the Florida Gators' 2008 football team- universally regarded as one of the best in college football history- are finally getting the ultimate recognition they deserve- spots in the UF Hall of Fame.
Explosive kick/return man Brandon James posted a screenshot on Facebook of an email he received informing him of his induction into the Florida Gators' Hall of Fame. In his Facebook post, James mentioned what an honor it was to receive this high honor along "with my brothers Brandon Spikes and Tim Tebow." Though no announcement has come yet regarding Spikes or Tebow, it would be logical to infer that the former Florida linebacker and quarterback will be joining him in the Hall.
The reason for the delay is that in order to gain entry into the UF Hall of Fame, a player's career must have finished ten years ago. This is done in order to eliminate any recency bias that may cloud objectivity when the members of Florida's "F" Club meet to discuss new members.
All three came in together as part of Urban Meyer's record-breaking 2006 recruiting class. Behind their efforts, Florida became the first SEC school to win 13 games in three out of four seasons, and thus that 2006 class became the winningest senior class in SEC history with an incredible 48-7 record in that four year span. That golden era was highlighted with two national championships in 2006 and 2008, Tebow winning a Heisman Trophy in the season in between, and another stellar 13-1 campaign in 2009 in which Florida "settled" for a #3 final ranking and a Sugar Bowl win.
In his four year career, James took four punts and a kick back for touchdowns, and likely would have several more return touchdowns beside his name if not for blocks in the back called on his teammates nowhere near him. He averaged 11 yard per return as a freshman, 18.4 as a sophomore and 13.8 as a junior before opposing punters finally got wise and stopped sending returnable balls to him. On top of his prowess in the return game, he made several cameo appearances on offense, rushing 61 times for 302 yards and catching 43 passes for 379 yards in his career. As a result, he was named a first team All-American in 2007 and 2008.
Spikes anchored the Gator defense from 2007-2009, a label that does him even more justice than his stats- which were pretty great to begin with. A two-time consensus All-America in 2008 and 2009, Spikes finished his stellar career with 307 tackles, 31.5 of them for loss, and 6.5 sacks. He also picked off six passes, all in his latter two seasons, returning four of them back for touchdowns. But Spikes is best known by most for his soul-smashing hit on Knowshon Moreno in the 2008 Florida-Georgia game, which set the tone in the Gators' 49-10 humiliation of the Bulldogs.
As for Tebow, the case that he's the greatest college football player of all time is certainly a strong one. The only three-time Heisman finalist and the first to ever win the prestigious award as a sophomore, Tebow threw for 9,285 yards and rushed for 2,947 more in three full seasons as the starter, plus intermittent action as a freshman in 2006. He also threw for 88 touchdowns and ran in 57 more, the latter of which still stands as the most in the SEC. Topping it all off came three straight years of All-American honors; first team in 2007 and 2008 and second team in 2009.
With all those accolades in their backgrounds, it was only a matter of time before they could be formally inducted into Florida's Hall of Fame. And now, enough time has elapsed that this formality has become a reality.