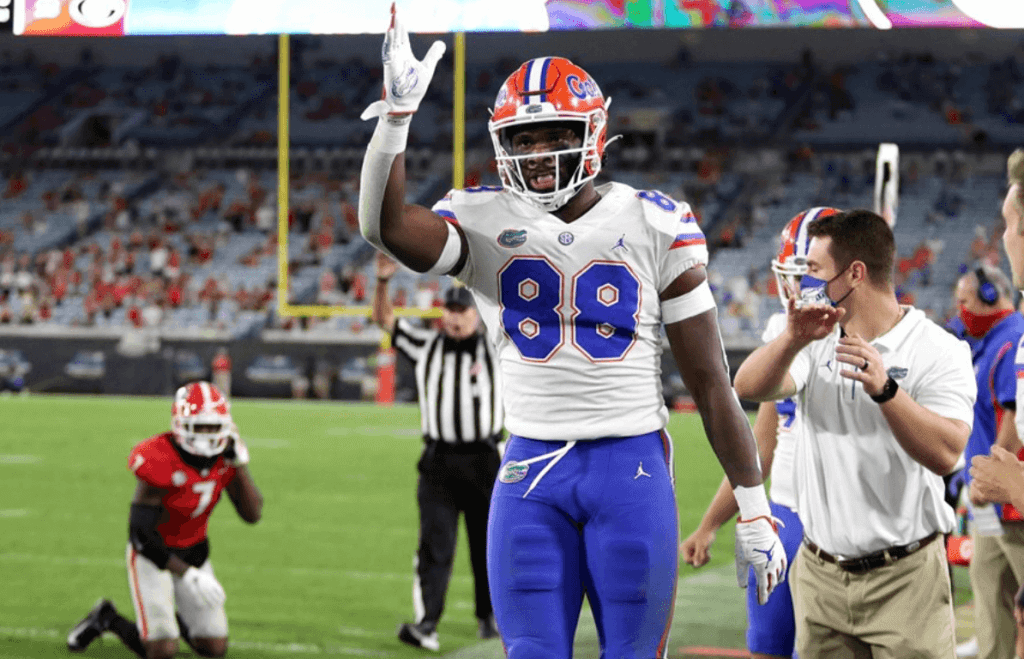 After a bit of a hiatus, our position by position breakdown of the Florida Gators football roster resumes today with a look at Tim Brewster's tight end room.
(Apologies for the delay. Long story. But we're back now. Catch yourself up with our previews on the Florida Gators quarterbacks, running backs and wide receivers.)
This is a tight end room that loses unanimous All-American Kyle Pitts, as all of Florida's rival fans have been pointing out throughout the offseason. But while Pitts is simply not replaceable, it isn't as though the Gators are hurting in the talent department here, either…
The TE1/Y tight end: Kemore Gamble
Gamble is the do-it-all option at tight end, and so he figures to start at the Y slot. He stands 6'4 and 250 lbs., which means he's got the ideal frame to block. And the tape shows that he makes good use of that frame: he plays with good pad level, delivers strong punches off the snap and though he doesn't do so especially often (mainly because he's often going out for passes), can pass block at an above adequate level, too.
Speaking of catching passes: he can do that too. Though he sat behind Kyle Pitts for half the season, and still had to battle Keon Zipperer for targets when he did see the field, Gamble still pulled in ten catches for 160 yards and a trio of touchdowns- most notably a 24 yard strike from Kyle Trask on a wheel route against Georgia- in the shortened 2020 season. Now without Pitts standing in front of him on the depth chart, those numbers figure to balloon upward in 2021.
It's hard to name a so-called "starter" because of the different uses the Florida Gators can find for its top two. But if the game's on the line and Dan Mullen decides to go with just a single tight end, it's probably going to be Gamble. The combination of size and speed with his ability to block makes him the #1 tight end on the depth chart heading into the season.
The TE2/H-back: Keon Zipperer
Florida's going to be using so many dual tight end sets in 2021 that it's almost not really worth talking about a true TE1 and TE2. Rather, Florida's got two different pass catchers who can fill tight end-type roles. The more traditional tight end spot (the Y) will probably go to Gamble, and the man fans call "Zip" will likely be used in a more hybrid role that utilizes his strengths while Gamble is holding down that Y spot.
The pass-catching skills and athleticism make him quite the weapon. Though Zipperer is a little smaller than Gamble, he's an absolutely dynamic playmaker with legitimate wide receiver type ball skills. We've seen Zip line up in the backfield and take off on wheel routes (mainly against Georgia), we've seen him navigate the back corner of the end zone and keep his feet inbounds while tracking down the ball (against Arkansas) and we've seen him maximize the opportunities he's gotten so far (three touchdowns on fourteen career receptions).
Zipperer is also a solid blocker for his stature, meaning he's not a liability who has to come out of the game on running plays, and thus, can act as a dangerous decoy once he starts racking up the numbers through the air. And should such a move become necessary, Zipperer is more than capable of stepping into the Y spot.
The dark horse: Nick Elksinis
While some Gator fans began debating whether Gamble or Zipperer would step in as the TE1, Elksinis quietly stepped in and turned some heads. No sooner had Elksinis stepped on campus for the first time than he began gaining attention during spring practice.
Elksinis, a Penn State flip from Jacksonville, consistently hauled in long passes from both Emory Jones and Anthony Richardson throughout the spring session. He's not as fast or naturally explosive as Zipperer, but he's plenty athletic enough to create some space against covering linebackers and is tall enough- and can jump high enough- to pull down some jump balls in the end zone. As for his blocking, that may need a little bit of work- but the size, strength and work ethic are there.
It's hard to see Elksinis commanding too much playing time right off the bat because of the guys ahead of him in Zipperer and Gamble. But that doesn't mean there won't be a place for him, and when he gets his opportunity, he should produce.
Don't forget about: Jonathan Odom
Odom and Elksinis have a lot in common. They're both 6'6 and within a couple pounds of 240, they've both good ball skills, and they both made a lot of big plays this past spring.
One major difference between the two, however, is that Odom already has some experience under his belt. Though he didn't log a stat, Odom was with the program in 2020, which means that he knows the offense and has built up that much more trust with his coaches. And Odom has the bloodline factor working in his favor: his father, Jason, was an All-American offensive lineman for the Gators back in the Steve Spurrier heyday.
It's hard to tell whether Odom or Elksinis will get the first crack at playing time this fall in the absence of Gamble or Zipperer. Mullen does have a strict caste system in place that favors the guy with more experience, but Elksinis was just so impressive this spring… but then again, Odom has drawn praise from Tim Brewster himself.
Either way, considering what they lost in Kyle Pitts, the Florida Gators have got to feel pretty good about their depth at tight end in 2021.