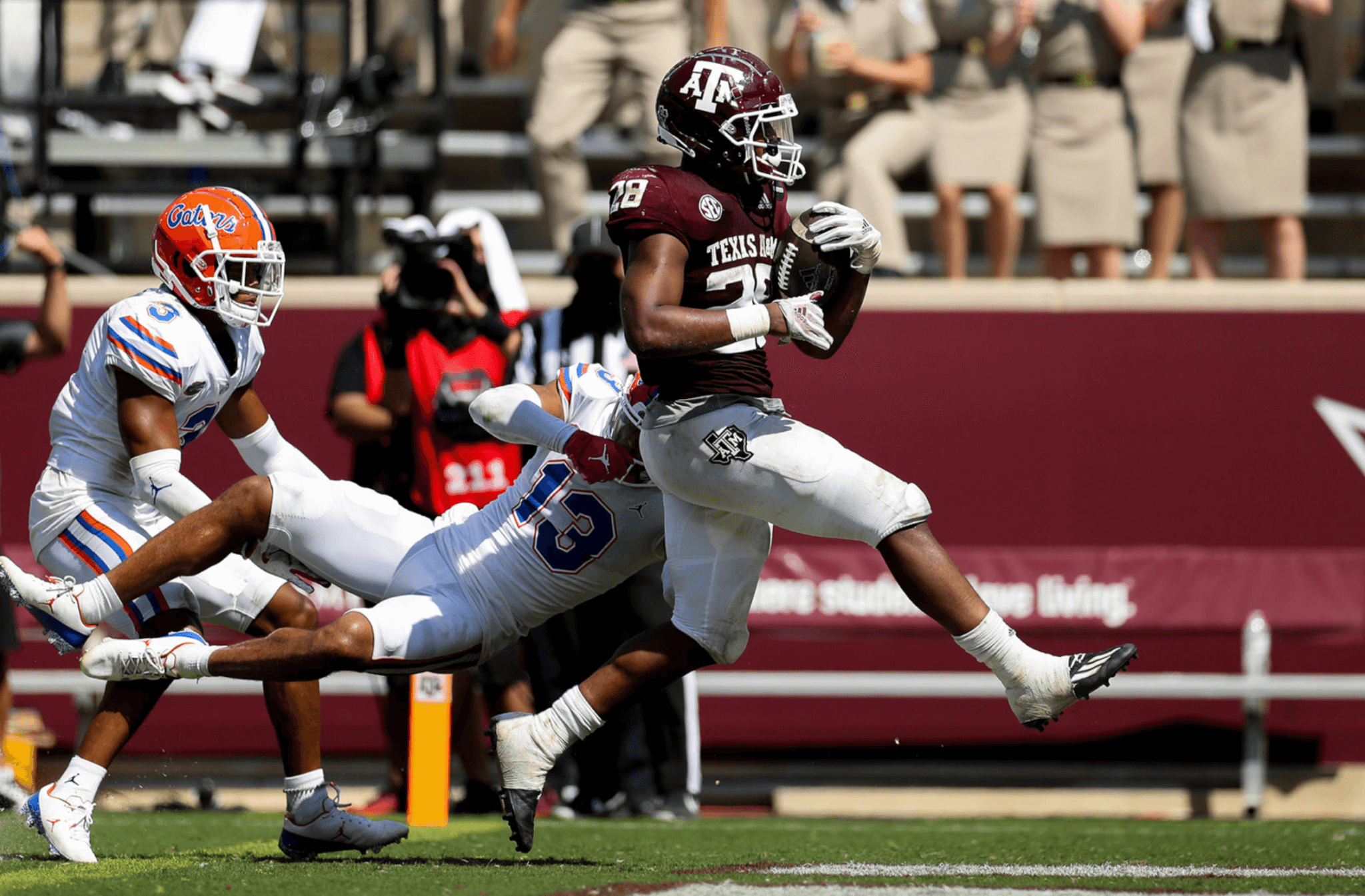 Throughout the game on Saturday in College Station, Florida seemed to be one step ahead of Texas A&M.
Until they weren't. And then it was too late to do anything about it as the Florida program trudged off the field following a familiar fate- a loss to Jimbo Fisher, the head coach who continues to befuddle the Gators like no other.
Kellen Mond shredded Florida for 338 yards through the air, Isaiah Spiller gashed the Gators for 174 more on the ground, and Texas A&M upset 4th ranked Florida, 41-38. The loss is Florida's first of the season, and alone doesn't harm Dan Mullen's team the slightest bit. Florida still controls its own destiny to Atlanta for the SEC Championship Game and beyond.
The way Florida's defense has looked in its first three games, though, Atlanta suddenly seems a lot farther away than it did a month ago.
Florida scored first, and in doing so, set the tempo for the game. Kyle Trask orchestrated a methodical 17 play, 75 yard drive that he finished off with a quick touchdown toss to Mackey Award favorite Kyle Pitts. Texas A&M responded immediately, punching back with a thirteen play drive that ended with Mond finding Chase Lane for the score. The teams would again swap touchdowns on their ensuing drives, with Trask hitting Kadarius Toney and Mond connecting with Caleb Chapman.
The Gators seemed to find some momentum at the end of the first half. Nayquan Wright pushed Florida back on top with his first touchdown run as a Gator, and though Texas A&M seemed ready to tie the game on their ensuing drive, they forgot about the clock. A disgusted Fisher had to order a 19 yard field goal on the final play of the half after the Aggies let the first half clock melt away and cost them a touchdown against a Florida defense that was clearly in over its head.
The momentum continued into the third quarter as Florida's defense forced a punt for the first and only time of the day. Trask made the most of the opportunity, hooking up with Toney for a 37 yard scoring strike to give Florida a seemingly insurmountable 28-17 lead midway through the third quarter. After all, the way Florida's offense was moving the ball- it had scored touchdowns on all four possessions to that point- it seemed like A&M had to steal a possession back to make up the deficit. And it seemed like Florida's defense had found its rhythm.
But then the Aggies went to the ground game and went right back to slicing the Gator defense apart. Runs of 13, 23 and 13 again by Isaiah Spiller flipped the field and put the ball in Florida territory. A few plays later, Spiller finished the drive off with a touchdown. And when Florida's offense had to punt for the first time all day- a bad punt off the foot of Jacob Finn- Texas A&M picked up where it left off on the ground, gutting the weak Gator defense again for a 66 yard touchdown drive- the final 19 of which came from Spiller again.
In Florida's defense, it did answer the bell late. Sort of.
Now trailing for the first time, Florida's offense sputtered again and had to kick a field goal, which McPherson did to tie the game at 31 apiece. The boot came after a delay of game, a subsequent false start and then a Texas A&M timeout, meaning McPherson had nearly five minutes to think about what should have been a 43 yard attempt that was now a 53 yard attempt, and he drained it anyway. Perhaps inspired by their special teams teammate, or maybe just sensing the urgency, Florida's defense made the only big play of the day. After Ainais Smith caught a slant from Mond, Brad Stewart came over and ripped the ball away. Marco Wilson recovered and gave Florida the ball back with eight and a half minutes to go in the game. Five plays later, Trask found Dameon Pierce in the flat for the go-ahead score.
But Texas A&M came right back and tied the game moments later on a play that made Florida fans sick. Looking for Chapman deep, Mond lofted a rainbow down the field toward him that was under thrown. Wilson, who had been beaten by four yards on the play, had a chance to make up the ground and get in position to make a play on it. But Chapman came back for the undercooked deep ball and outmuscled Wilson to haul it in for a game tying 51 yard touchdown.
Despite all that had gone wrong on both sides of the ball, Florida had the ball with a chance to win the game. With four and a half minutes remaining, all the Gators had to do was run the clock down and score in some fashion- either a touchdown or a field goal- and the win was theirs. All their defensive issues could have been erased, or at least shoved to the back of the line and put off for another week, had they done that.
It didn't happen. Malik Davis fumbled, Texas A&M drove down the field and Seth Small kicked a game winning 26 yard field goal to hand Florida just its sixth loss under Dan Mullen.
Maybe it's better that it all played out that way, honestly. Maybe it's better that Malik Davis fumbled and Texas A&M drove down the field and Seth Small kicked a game winning field goal.
The short sighted point of view is that it's always better to win than lose. And in a micro sense, that's true. But wins tend to mask issues, at least to a degree, and therefore those issues tend to be watered down. Coaches can curse and scream all they want, and players may hear their words and even agree with the X-rated critiques hurled their way.
But the players' collective attention can't be grabbed the same way in a win as it can be in a loss. Whatever problems are taking place in a win may not be ideal, but since the team was able to win the game anyway, it can't be too big of a problem, right?
A loss rips the mask away. Because it cost the Gators, and you can't get that back. Now Florida is going to have a loss on its record the rest of the way, and Mullen and his staff have no choice but to address the laundry list of defensive issues that are holding the team back if they want to avoid tacking on more losses to the Gators' record.
And that's good, because it was obvious after the Gators' win over South Carolina a week ago that things needed to change in order for the team to have a chance to accomplish any of the goals it set for itself before the year began. Now those issues are as glaring as a policeman's halogen flashlight shined in your eyes from four feet away.
The tackling is still awful, both in terms of form and execution. Players are taking bad angles and not setting the edge. Defenders are seldom disengaging from opponents in the trenches and shedding blocks. There's no push up front, and therefore massive holes for running backs and an eternity for a quarterback to go through his progressions. Guys are lining up out of position and letting receivers get behind them in the secondary. Marco Wilson in particular looks lost in man coverage, and he's an easy target for fans because his inability to make a play on the bomb to Chapman directly cost Florida the game, but he's far from the only one to blame. Assignments are frequently busted on all three levels of the defense. And so on.
This defense is currently so bad, I don't believe it could possibly have taken a step forward without something to wake it up and force changes to be made. And I still don't think it's conceivable that this defense can turn from an atrocious unit into a great one, because there's just too much to fix.
What does seem doable, though, is for this defense to make the leap forward from an atrocious unit to "just plain bad," and from there try to improve to mediocre. Because a mediocre defense, paired with the offense that Florida is equipped with, is going to be very hard to beat.
But whatever the ceiling ultimately is for this defense, the shake-up process has to start now.