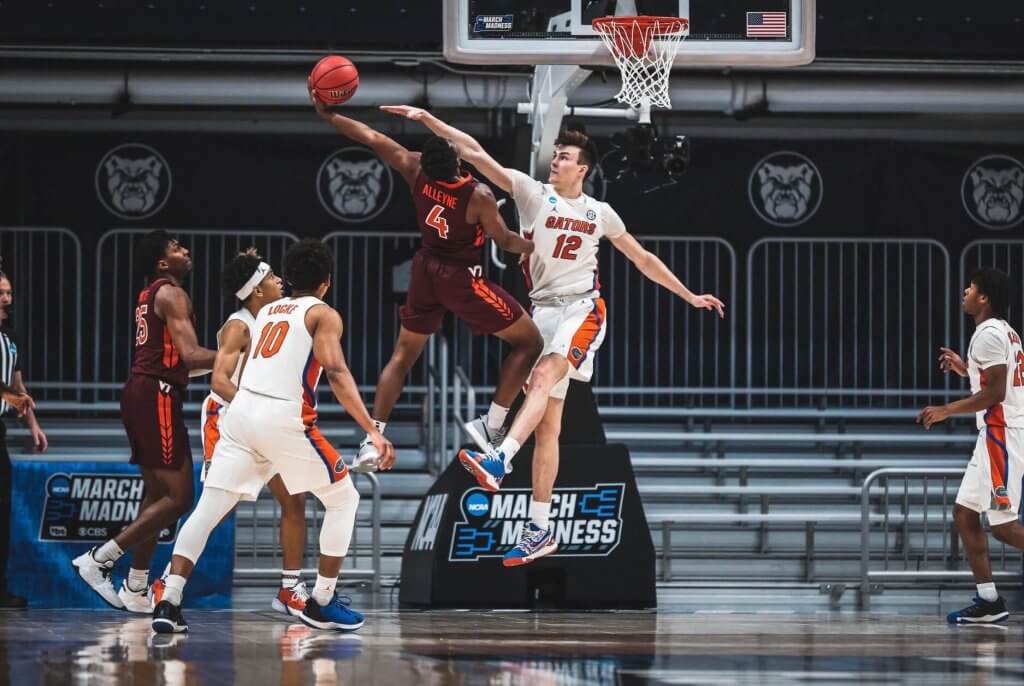 I won't lie: Florida's heart-stopping 75-70 overtime win over Virginia Tech took a few hours to be able to fully comprehend. After watching the full game again, here are the five main things I've unpacked from it:
Colin Castleton is a WARRIOR.
It was absolutely unbelievable to watch Castleton, a guy who's honestly not that talented but who gets more out of the talent that he does have than most players I've ever seen, go to work against VT. He'd catch the ball in the post and go to work against naturally bigger and stronger opponents, and usually finish with a baby hook or layup. And he was a force on the boards, too.
The Michigan transfer ended the afternoon with fourteen rebounds and nineteen points. Sure, there are more talented teams than Virginia Tech out there awaiting Florida should the Gators keep winning, but if he keeps playing like that, he's going to be a problem for any of them and at least draw significant manpower.
Ditto that for Tre Mann, too
Mann didn't have a great start to the game— it was a late morning tip, after all, maybe he was just groggy?— but once he got going, he was similarly problematic for the Hokies and even more so down the stretch.
Mann drained not one but two clutch threes in crunch time. First he knocked down a three ball with 2:49 to go to give Florida a seemingly (uhhhh… relatively?) safe 59-53 lead, and then once the Hokies were finally revived from their swoon and scrambled to tie it up and send it into overtime. Then, in overtime, he delivered true dagger in the final minute to secure the Gators' victory.
It's clear that Florida's offense is severely limited this season, but what little of it there is runs through Mann— and that may not be a bad thing. With just a little bit of help from his friends wearing orange and blue, he might just be able to guide Florida deep into the tournament if he stays hot.
On the whole, Mike White actually coached a good game…
For starters, I was glad to see Omar Payne sit the game out after throwing the elbow to John Fulkerson a week ago in Nashville.
Now that's that out of the way, I thought White got the better of the X's and O's compared to his counterpart Mike Young. I didn't love how the Hokies— one of the best three point shooting teams in the ACC— came out and drained four threes right out of the gate, but then the Gators deployed a de facto press and swarmed to the ball with a level of tenacity that hampered the Hokies' ability to run its offense. In fact, Virginia Tech suffered multiple scoring droughts of four minutes or more. That's all coaching, and yes, that's a credit to Mike White. For all I've said about him, he absolutely, one thousand percent gets that.
…but White's flair for botchery in the end-of-game nearly gave the game away. Again.
The failure to call timeout on the inbounds pass that turned into a five second call and a turnover— when you have two of them— was bad enough. But that was a mere preview of the horror that followed.
I don't care what certain microanalytics, or some specific coaches, say about not fouling up three with six seconds left or fewer. I really, really don't. The instant that second free throw from Anthony Duruji hits off the rim, the team has to swarm to the ball and foul.
Let's play this out. By fouling and bringing VT to the line, say with 4.5 seconds left, you force the Hokies to either make both, foul Florida back within a second and then take the ball the length of the floor in the span of 3.5 seconds, or make the first and intentionally miss the second free throw and then have two Hokies box out four Gators for the rebound (or three if you count the shooter, who's naturally a long shot to get the board). That creates way too many things that have to go wrong for Florida to lose the game, rather than Virginia Tech hitting a simple three. If you're facing a terrible three point shooting team, that's one thing, but against a competent-or-better three point shooting team, you foul. You just do. White has been burned by this before (remember Zak Showalter?) and it begs the question of how many more times he can get burned by something before he adapts.
The verdict: this isn't a great team, but it could be a special one.
When the Gators lost Keyontae Johnson against FSU back in December, it felt like their season was over. There was the obvious question of "should this team even bother playing again?" that hung around for some time, and once it was answered affirmatively, it was obvious that Johnson's vacancy left a massive void not just in talent, but in cohesion.
Yet despite its obvious limitations, inconsistencies, sporadic coaching lapses and the mind-numbing losses to bad teams like Kentucky, Mississippi State and South Carolina that came with them, this team found a way to beat LSU and West Virginia, batter its way into the NCAA Tournament and into the Round of 32. For all he does wrong— and don't get me wrong, there is a lot of it— Mike White does get credit for commandeering this severely weakened club of his as far as he has.
Oral Roberts won't be a pushover in Round Two by any means, but if Florida can get past the Golden Eagles, all of a sudden he'll have a Sweet 16 appearance in this Frankenstein of a season that hammered the Gators harder than most. And while yes, it would be fair to include the "he ducked the two seed Ohio State to get there" asterisk beside it, a Sweet 16 berth is a Sweet 16 berth— and it would be a sign that maybe, just maybe, he could be a long term answer for this program after all.