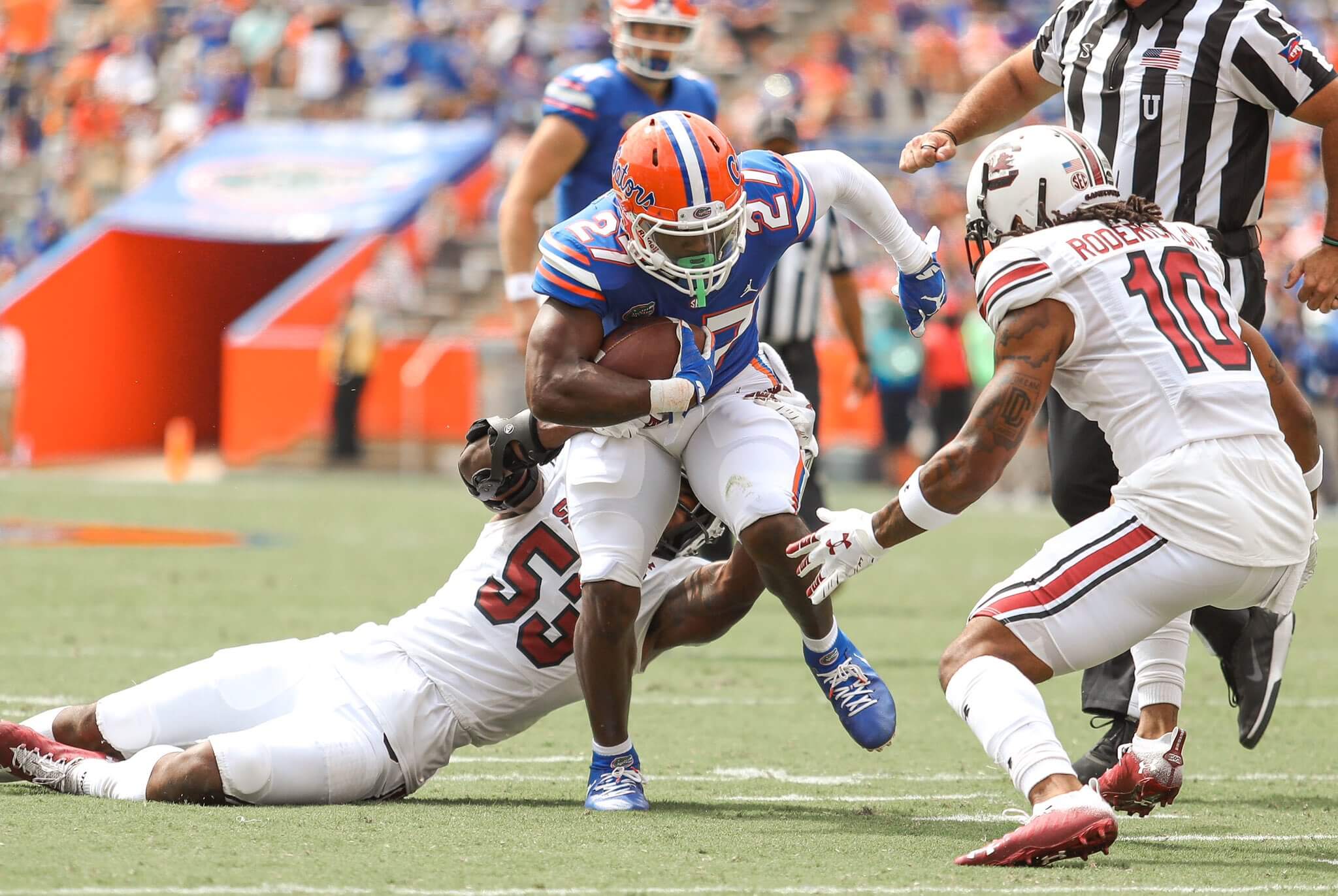 It wasn't pretty, but it was a win.
That's the most common synopsis of Florida's 38-24 win over South Carolina that you're going to find today. But let's go a little deeper. What stood out in the Gators' first home win of 2020?
Trask was a little off, and yet still terrifying to deal with.
Spectacular, Trask was not: a few of his throws were off-like and he committed his first two turnovers of the year. One came on a questionably-timed designed QB run where he fumbled the ball away, and the other came in the form of a less-than-pretty interception by Israel Mukuamu. And yet despite a performance that wasn't his best, he still enjoyed a solid day on the stat line: 21-29 for 268 yards and four TDs. Sure, some of that is because of the talent he has around him, but nevertheless, Trask proved that even bringing his B game can be good enough to win a lot of games in the SEC.
The offensive line was serviceable.
Keyword serviceable. There were certainly a few breakdowns here and there, and nobody who watched the game could say they dominated the trenches but the Gators' big uglies held their own against a solid South Carolina front. And how about a special hand for right tackle Jean DeLance? The Texas transfer was the target of a lot of criticism from Gator fans a year ago, but DeLance had a key block to help spring Dameon Pierce for a touchdown run early in the contest. John Hevesy's unit isn't there yet, but it's making strides.
Florida's defense needs work.
Here we go. We knew this one was coming at some point in the "five takeaways" segment, so let's get it over with. Setting the edge was a problem. Missed tackles piled up like autumn leaves. The secondary was fair, although Marco Wilson has had and will have games that will help his NFL Draft stock more than this one did. And though South Carolina demonstrated no interest in doing anything other than dinking and dunking its way up the field, Florida's defense opted to look surprised and get run over by that in the fourth quarter despite seeing nothing else all day. It's very, very possible that this unit improves to a level that can win a championship— the talent will keep that as a possibility all year long— but it's not there yet.
Kadarius Toney is becoming a true animal at slot receiver.
The idea that Toney is an explosive human joystick of a football player clearly isn't a fresh observation. But we saw Toney running routes and even getting his hands dirty with some blocks last week, and that pattern continued today. No longer just a make-you-miss piece who needs top tier blocking to compensate for a lack of vision, Toney showed that he's the complete package against a decent Gamecocks defense, beating them with his feet without the ball on routes and with the ball on jukes alike. His strangely newly found vision for the field and (slightly) improved blocking skills means he'll see the field more, and therefore a threat to touch the ball more. Keep an eye on him to potentially see an even bigger role as the year progresses.
The verdict.
Florida has plenty of work to do, but is good enough to beat a lot of teams with less than its best effort. Sometimes, you just slog your way through a game and need to find a way to win despite clearly not playing your best ball. No team plays its A game every single week, and you're going to be particularly hard pressed to find one in a ten game SEC-only schedule. The defense getting slapped around by a subpar South Carolina offense, but Florida's defense has a history of looking suspect early in the year and then improving as the season goes along under Mullen. The true test is next week against Texas A&M, a big time road showdown against a team with a much more explosive offense than what we saw today against Cocky. If the Gator defense doesn't step up to the challenge in Aggieland, what we've seen so far might just be what we get the rest of the way.