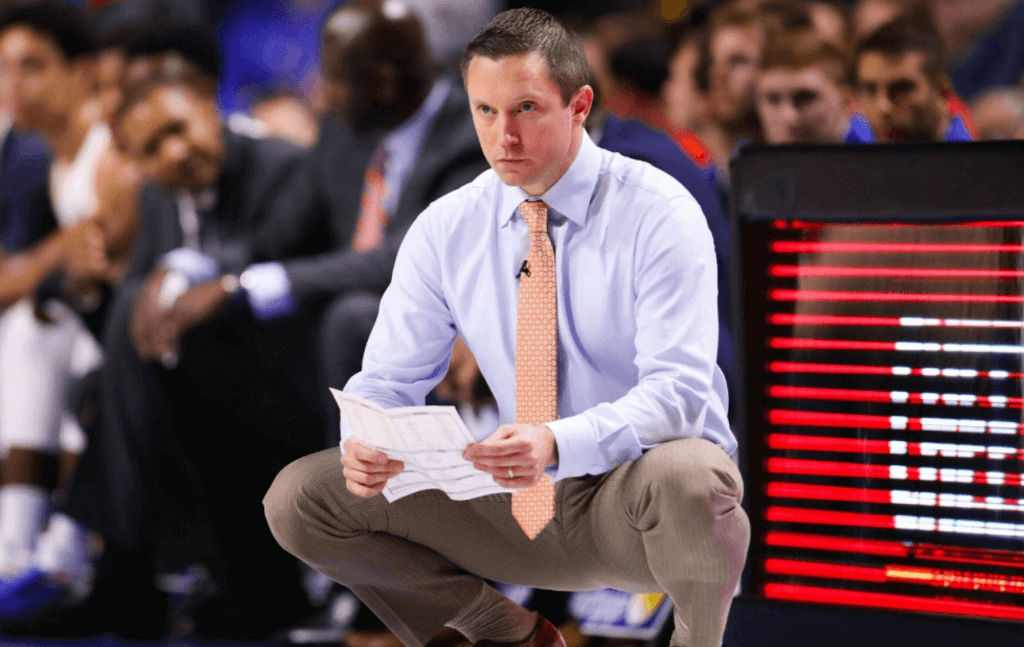 A little over a year ago, I wrote a piece called "the straw that broke the camel's back: Florida must fire Mike White and save its basketball program." This piece followed a terrible home loss to Mississippi State, one that featured Florida blowing a massive double digit lead (stop me if you've heard that before) and may have, if I'm being completely honest with myself and my readers here, been slightly premature.
It was a regular season game in January, after all, and though I explicitly warned that because it wasn't the first time White's coaching malpractice had cost Gator basketball a win, it wouldn't be the last, I do concede that perhaps the tone of that piece was slightly hotter than it should have been for a regular season game in January. If I could go back and do it again, I would write that piece with more of a foreshadowing and less of a "this is over" type of message. Mea culpa there.
But now, here we stand, fourteen months later and as sure as the sun will come up tomorrow, we are in a different world. The paradigm has shifted. I said after Florida upset West Virginia on the road that I would give White a fair shot the rest of the year, that although I was pretty certain he still wasn't the guy, he deserved the duration of the season to prove me wrong.
Well, he got the rest of the season. And that season ended in the most cataclysmic, terror-inducing… and yet utterly predictable fashion possible in the Round of 32.
With nine and a half minutes to go, Florida had a 67-56 lead against a dog-tired Oral Roberts team that does not recruit from the same pool of talent. The Gators had been pushing the tempo and distributing the ball around in order to wear the Golden Eagles out. And it was working. Not only did Florida have all the late momentum, but Oral Roberts, for as hard as they fought, was gassed and falling apart. There was no way Florida could lose at this point- unless they actively tried to. The Gators would have had to purposely roll out a strategy that played right into Oral Roberts' hand in order to lose the game.
And that's exactly what they did.
Rather than continue pushing the ball for nine and a half more minutes and drain the last drops from the Eagles' energy tanks, White instead chose to take the air out of the ball, slowing the game down and giving Oral Roberts- a team that really only plays six players- a chance to catch its breath on each possession and defend with at least some oxygen in its lungs. A winning coach knows that, when you have such a massive natural talent disparity in your favor, you want to use it to wear down the opposing team and render them too exhausted to execute whatever form of creativity their coach may have crafted to try to compensate for that talent disparity.
Alas, a winning coach is not an accurate description of Mike White, who outright handed the Eagles a lifeline back into the game. Led by future NBA talent Max Abmas and his ultra-tough sidekick Kevin Obanor, Oral Roberts thanked White for the gift, caught their breath, climbed back into the game at a juncture where no objective basketball fan thought they had a chance to, and pulled off the upset.
To any viewer without a vested interest in Mike White, that's the end of the doubt. Florida had the easiest road to the second weekend of the NCAA Tournament that a team as limited as this one could ever dream to have, and actually had that Sweet 16 berth in its grasp, and gave it away with bad coaching down the stretch. And it's not the first time White has given a game away with any one of a variety of coaching blunders.
Remember the South Carolina game in Gainesville in 2019? I do: it was a tie game with a second and change to go, and the Gamecocks were inbounding the ball underneath their own hoop. There was only one way the Gators could possibly lose in regulation: by not defending the baseball type inbounds pass and giving up an easy dunk. Florida did exactly that, not even bothering to put a defender on the inbounds man and compounding that error by letting Chris Silva get behind all five Gators- whose feet were each firmly planted at the free throw line- for the uncontested game winning dunk. That loss is squarely on Mike White and his late game coaching malpractice.
Remember the Georgia game in Athens in 2018? I do: Florida had a 59-53 lead with thirty seconds to go, and Georgia was bringing the ball up the floor. There was only one way the Gators could possibly lose: by not defending Yante Maten and the three point line in general despite everybody watching knowing that was Georgia's only route back into the game, immediately turning the ball right back over, and then somehow not learning from its mistake and not defending Yante Maten and the three point line for a second time in twenty seconds. Florida did exactly all three of those things, watched as Maten drained back to back uncontested threes sandwiched around a Jalen Hudson turnover, and lost in overtime. That loss is squarely on Mike White and his late game coaching malpractice.
Remember the Kentucky game in Gainesville in 2020? I do: Florida had a 59-41 lead with just under twelve minutes to go, but Kentucky hit a couple of shots through Florida's zone. There was only one way the Gators could possibly lose: by not switching to man defense, sticking with the zone and allowing Kentucky to keep puncturing it by hitting uncontested shots through or over the seams they were able to find in it. Florida did exactly that, watched with the bewilderment of a child who just found out that Santa wasn't real as Kentucky kept hitting shot after shot through the holes in the zone, choked the entire lead away and lost when a desperate Andrew Nembhard three rimmed out at the horn. That loss is squarely on Mike White and his late game coaching malpractice.
I could point out several more such examples, but we'd be here all day. Remember blowing a late lead against Clemson in the (December of) 2017 Orange Bowl Classic by once again getting too conservative with too much time left? Remember not swarming LSU's Tremont Waters, letting him dribble the length of the floor with three seconds left and hitting the tying layup in an eventual overtime loss in 2019? Remember… whatever you want to call this year's home loss to South Carolina?
Sometimes he survives his own genius. White tried his best to blow late leads against Arkansas and Xavier a year ago by prematurely slowing the pace of the game down, but his Gators were ultimately too far ahead with too little time. Florida's failure to foul up three and less than six seconds to go in the game sent the 2017 Sweet 16 game against Wisconsin and Friday's Round of 64 game against Virginia Tech to overtime, and the latter came after White failed to call timeout when the Gators couldn't inbound the ball with two timeouts in their pockets, but he got lucky because Florida prevailed in overtime.
(To be fair, yes: as somebody who has coached in nearly 200 games at Florida, there have been times where White has pulled the right levers and made objectively good moves. The law of averages says he has to. So that's worth a mention. But screwups at the end of games simply mean exponentially more than anything else you may do at any other point in the game, and the true measure of teams, players or coaches is what they do at the most important points of the game. Just ask Marco Wilson. And when people ask me why I always point out the bad things that White does but never the good things, which I acknowledge exist, this is why. Because this is how the story ends every time. Calling nice sets or springing nasty surprise presses in the first half may be objectively classified as good coaching moves, but they're ultimately meaningless if White keeps giving the game away in the end.)
And I can't talk about my sarcastic use of the phrase "survival of his own genius" without mentioning Keyontae Johnson, the tragic story of Florida's star nearly dying on the court that some of White's supporters have used as a blanket excuse for any and every occasion that White did something less than perfect and more than frightful.
It goes without saying that Johnson's collapse was simultaneously terrifying, highly damaging to this team's potential, and a sobering reminder that there are things more important than basketball. Any human being with a possession of basic compassion and empathy would agree with that. But it's also very telling to see the few defenders that Mike White still has left fall back on that as a safety net to try to excuse away various coaching missteps that have nothing to do with that. And it's even more telling to see these people resort to that excuse to try to explain why Florida hasn't won the SEC, reached a Final Four or, hell, even beaten FSU once in the six years that he's stalked the sidelines. OK, so Johnson collapsed and that was traumatizing and screwed up the 2020-21 season; how about the other five years White's been here?
But we'll have an eternity to talk big picture, and White's failure to accomplish anything of value in his six years, so back to the issue at hand. The Gators had a very easily winnable game against Oral Roberts right in front of them, and as Mike White has repeatedly done in such situations, he gave it away.
I'll again point out that after the West Virginia upset, I gave White the rest of the year to show me something that proved he was the right basketball coach for Florida. He did, I feel, deserve the duration of the season to show me that he could be successful here. I gave him that chance, and all he gave me in return were more reminders of why I came to so vehemently want him to continue his coaching career elsewhere.
And now he's given us the type of example I've been terrified he'd give us all along- one that directly cost Florida its season. After each occurrence of late game incompetence, some of his supporters would point out that it was just one game, all that mattered was the NCAA Tournament, and that this instance of him making the wrong move late in the game didn't mean anything. Each time, I'd reply that White was merely foreshadowing what he would do in a close game in the NCAA Tournament, that maybe it didn't matter now, but if he can't handle end-of-game sequences now, he won't be able to handle them in the NCAA Tournament, and, well, here we are. My fears that White is a liability to coach his team out of a victory it seemingly had when it mattered most are validated. The exact thing I kept screaming was going to eventually happen just happened. Mike White just cost Florida its season with some atrocious late game coaching.
So let me be as clear as the English language can allow somebody to possibly be.
I'm done. This was it. This was the point of no return.
There is nothing on this blue and green marble that we all live on that will change my mind on Mike White short of literally winning the national championship or a 2013-14 type season that features a perfect 21-0 record in the SEC and a run to the Final Four. I don't care if Florida goes on the road and beats Kentucky and Tennessee back to back by sixty points. I don't care if Florida draws Kansas in the SEC/Big 12 challenge and houses them by forty in Lawrence. I don't care if Florida goes 25-8, gets a 2 seed and makes a run to the Elite 8. We're past the point of "fighting hard," we're past the point of "growing and developing," we're past the point of excuses, and we're past the point where arguing that Mike White belongs at Florida is a rational opinion. The past four years show that any success next year would be a fluke, an anomaly, an aberration, and would only buy him four more years of patience with his bosses as his program inevitably regresses to the mean. He's shown us too many times exactly what he is, and what he is is a mediocre basketball coach- not great, not terrible, but mediocre- and a quick tour of the various athletic facilities at the University of Florida will tell you that mediocrity is not good enough.
As for what will happen next? Florida's probably stuck with him for the foreseeable future. White has four years left on his contract, and thanks to the mystifying extension Scott Stricklin gave him just before his disappointing fifth season, Florida would owe him $1.75M for every year left on it should they fire him without cause. That means firing him tomorrow would cost UF $7M over the next four years, firing him after next year would cost $5.25M over three years, and so on.
But we've now reached a stage in time where any defense of White's continued employment at Florida is an acceptance of mediocrity as the new standard for Gator basketball, and any defense that doesn't center around that buyout is nothing shy of ignorance of reality. Because for as likable a man as he may be to Scott Stricklin and those in the UAA's offices, they ultimately have a job to do- a job that largely includes making sure that the man they employ with the title of "head men's basketball coach" does his job. With six years of data proving beyond a reasonable doubt that he won't, it's clear that, though I can't say when, at some point, Stricklin's hand will be forced.
The sum of White's career has told me that, for as much as he may keep delaying this juncture, there's only one way this movie possibly ends. All we can do now is hope that it ends sooner rather than later, before the likes of Chris Beard, Dana Altman, Porter Moser or even Steve Pikiell either get too cozy at their current jobs to consider leaving or bolt for better ones because Stricklin was too reluctant to pull the trigger while he had the chance. It's not personal with White, because it never is- I wish him all the best regardless of what happens to his career next- but the thought that there are better coaches than him out there at lesser schools is simply not something that anybody who claims to want to see the Florida Gators succeed should be OK with.
And so I pray that Stricklin, by most accounts a great businessman and athletic director, wakes up and realizes this before it's too late.