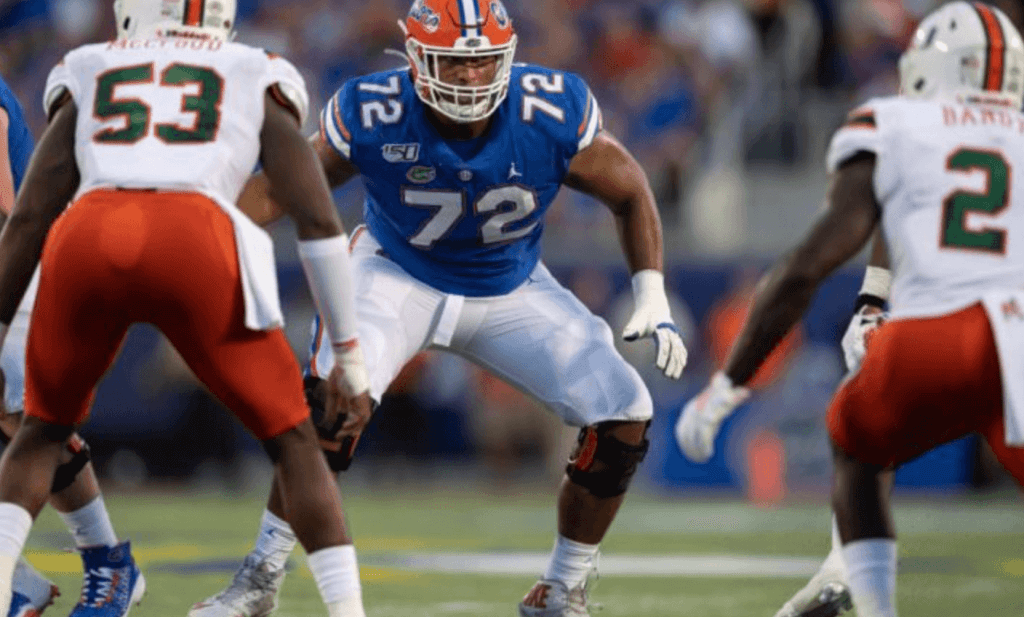 The 2021 NFL Draft was another wildly successful one for the Florida Gators. Eight former players were drafted over the past few days, highlighted by former unanimous All-American tight end Kyle Pitts going fourth overall to Atlanta, explosive receiver Kadarius Toney going twentieth overall to the Giants, and Heisman Trophy finalist QB Kyle Trask going late in the second round to Tampa Bay.
With those eight selections, Florida has kept several extremely impressive streaks alive:
Florida is one of only three schools in the country- and the only one in the SEC- to have a player selected in every single Draft since 1952.
Florida has had two or more players selected in 41 consecutive Drafts.
Florida has had five or more players selected in seven consecutive Drafts.
And now a new streak that's going to be incredibly difficult to maintain for a long period of time, but hey, it exists: Florida has had seven or more players selected in two consecutive Drafts.
Here are all eight of those 2021 NFL Draft selections, complete with videos of the moments they were selected in said 2021 NFL Draft, and analysis of the players and picks:
TE Kyle Pitts- Atlanta Falcons (Round 1, pick 4)
The moment he got drafted:
The skinny
Pitts is too big to put a cornerback on in coverage, and he's too fast to put a linebacker on. That right there, win a sentence, is why he's so frightening for defensive coordinators to deal with. There's always the caveat of "can he stay healthy?" that exists with literally every NFL Draft pick when discussing his future, but if Pitts can stay healthy for long enough, he's as surefire a pick to make the Pro Football Hall of Fame as anybody in the 2021 NFL Draft class. It was an obvious pick for Atlanta, but a great one nonetheless.
WR Kadarius Toney- New York Giants (Round 1, pick 20)
The moment he was drafted:
The skinny
Toney isn't the most complete wide receiver in this year's NFL Draft, but with some NFL coaching he very well might be. The steps he took between 2019 and 2020 to go from a ridiculously explosive piece of an offense with flaws to a dynamic weapon in the passing game on top of being that ridiculous explosiveness yields promise. You can't teach the talent that Toney has, and even in a Giants wide receiver room that has Kenny Golladay and Sterling Shepard, he'll be an immediate featured part of the offense. Great selection by Dave Gettleman, even if some Giants fans didn't think so. (Big Blue does need to fix its offensive line eventually, though.)
QB Kyle Trask- Tampa Bay Buccaneers (Round 2, pick 64)
The moment he was drafted:
The skinny
Dan Mullen has done it again: a two star QB prospect that only McNeese State and Doug Nussmeier wanted blossomed into a Heisman Trophy candidate thanks to his pinpoint accuracy and top tier decision making. Trask's arm strength isn't elite, but it's plenty good enough to take the top off a defense that opts to press, and though trying to run would be tempting fate for him, he'll take a free six yards on a scramble and then slide down if he sees the chance to do so. Bruce Arians wanted his franchise quarterback for when Tom Brady retires, and Kyle Trask now has a chance to learn behind the greatest quarterback to ever play the game. A true match made in heaven, especially at pick 64.
CB Marco Wilson- Arizona Cardinals (Round 4, pick 136)
The moment he was drafted:
The skinny
Talent has never been the question for Marco Wilson. The physical ability has always been there, dating back to when he saved Florida with a PBU at the goal line as a true freshman against Tennessee in 2017. It's the other stuff that dropped him down on so many teams' boards, and frankly has me stunned that he went in the fourth round- the posturing, the inconsistency, and yes, that damn shoe throw that resulted in most Gator fans relegating him to their everlasting sh*tlists. There's no debating what he's capable of doing, because he displayed that at Florida's Pro Day. It's whether he can get his head right and do what he's capable of doing on a consistent basis. Somebody was going to take a shot at him, because he's simply too talented not to, but doing so in the fourth round simply seemed like way too big a risk for the Cardinals.
K Evan McPherson- Cincinnati Bengals (Round 5, pick 149)
The moment he was drafted:
The skinny
Even with a relatively down 2020 season, McPherson was the best kicker in the 2021 NFL Draft. It's not close. He's got the leg to connect from 60+, and up until the last month of the 2020 season, was dead-eye accurate from anywhere on the field. Even with the fall back down to earth after spectacular 2018 and 2019 seasons, McPherson still leaves Florida as the third most accurate kicker in school history (85% on field goals for his career) and if he can remain mentally tough (which seemed to be the downfall of Roberto Aguayo), he's got a long and lucrative NFL career awaiting.
DB Shawn Davis- Indianapolis Colts (Round 5, pick 165)
The moment he was drafted:
The skinny
Davis has shown the ability to make big plays in critical situations, which was why Indianapolis found him so alluring. The question is his consistency. On some occasions, he read the play perfectly and was in prime position to make something happen; on others, opposing QBs manipulated him out of position and burned the Gators. But his incredible acrobatic pick and subsequent return against Auburn in 2019 alone was going to get him selected, and the upside is there. Certainly not a bad value pick in the 160's.
DT TJ Slaton- Green Bay Packers (Round 5, pick 173)
The moment he was drafted:
The skinny
You cannot teach the size and strength that Slaton has, which alone makes him a solid value pick in the fifth round. The Packers have much bigger needs than DT right now (most notably at quarterback) but if they were going to find a serviceable piece there this late, they couldn't have done much better than Slaton. He's solid against the run, and showed this quick burst of speed to get after the QB from time to time that makes him an intriguing option on pass plays. There's development to be done here, but the third day of the Draft is all about potential, and the Packers got someone with plenty of it.
OT Stone Forsythe- Seattle Seahawks (Round 6, pick 208)
The moment he was drafted:
The skinny
Forsythe is one of those rare birds who's significantly stronger in pass protection than he is in the run game. (Then again, everybody on Florida's offensive line these past two seasons fits that profile.) As his name would suggest, Stone is a mountain of a man (pun related to the Georgia landmark not intended) with very strong hands, and was able to hold the various five star edge rushers from LSU, Georgia and Alabama in check last year. He's not bad in run blocking, per se, but could use some improvements there if he wants to play at the next level. The real allure to him is that QB Russell Wilson likes to run, and for a guy his size, Forsythe can move extremely well. You won't find too many better value selections in the sixth round than this.
Undrafted Free Agents
Florida also had a few former players sign with teams as UDFAs, including:
WR Trevon Grimes- Philadelphia Eagles
I'm utterly mind blown that Grimes didn't get drafted. Sure, he wasn't the most consistent guy in terms of production, but neither was Marco Wilson, and he went in the fourth round. Grimes went toe to toe with Georgia's Tyson Campbell and Alabama's Patrick Surtain (both first round picks) and fried them both, and generally displayed more than enough of that five star potential- the route running, the hands, and the ball skills- to merit a third day selection. Now, as a UDFA, he'll have a chip on his shoulder, and is as certain to make the roster as any UDFA ever will be. Howie Roseman found a gemstone in the recycling bin here.
OG/C Brett Heggie- New York Giants
Heggie is a feisty dude by trade, and used that grit to go from a lightly recruited three star prospect to a dependable piece on a shaky Florida offensive line the past several seasons. The Giants need offensive linemen like fish need water, and though Heggie isn't the most naturally talented lineman they could have gotten, he's very fundamentally sound, easily coachable and battle tested against some of the most talented interior linemen the SEC has to offer. He'll come to camp ready to play.
S Donovan Stiner- Pittsburgh Steelers
Stiner is another one of those modestly talented but I'll-outwork-everybody type of guys that Florida wrung some solid production out of these past few seasons. No Gator fan will ever forget his game-clinching sack of Nick Fitzgerald at Mississippi State in 2018, and that's the kind of aggression Pittsburgh is hoping he brings to the pros. He's not the biggest or fastest defensive back out there, but displayed amazing instincts at times, and if coached right, could be a strong nickel option for the Steeler defense.