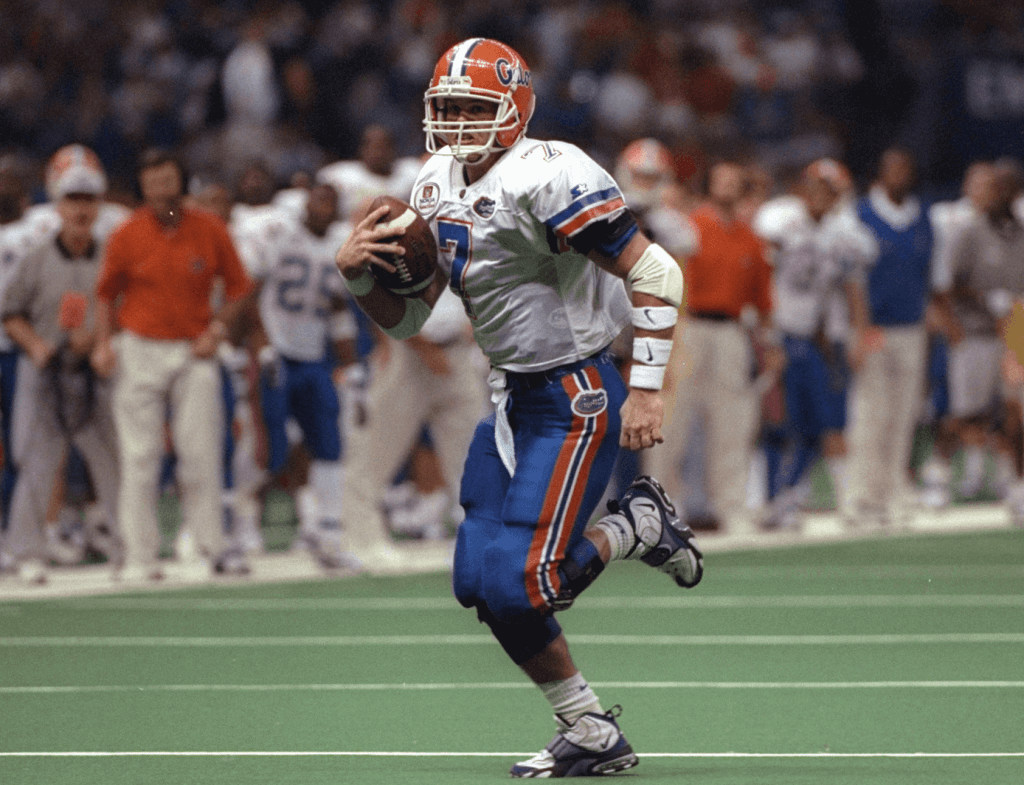 The penultimate Regional of the #GreatestGatorEver tournament is just about set to get underway. As is customary by now, let's acquaint ourselves with the sixteen player field a little more first.
The bracket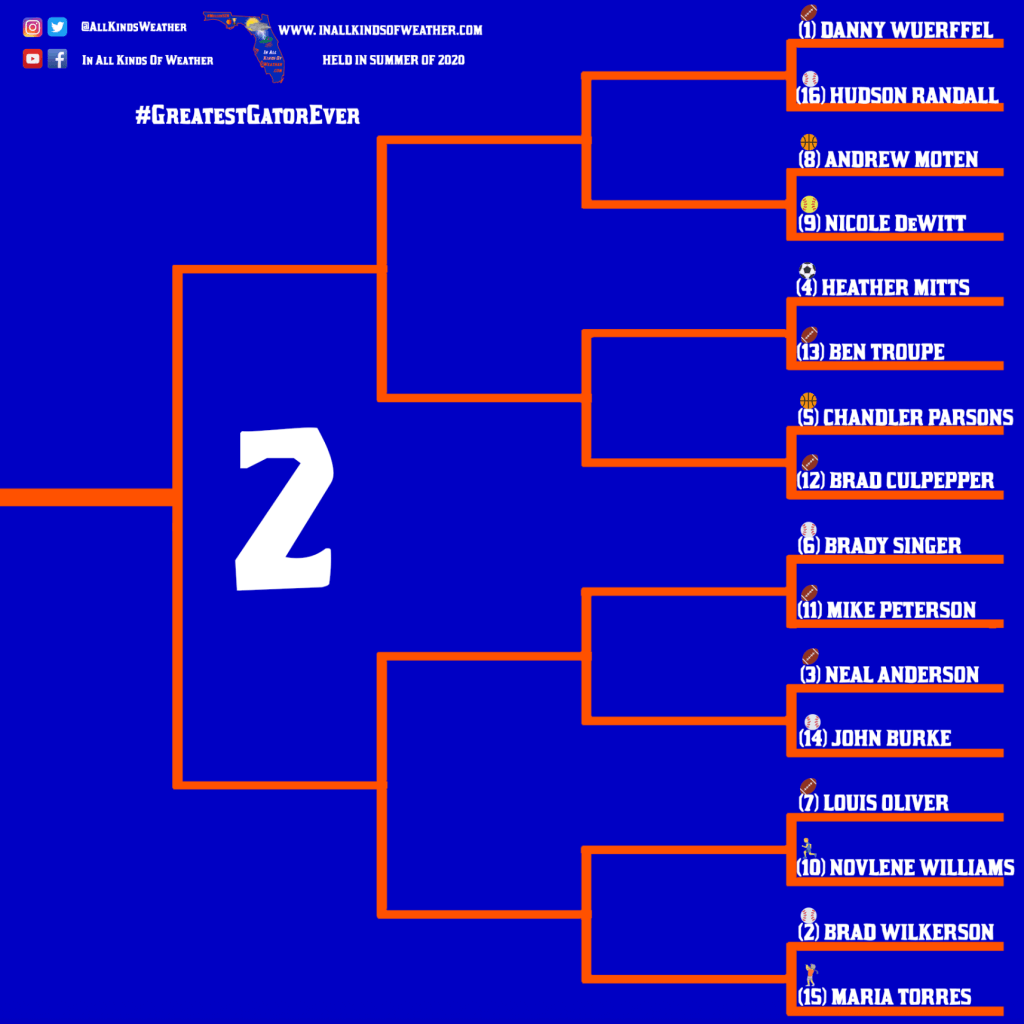 Regional participants
(Players are listed in order they appear on the bracket.)
(1) Danny Wuerffel (football, QB- 1993-96). 1996 national champion. 1996 Heisman Trophy winner. 1995 first team All-American; 1996 consensus first team All-American. 1995 and 1996 Davey O'Brien Award winner. 1996 Walter Camp Award winner. 1996 Johnny Unitas Golden Arm Award winner. 1996 Sporting News Player of the Year. Florida's all time passing touchdowns leader (114). Second in Florida history with 10,875 career passing yards; had two of Florida's five 3,250+ yard passing seasons (1995, 1996).
(16) Hudson Randall (baseball, P- 2010-12). Tied for third in Florida history with 28 pitching wins. Fifth in Florida history with 2.62 ERA (since aluminum bats).
(8) Andrew Moten (basketball, F- 1984-87). 3X All-SEC: 1985, 1986, 1987. Second in Florida history with .445% three point FG percentage; third with 1,930 career points; tenth with 411 assists and with 165 steals.
(9) Nicole DeWitt (softball, 2B- 2015-18). Clutch factor: delivered walk-off RBI single to defeat Auburn in 2015 WCWS semifinals. 2015 national champion. 2015 WCWS All-Tournament team. 2018 All-American. 2017 and 2018 All-SEC.
(4) Heather Mitts (soccer, D- 1996-99). 1998 national champion. 1998 and 1999 (first team) All-American. Nine year professional soccer career. Fifteen year international career with Team USA. 2011 FIFA Women's World Cup silver medalist. 2004 (Athens), 2008 (Beijing) and 2012 (London) Olympic gold medalist.
(13) Ben Troupe (football, TE- 2000-03). 2003 first team All-American. 2003 John Mackey Award finalist. 2003 team captain. Five year NFL career with Titans and Buccaneers.
(5) Chandler Parsons (basketball, F- 2008-11). Clutch factor: hit game winning threes to beat North Carolina State and South Carolina in 2010. 2011 All-American. 2011 SEC Player of the Year. Ninth in Florida history with 859 career rebounds; fifteenth with 1,452 career points. Nine year NBA career.
(12) Brad Culpepper (football, DT- 1988-91). 1991 consensus All-American. 1991 team captain (Florida's first official SEC Championship). Nine year NFL career.
(6) Brady Singer (baseball, P- 2016-18). 2017 national champion. 2017 CWS All-Tournament team. 2018 unanimous first team All-American. 2018 Dick Howser Trophy winner. 2018 National Player of the Year. Seventh in Florida history with 281 career strikeouts. First round MLB Draft pick (#18 overall, Royals).
(11) Mike Peterson (football, LB- 1995-98). 1996 national champion. 1998 team captain. 1998 first team All-American. Fourteen year NFL career. 2005 All-Pro.
(3) Neal Anderson (football, RB- 1982-85). 1984 and 1985 All-America honorable mention. Third in Florida history with 3,234 career rushing yards; sixth with 30 rushing touchdowns. First round NFL Draft pick (#27, Bears). Eight year NFL career with Bears. 4X Pro Bowl: 1988, 1989, 1990, 1991. 6,166 career NFL rushing yards; third most in Bears history.
(14) John Burke (baseball, P- 1990-92). 1991 first team All-American. 1991 NCAA Gainesville Regional MOP. Fourth in Florida history with 304 strikeouts Threw one of three complete game no-hitters in Florida history (1991, vs. Furman). Two year MLB career.
(7) Louis Oliver (football, CB- 1985-88). 1987 and 1988 first team All-American. Tied for seventh in Florida history with 11 interceptions. Eight year NFL career; 27 career interceptions. 1992 All-Pro.
(10) Novlene Williams (track- 2001-04). 5X All-American; three indoor, two outdoor. 4X Olympic 4X400m relay medalist: 2004 (Athens) bronze, 2008 (Beijing), 2012 (London) and 2016 (Rio) silver for Team Jamaica.
(2) Brad Wilkerson (baseball, OF/1B-1996-98). 3X first team All-American: 1996, 1997, 1998. Florida's all time slugging percentage leader (.714). Second in Florida history with 239 runs scored; third with 214 RBI and 55 career home runs; fourth with 499 total bases; seventh with 266 hits. First round MLB Draft pick (#33 overall, Expos/Nationals). Eight year MLB career. 2000 (Sydney) Olympic gold medalist (Team USA).
(15) Maria Torres (golf- 2015-18). 2016 All-America honorable mention. 2017 All-American. 2016 SEC (individual) champion. First Puerto Rican golfer to earn full time LPGA Tour status.
The favorite: (1)Danny Wuerffel
Never before and not since the days of Danny Wuerffel has Florida's football program been so dominant. The Gators finished ranked #7 or higher in each of his four seasons in Gainesville, and he remains the only quarterback in SEC history with four straight SEC Championship rings and a national championship ring. The awards are just the cherry on the cake: the Heisman, the Walter Camp, the two Davey O'Briens, and the All-American selections round out an already stellar resume, and make the difference between being a favorite to win his Regional and a favorite to win the entire tournament.
The second favorite: (2)Brad Wilkerson
Wilkerson was dropped to the bottom of the #2 seed line (#31 overall) because he never did earn a College or MLB World Series ring. He does have an Olympic gold medal, though, as well as three straight All-American selections and a long and prosperous MLB career. Beating Wuerffel in the Regional final is likely too tall a task for him, but I wouldn't be surprised if he at least kept things interesting- if he can get there.
The sleeper: (3)Neal Anderson
Had Anderson stayed healthy for just a couple of years longer, he might be enshrined in the NFL Hall of Fame. As it stands, he enjoyed a solid eight year pro career following a sensational four year college career. He's a high #3 seed in this tournament and thus a problematic matchup for everyone in his baseball-heavy path to the Regional final. Given his professional success, he could give Wuerffel just as much trouble in the Round of 32 as Wilkerson could, and in fact has a great chance to take Wilkerson down in the Regional semifinals.
The dark horse: (6)Brady Singer
Singer was actually the highest ranked #6 seed in this tournament (#81 overall), so consider him a fringe 5/6 Regional seed. Translation: he's a worse matchup than any other Regional #6 seed, especially for Neal Anderson given that Singer has a national championship ring and Anderson doesn't. Anderson has already completed his resume, and Singer hasn't, which gives Anderson the edge, but that also means that Singer has the recentism factor working in his favor. That prospective 3-6 Round of 128 battle should be fascinating, and if Singer wins that, he could go a lot further.
The Cinderella candidate: (10)Novlene Williams
If you're looking for the best story, and take overcoming the obstacles of life into consideration when you vote, Williams is your dream Gator athlete. Her career running track for Florida was outstanding, and her international career was off to a great start when, just prior to the 2012 Olympics, she was diagnosed with breast cancer. Despite the diagnosis, Williams helped Jamaica win the 4X400m relay silver medal in London. She then returned home and had a double mastectomy before returning to the track and helping Jamaica retain the Olympic silver four years later in Rio de Janeiro. Her road in this tournament isn't an easy one, but the feel-good story with her combined with her on-track (rather than on-field) success makes her a tough out.