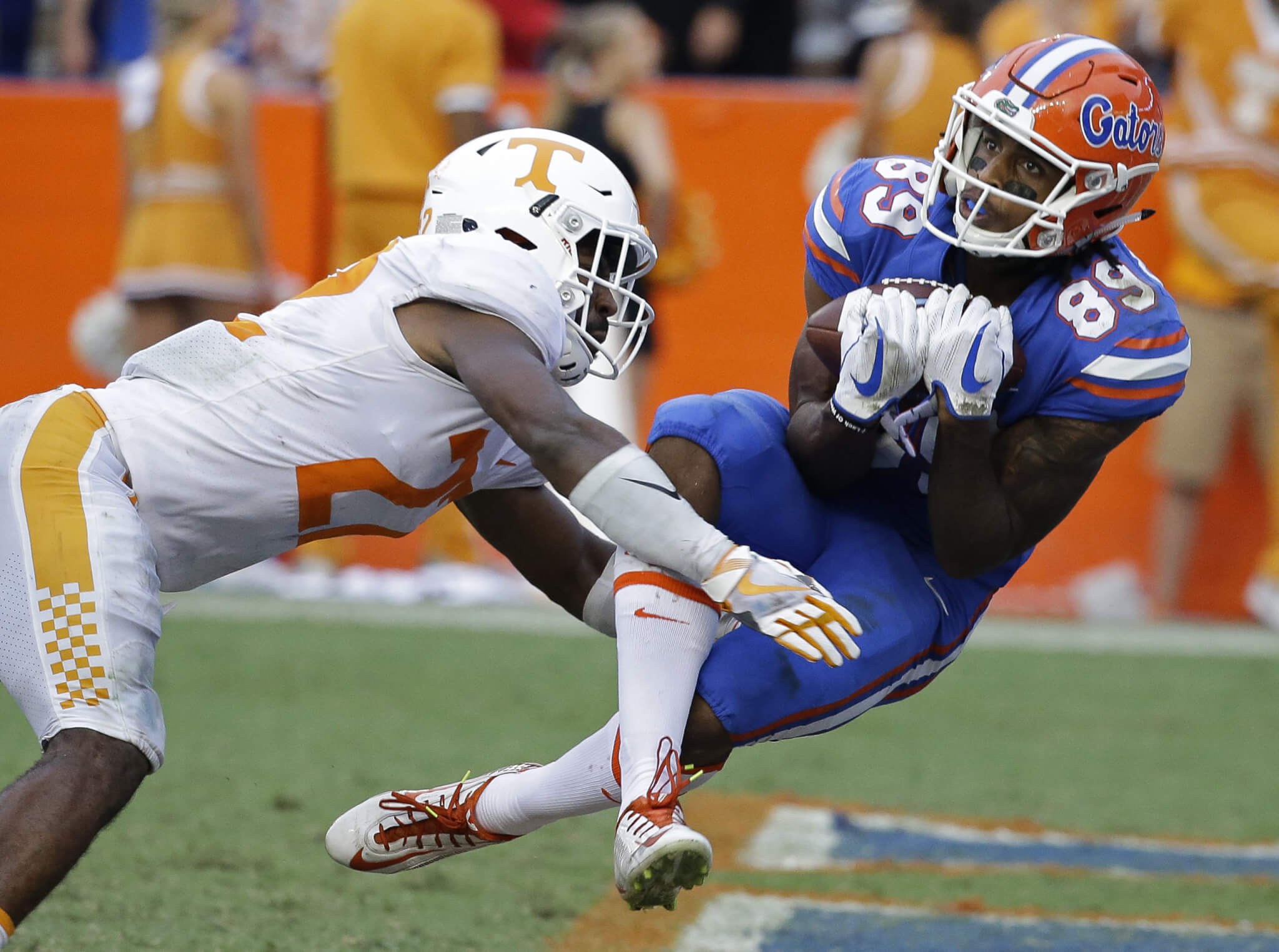 With a lengthened offseason, I decided that today was the perfect day to begin rolling out my picks for the top ten greatest Florida Gators games of the past decade.
That's a very generic name for a list, I know, so let me define that. There were a few criteria that had to be met in order for consideration. First and foremost, Florida had to have won the game for it to be included. Second, in this precise context of "greatest Gator games," I'm specifically referring to games that were exciting, back and forth, and in some cases, heart stopping. That's very, very different from games that provided Gator fans with the most jubilation or satisfaction upon the contest's conclusion, so, for example, the 2014 Georgia football game and the 2018 FSU football game do not qualify for this list.
Other factors that weighed into the rankings included how well played of a game it was by both teams, how much the win helped Florida that season, and how exciting of a conclusion there was to that game. Priority was given to the more popular sports- but that was by no means the sole factor. You will see several different sports represented in this segment.
(Aside: I was originally intending to hold off on the segment that counts down the ten greatest games of the past decade for the summer of 2021. After all, a decade begins with years ending in "1" and ends in years ending in "0". But thanks to COVID-19, y'all get it a year early.)
With that said, we begin with number ten: the Heave to Cleve.
Date: September 16, 2017
Location: Gainesville, FL
The backstory: 51 weeks earlier, Tennessee had stormed back from a 21-0 deficit to rip off 38 unanswered points and beat Florida, 38-28, in Knoxville. It was the first time since 2004 that the Vols had beaten the Gators on the gridiron. Conversely, that snapped an eleven game Gator winning streak over Tennessee, the longest in series history by either team.
The setup: Florida limped into this game following an ugly season opening 33-17 loss to Michigan in Dallas, and then got an unexpected bye week following the devastation left by Hurricane Irma. Tennessee, for its part, looked suspicious in a 42-41 overtime win over Georgia Tech in the Chick-Fil-A Kickoff undercard in Atlanta. Despite their clear shortcomings, both teams were ranked in the top 25 of the AP Poll when they met in the Swamp.
The game: neither offense could get anything going for three full quarters, with Florida holding a slim 6-3 lead. When CJ Henderson picked off Tennessee's Quinten Dormady and quickly took it back 16 yards for a touchdown, the Gators felt in control. And when Malik Davis broke free for a 74 yard touchdown moments later, the game felt out of reach.
But then the play was overturned- Davis had fumbled inside the one yard line, and the ball bounced out of the end zone for a touchback. Of course, one enormous momentum swing deserves another, and all of a sudden, after three quarters of being stuck in reverse, the teams' offenses began raining haymaker-style blows down upon each other.
First, John Kelly broke free for a 34 yard touchdown to bring the Volunteers within 13-10. But he was flagged for woofing at the Florida crowd and doing the Gator chomp. That pushed the kickoff back fifteen yards, and Tyrie Cleveland made the Volunteers pay for that by returning it all the way to the Tennessee 44. A few plays later, Feleipe Franks found Brandon Powell on a screen pass, who dove into the end zone to recapture the Gators' multi-score advantage with 5:13 remaining.
Tennessee fought back. A 52 yard catch and run by Kelly on a screen pass to start their next drive put the Vols at the Gators' 28, and on the very next play, Dormady found tight end Ethan Wolf for a touchdown to slice the margin down to 20-17. Florida seemed to be trying to run out the clock with a run to start next drive, but then Franks misfired one that got tipped high in the air and intercepted by Rashaan Gaulden. Guarantano then drove the Vols down to the shadow of the goal line with help from a Jachai Polite facemask, but they couldn't punch it in: a sure touchdown pass was dropped by Kelly, freshman corner Marco Wilson expertly defended Guarantano's second down fade pass to Marquez Callaway, and Kelly couldn't free himself from CJ McWilliams on the third down play. Aaron Medley would then tie the game at 20-20 on a field goal with :50 remaining.
To the rather vocal displeasure of the home fans, Florida appeared content to play for overtime. After Franks scrambled away from pressure on 2nd and 7 for a six yard gain, Jim McElwain opted not to call one of his two remaining timeouts and instead allow the clock to bleed down from :36 to :16 before Franks took his next snap, a three yard first down run by Mark Thompson to the 37 yard line. Only then, with nine seconds remaining, did McElwain use a timeout.
Franks took the next snap and immediately got flushed out of the pocket. Tennessee had placed a spy on him, and that spy was now sprinting towards where Franks would reach the line of scrimmage. With time running out before he would get crunched, Franks planted his feet on the right hashmark of his own 35 and 36 yard line, and threw the ball as far as he could.
Meanwhile, some 50-60 yards away, Cleveland was running a simple but very elongated post pattern. Tennessee's Micah Abernathy ran with him for a little ways, but by the time Cleveland had reached the 20, he stopped, perhaps expected a hook-and-ladder type of play. That hesitation would prove fatal, as Cleveland just kept running and running, and the ball just kept traveling and traveling, with nothing standing between the game clinching reunion of the two parties in the end zone.
After 70 yards of flight, Cleveland opened his hands to receive the ball on the bottom of the blue "O" in the "Florida" word mark painted in the end zone. The very same instant the game clock hit triple zeroes, the ball made contact with Cleveland's hands and forearms. Cleveland then trapped it against the front of his jersey as his feet gave out from underneath him and he began to slide. But the ball never moved as he slid through the end zone with the ball firmly secured in his possession, and Florida had a completed catch, a touchdown, its first win of the year, and a play that would lock itself up a spot in Gator football lore: the Heave to Cleve.
The aftermath: Ben Hill Griffin Stadium went from being an echo chamber of boos due to the clock management to, as Mick Hubert called it, "an insane asylum" in less than a minute of real time. Players piled on top of each other where Cleveland had made the game winning catch, fans picked each other up off the ground and screamed in jubilation and even Hubert himself didn't seem to be ready for the emotional thermonuclear explosion that took place up in the booth. But the joy was short lived- the ultimate fool's gold.
After winning its next two games, Florida completely fell apart at the seams and lost six of its final seven games to finish 4-7. Along the way, McElwain was decried for claiming to have received death threats and then failing to provide any additional details of said death threats. That, plus a 42-7 drubbing at the hands of rival Georgia that weekend, ultimately cost him his job.
But as badly as things went for Florida after this game, the loss utterly broke Tennessee. For all their troubles under Derek Dooley, Lane Kiffin and at the end of the Philip Fulmer years, Tennessee had never, ever lost eight games in one year. That changed in 2017, beginning with their ill-fated trip to the Swamp, as Jones led Tennessee to their worst season in school history, a perfect SEC record of 0-8, and to the relief of red-faced Volunteer fans, finally disappeared in November.
The game's legacy: this was easily one of the greatest finishes to a game in Florida-Tennessee series history, possibly number one in that category and even though both teams ultimately sputtered to the finish line that year, one of the most memorable finishes to any game in college football history. The list of games to be decided on a completed bomb with zeroes across the clock is very, very short: you've got the "Miracle Bowl" between BYU and SMU, Boston College's "Hail Flutie" miracle against Miami in 1984, Colorado's Kordell Stewart stunning Michigan in 1994, Tennessee's "Dobbnail Boot" against Georgia less than twelve months prior to this one, and a few others. So yes- while rare, throughout the course of college football history, it has happened.
However, the "Heave To Cleve" is different because it took place in an intra-division showdown between two teams that used to be bitter rivals before Tennessee fell out of the realm of national relevance. These two fan bases do not like each other, for those who plan to use the COVID-19 pandemic to study up on Gator football history with the intention of becoming a rabid fan in the fall. For a brief time in the 1990's and early 2000's, this was the game in the SEC East, and while the national importance of this game may have declined, the intensity of it hasn't- either on the field or between the teams' fans.
As for why it wasn't higher on this list (and why it barely made the list to begin with), it's simply because both teams stumbled to historically bad seasons following Cleveland's miraculous catch. It didn't help propel either team to any type of later success, or even to a bowl game. As far as the basic result, this game mattered not the least in the national or even the SEC East picture, as Florida would finish 5th in the division and Tennessee dead last.
But in a vacuum, it's safe to say that this was one of the more memorable games in Gator football history. And it's even more safe to say that the ending featured one of the single most incredible plays in Florida Gator history- in any sport.