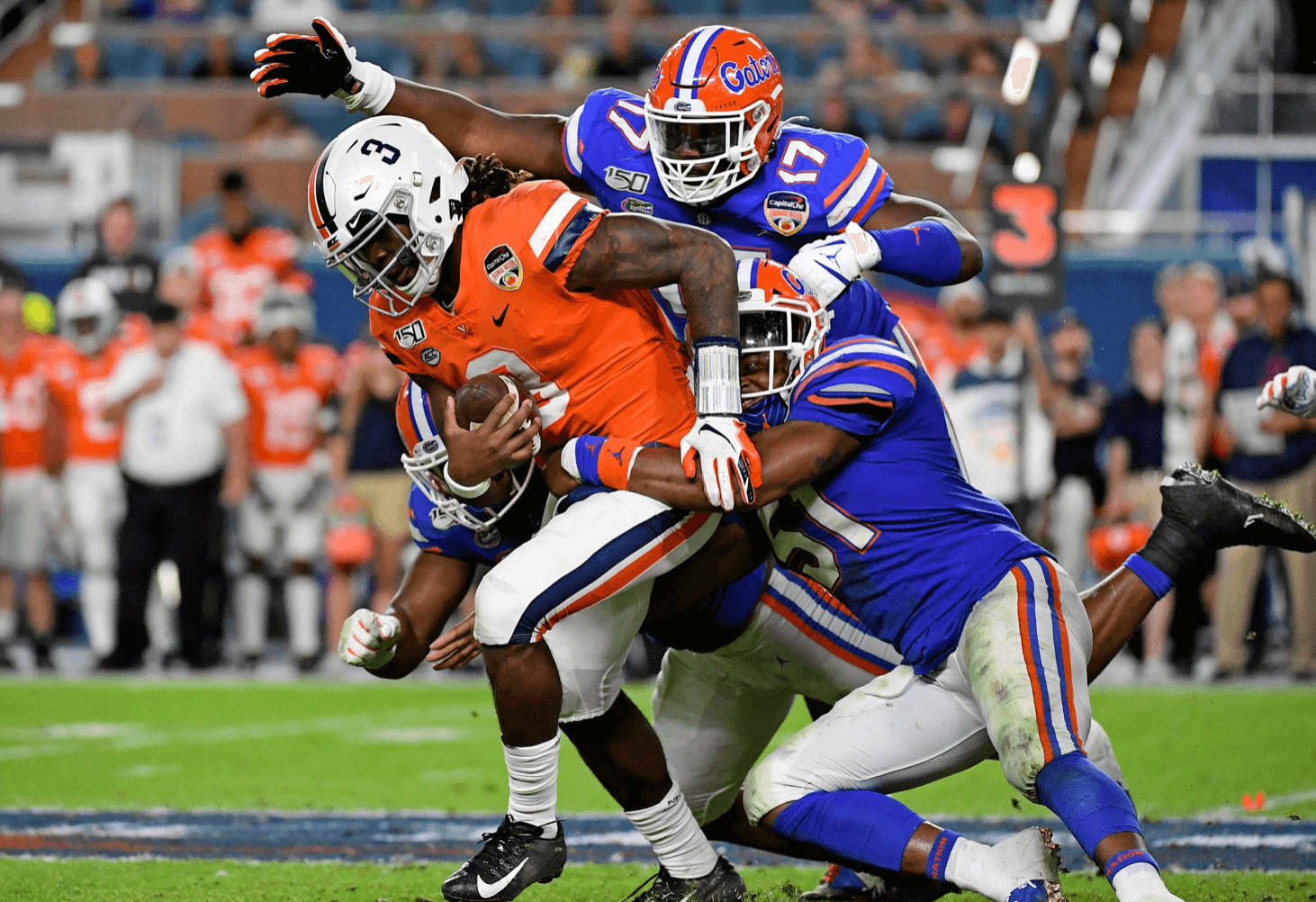 Admittedly, not-self destructing is a bit of a cop-out when it comes to previewing an upcoming game. In theory, any given team can beat any given opponent on any given day; when upsets happen, it's usually because the favored team makes the kinds of careless mistakes they're warned not to make so frequently that it becomes boring to hear it. So in a sense, I do concede that writing an article with this premise feels gratuitous when I could essentially copy and paste it into the preview article of any of Florida's opponents.
But one thing in particular scares me about the Gators' season opener against Ole Miss that wouldn't scare me against most other opponents. This particular area of the game has historically been a major problem for Florida in early weeks of the season, and now they're facing a team that's capable of exploiting it.
Florida, you see, has a chronic allergy to tackling in the first couple games of the year. In fairness, this problem isn't unique to the Gators; most teams are rusty in this department coming off offseason workouts where a large percentage of drills do not involve them ending the play the way they would in a real game, i.e. bringing another big, strong athlete to the ground. But Florida seemed more affected by the tackling hiatus than most in last year's season opener, a near disaster of a game against a Miami team that would finish with a losing record. And two years ago, though they were down a couple defensive starters, missed tackles and failure to set the edge doomed the Gators in their SEC opening loss to Kentucky.
Those ugly defensive performances came after normal offseasons, complete with full-contact spring practices and scrimmages to keep their mechanics sharp. Now Florida opens the 2020 season against a Mississippi team that, for all its question marks, we do know has athletes on the offensive side of the ball, between dual threat QB John Rhys Plumlee, running back Jerrion Ealy and wide receiver Elijah Moore. And for three and a half hours tomorrow, this Florida defense will be tasked with tackling them after going from December 30, 2019 all the way through July without doing a single tackling drill and just a few short weeks of intermittent tackling drills since August.
None of that alone is meant to dissuade you from thinking the Gators should beat the Rebels. Because they absolutely should be. The betting line has represented a sine wave throughout the low to mid-teens this week, peaking at FLA -14.5 and bottoming out at FLA -11.
And here's where all the storylines come in. This is Florida's long awaited rematch with Lane Kiffin as a head coach after he said some particularly unflattering things about then-coach Urban Meyer the last time he was a head coach in the SEC. This is a chance for Florida to tie the all time head to head series with Ole Miss; the Rebels currently lead 12-11. This is Dan Mullen's return to the place he used to so gleefully mock as "The School Up North" in his past life as Mississippi State's head coach, and one more chance for him to leave the Rebel program dejected. But lastly and by far most importantly, this is a business trip for Florida, a trendy pick to reach the College Football Playoff. Lose to Ole Miss, even on the road, and those dreams likely die before they can fully formulate- especially with the Big Ten now back in action.
Oh, and top of all that, Florida is the better team from top to bottom, which is among the safest statements one can possibly make in the era of COVID-19. It's not just the recruiting rankings that say so; it's the fact that Florida returns a truckload of talent from a team that won eleven games (including a New Year's Six Bowl game) and narrowly missed finishing in the top five of both major polls while Ole Miss has more questions than answers on the heels of a 4-8 season.
Add all that up, and it becomes very difficult to rationalize believing that Ole Miss has a single discernible advantage other than Florida not having game film on them.
But each of those things share something in common. From the storylines to the betting lines, all of that becomes irrelevant if Florida doesn't tackle. Turnovers could play a role, to be sure, but that's a much more easily correctable in-game issue than not tackling. Florida's high powered offense can much more effortlessly atone for a bad decision by Kyle Trask or a loosely carried football by Malik Davis or even a missed block by Jean DeLance than the Gators' defense can make up for a missed tackle that turns a five yard gain into a fifty yard gain.
So in a sport that's supremely complicated and has countless little sub-games within the game, tomorrow's chapter between Florida and Ole Miss is actually quite simple. The Gator defense makes tackles, they win. If not? Things could get far more interesting than they should.