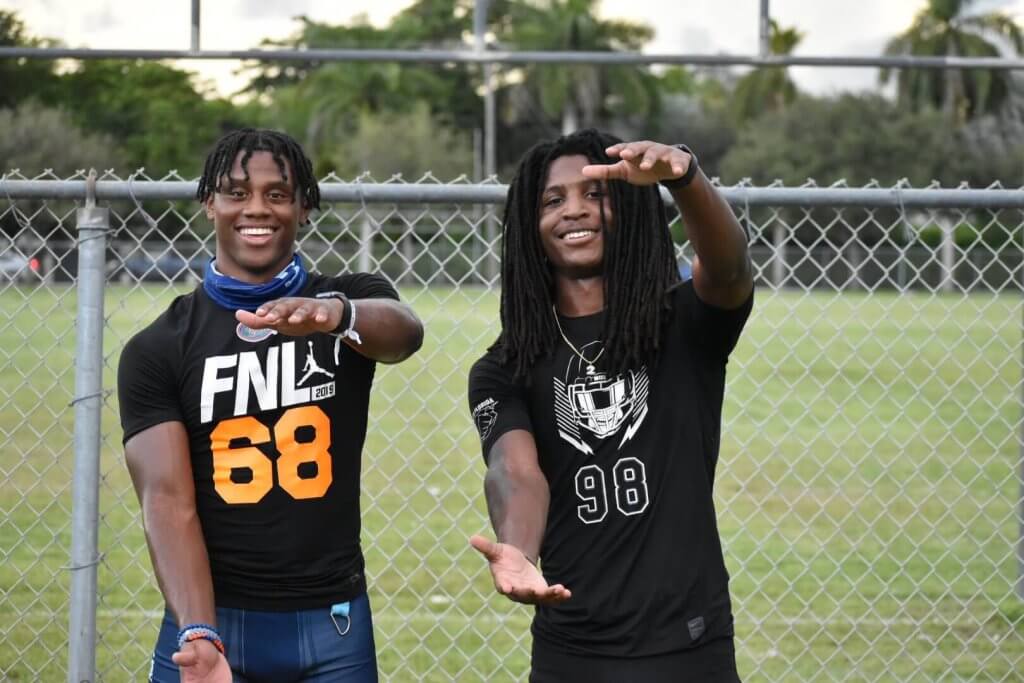 The Florida Gators' 2021 recruiting class is now finalized with the last second addition of kicker Adam Mihalek, meaning it's time to put a bow on it all and break it down as canon.
Of course, the only way to really know for sure how you did on the recruiting trail is to revisit the class four years later and evaluate where each signee is then. But there are a number of data points that we do have at our disposal right now that we can use to judge the Gators' 2021 recruiting class, and the sum of them paints a complicated picture.
The short-form analysis has to be that on a binary pass-fail scale, this class has to get the checkmark and not the X. In every class, there are three obvious, boilerplate bullets on the to-do list: sign a quarterback, address needs at specific positions and add elite, can't-miss talent. To varying extents, Florida checked all three.
The question is, did the Gators check them all off to the best extent that they could have?
The Gators snatched up pocket passer Carlos Del Rio-Wilson early in the process and held on without much incident. CDR, as he's called by fans, has very sound mechanics, arm strength that borders between very good and great, and above average speed for a pro-style QB. Scouts do warn that he has a tendency to latch onto his first read, but he's a high school quarterback, and besides, who doesn't have things to work on? He can be coached out of that, particularly with Dan Mullen in charge of the QB's. So that specific item on the to-do list gets a big fat green check.
The next two- filling needs and adding elite, can't-miss talent- are where the evaluation process of the class gets tricky. Because the quick and dirty answers to, "did Florida fill needs?" and "did Florida add elite, can't miss talent?" are yes… but not completely.
Florida has a major need in the secondary, and responded to that by signing cornerback Jason Marshall and safety Corey Collier out of Miami Palmetto. Each of them is rated as a five star by at least one major recruiting service, and both are so supremely talented that it's hard to not envision them as week one starters given the issues the Gators have back there. Florida also went north and poached safety Donovan McMillon out of Pennsylvania; perhaps McMillon isn't quite as day one ready as the Palmetto boys, but he's a tremendous athlete and will be hard to keep on the bench for too long.
Truth be told, the Gators really have needs everywhere on defense other than maybe on the defensive line. But Florida stocked up there first, grabbing Justus Boone and Tyreak Sapp early in the cycle and then bolstering their DE class with Jeremiah "Scooby" Williams in October. Scooby in particular is a monster who can abuse offensive tackles in any number of fashions and will almost certainly get some looks as a freshman, and Sapp and Boone are formidable edge rushers in their own rights.
The Gators also stocked up on the interior of the line, grabbing a pair of transfers (Daquan Newkirk from Auburn and Antonio Shelton from Penn State). That gives Florida a pair of set-and-forget veterans atop the depth chart, while incoming freshman defensive tackles Christopher Thomas and Desmond Watson learn the ropes.
Florida didn't do quite as good of a job at the middle level of the defense, though. The Gators did finally sign the ultra-talented Diwun Black and Chief Borders, and both of those guys are natural havoc wreakers, but that was the full extent of their 2021 linebacker class while they probably could have used at least one, maybe two more. Florida has some depth there, with Ty'Ron Hopper and David Reese waiting in the wings, but not a lot. The losses of Jesiah Pierre and James Houston IV to the transfer portal might hurt the Gators significantly more than some initially thought, and now Florida has only added two new pieces to its roster there. Those two guys can play, but what happens if the injury bug attacks the position at any point seven to ten months from now?
Another position at which Florida left something to be desired was on the offensive line. Somehow, the Gators managed to have a terrible run-blocking offensive line in back to back seasons, which one would think might trigger an overhaul of the position's personnel. Instead, Florida signed just three offensive linemen, and two of them were consensus three stars. That's not to say Yousef Mugharbil, Jake Slaughter and Austin Barber can't contribute- there are always some underrated guys that wind up outplaying their rankings- but this was an unusually rich offensive line class, with three unanimous five star tackles (Tristan Leigh, Amarius Mims and JC Latham) all at one point considering Florida. The Gators got none of them. That can't happen.
But as disappointing as that is, Florida loaded up with elite talent at the skill positions. Importing tight end Arik Gilbert from LSU and running back Demarkcus Bowman from Clemson provide the Gators with immediate plug-and-play pieces at those positions, which are already pretty deep, and picking up high four stars Daejon Reynolds and Marcus Burke helps replenish the wide receiver room after Kadarius Toney and Trevon Grimes left for the NFL.
So the Gators' 2021 recruiting class filled some needs. And the Gators' 2021 class featured some elite, can't-miss talent. So on that binary scale of integers from zero to one, this class gets a one. It's passable- and not by a point or two, like with a grade of 66 or 67, but by a comfortable margin.
But Florida also didn't address all of its needs in this class. The offensive line and linebacker positions are now even more important to address in the 2022 cycle. One could even argue that Florida should have grabbed another top-flight cornerback just to be safe.
Perhaps this is a case of "let's not get greedy." It's true that Dan Mullen is an excellent on-field coach and can develop talent better than most, the same way it's true that he's finally about to coach a team consisting almost entirely of guys he personally signed. Yes, other teams may have added greater sums of talent to their roster, but Mullen can make some of that ground up with his game planning and in-game coaching abilities.
But it's also true that Florida has been shelled on the recruiting trail by Alabama, LSU and Georgia in each of the last three cycles. Mullen happens to be 2-5 against those three schools since arriving at Florida in 2018, and two of them have won national championships since then. Coincidence?
None of this is to say that Mullen is doomed to a lifetime of good-but-not-great results on the field just because he didn't land every recruit he really wanted in 2021. His X's and O's mind can white out some of his team's talent deficiencies. It just means that he gave himself a steeper uphill climb than he could have had if he'd added a blue chip linebacker and a couple of highly touted offensive linemen.
And at the end of the day, while those gaps in the Gators' 2021 recruiting class does concern me, Mullen has reached three consecutive New Year's Six Bowls with a roster that was largely inherited from his predecessor… who was fired for incompetence. So ultimately, I'm excited to see what he can do with a team that's almost exclusively his.