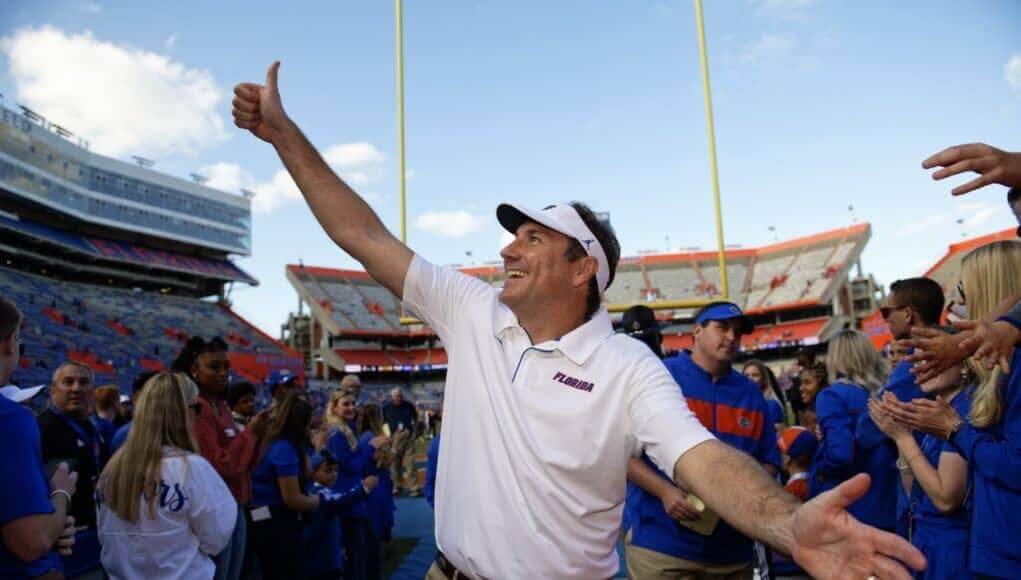 No sooner had scores of Florida Gators fans opened their eyes for the first time on Sunday morning than their phones began to buzz. Rumors were swirling from and in every direction about the future of Dan Mullen, by which I mean there are rumors about him potentially leaving Florida for a job in the NFL… in particular, the New York Jets' job, as they are presumed to part ways with embattled head coach Adam Gase tomorrow.
Understandably, many fans were freaked out at the prospect of losing the man who quickly resurrected the Gator program from the ashes Jim McElwain reduced it to. Others, tired of his bungling of press conferences and visibly irritated by his apparent decision to retain Todd Grantham as his defensive coordinator, took the attitude of "who cares?" and in some cases, even seemed to welcome a change. And still others have mixed feelings.
But regardless of where you personally stand on the topic of Dan Mullen, it is now a fact that everybody is talking about him, from random twitter users to ESPN's NFL Insider Adam Schefter. And so while I typically try to not write full-fledged articles based on rumors, because I don't really think that does much good in most cases, this has become something that can no longer be ignored.
Here's what we know. For starters, Mullen makes just a hair over $6.1M a year to coach the Florida Gators. His contract is littered with incentives, such as making a New Year's Six Bowl (which he's collected three straight years now), to further up the ante. As those who live in or near Gainesville know, it is not a particularly expensive place to live. Especially not compared to… say, the New York/northern New Jersey area, which is where he would have to live if he took the Jets job as some have begun to speculate he will.
Take it from somebody who's lived in northern New Jersey for 25 of his 26 years on this earth: $6.1M in Gainesville, Florida is comparable to $7.5M in the greater New York City area. Between significantly raised tax rates for multi-millionaires to the cost of living to simple things like bread and nice dinners out in local restaurants, one's income gets eaten away at much faster up here. And that's assuming the Jets offer Mullen $7.5M a year to coach them, which they almost definitely will not; their current former coach, Adam Gase, is believed to make $5M per year. The idea that they'd fire Gase just to pay a new coach $2.5M more… who by the way has never coached in the NFL… is contrary to the way the Jets have operated as a franchise in the ~20 or so years I've been following them. (I'm a Giants fan, but I keep tabs on my rivals just to mess with their fans, but I digress.)
So we know that if Dan Mullen leaves Florida for the Jets as some are speculating, he would likely be doing so at a significant monetary loss, unless the Jets break precedent and offer him an obscene amount of money for his first NFL job. That's one piece of logic that speaks out against the possibility of him taking the gig.
Another thing we know is that the Jets are a pile of rubble, having been in the running for the number one overall pick in this spring's NFL Draft until two meaningless wins late in the year ruined that. (They're such a horrible franchise that they can't even tank correctly!) The upside to that: they'll still have a very high draft pick, with which they would presumably take Justin Fields to give Mullen a head start, but the Jets' roster is such an abject mess from top from bottom that it's likely a multi-year rebuilding project.
And having just orchestrated a night-and-day turnaround at Florida, it begs the question of whether Mullen wants to do it again… only this time in the NFL, where there are no FCS teams, Vanderbilts or FSUs to pad his schedule and stake him some free wins. The talent disparity among teams in the pros is generally so minuscule to begin with that for a team with such a profound lack of it like the Jets, it takes a few years' worth of hitting home runs in free agency and consistently nailing your first and second round draft picks to even begin to balance it out.
On the contrary, for as much as Mullen supposedly doesn't like to recruit at Florida, he's at a program that more or less recruits itself, and with recruiting aces like Tim Brewster, Brian Johnson, and now potentially Travaris Robinson, his work in that field would be limited. All he has to do is not screw up his assistants' relationships with players, bust a few dance moves with recruits on visits, and he'll land top ten class after top ten class, no problem. And then there's the fact that in college, you can recruit and sign as many four or five star young talents as you're physically able to, whereas in the pros, you can only get one or two, maybe three if your team made a lot of trades for high draft picks in prior years. Players are under contracts, and you don't have the freedom to hand pick who you'd like to develop nearly as much as you do in college.
And on top of all that, we also know that Dan Mullen is represented by Jimmy Sexton, a super-agent who is said to enjoy pulling any trick out of the hat he needs to in order to sweeten his clients' deals, and thus, as someone who gets a small piece of his clients' salaries, fatten up his own wallet. It's a simple tactic: at the first hint of displeasure from the fan base of the franchise or program that employs him, surreptitiously let it slip that your guy is, kinda-sorta-maybe-if-you-don't-pay-him, thinking of leaving. As in, "well, OK, if you really feel that way, maybe he'll leave and go somewhere where he's more appreciated!" Urgency has been the weapon of choice for salesmen since the cavemen ruled the planet, and sometimes, like in the case of Michigan and Jim Harbaugh, you get a bite.
Of course, there's no actual proof of Sexton doing this, but that's why he's as good at his job as he is. No agent worth his salt is going to let such rumors be traced back to him, or else it would immediately be uncovered as a ploy for more money. It's simply something we should all be aware of as a distinct possibility.
Even if the Jets' job isn't the one Mullen has his eye on (though it is the one with the most smoke), this all still more or less holds with any other job. NFL jobs come open for a reason, and at least part of that reason is that the team is in a rut and requires serious reconstruction. And on the NFL teams' end of things, there are generally multiple safer options than a guy who's never coached in the pros before… unless your franchise happens to be a complete and utter coach graveyard. That's what leads me to think that middle-tier coaching jobs like the Falcons, Chargers and Texans would go for safer options, guys with real NFL coaching experience, before taking a risk on someone like Mullen. And that's why I happen to think that if Mullen does jump to the NFL, he'd be left with the bottom feeder head coaching jobs like the Jets or the Jaguars (sorry Jags fans, but you know it's true), the latter of which presents all the same negatives as the Jets minus the state income tax and cost of living. (But there hasn't been any real smoke there.)
In any case, none of that is to say that Dan Mullen wouldn't take an NFL job if offered. I know recruiting isn't his favorite thing in the world, and that's half the job in college. It just doesn't seem like he'd leave what he's building at Florida to start over again in a league where rebuilding from scratch is significantly harder to do than in college. I have little doubt that one day, when Mullen's career at Florida ends, it will come by his own hand, as he chooses to leave for an NFL job; I just think he's waiting for the perfect job to open up, like, say, the Cowboys, where he could be reunited with Dak Prescott and take over one of the most prestigious franchises in the sport. Do remember that the rumors were aplenty when he was at Mississippi State about him taking almost every college job that opened, plus some NFL jobs. He simply waited it out until the Florida job opened, knew that was the job that was most tailor-made for him to win and grabbed it. I think it's a fairly safe bet that when he does leave for the NFL, it will be amidst a similar set of circumstances.
And if I'm wrong? If the smoke about Dan Mullen departing Florida for the Jets' job is not just a smoke screen set up by his agent, and there's actual fire behind it, and he does indeed make the move? Then I'll wish him luck, thank him for cleaning up the mess that Jim McElwain started, hate the Jets a little less and turn my attention to who his replacement will be at Florida. It simply doesn't seem like something that's likely- or calculated to work out well for him.