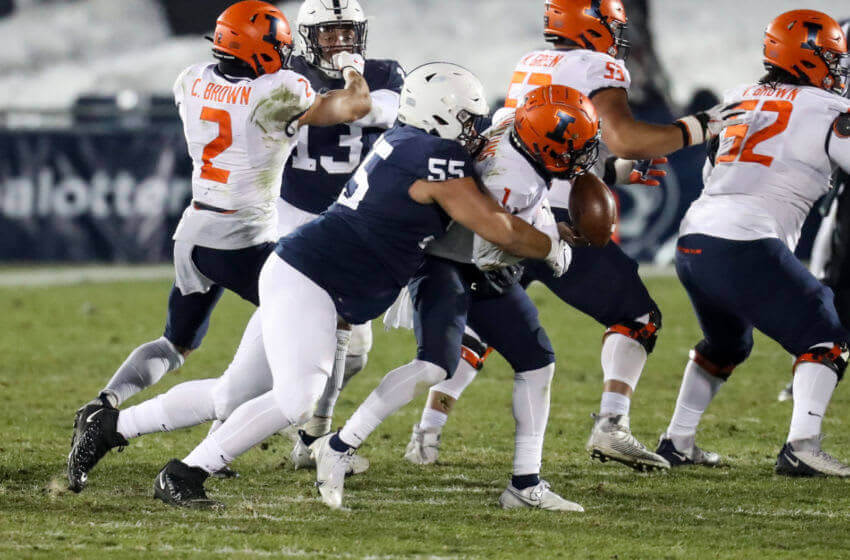 Florida lost James Houston IV to the transfer portal yesterday, but they turned around and evened things out shortly thereafter by landing defensive tackle Antonio Shelton on the resale market.
Originally from Columbus, Ohio, Shelton spent the last four seasons at Penn State, where he played a fair amount as a reserve- and when he did play, he usually produced. He stepped into a larger role in 2020, and enjoyed a solid season for a non-starter: 13 tackles, 4.5 TFL, 3.5 sacks, a pair of QB hurries, a pass breakup and a forced fumble in the Nittany Lions' shortened nine game season.
He'll play a lot more than just intermittently at Florida. Defensive tackle was a major need for the Gators this offseason. Dan Mullen & Co. sort of addressed it by signing a pair of DTs in Desmond Watson and Chris Thomas this past recruiting cycle, but Shelton is not only an instant plug and play piece on the interior, he's an instant source of veteran leadership.
For starters, Antonio Shelton is a monster. Penn State lists him as 6'2, 327 lbs. and he more than looks the part on tape. Not to mention this video of him benching 405 pounds five times. Unfortunately, nobody has put together a highlight video of Shelton since before the 2019 season (that I could find), meaning that we've got to do this the hard way. I encourage everybody to go check out the highlights for each of the Nittany Lions' nine games this past year and see what he can do. He registered at least one tackle in each one, and even on plays where he wasn't earning stats, his presence on the interior of the line was felt quite often. Watch #55 on defense and see what kind of impact he had in the trenches.
To make it a little bit easier, I've hyperlinked those nine games he played in last year for Penn State: Indiana | Ohio State | Maryland | Nebraska | Iowa | Michigan | Rutgers | Michigan State | Illinois |
As you can see, Shelton's large frame and power help him eat running plays for breakfast, which is something Florida really hasn't had anybody do in the last couple of seasons. And though his strength is clearly stopping the run, he's not bad as a pass rusher, either. He's strong enough to just crash through the line and bully his way into the backfield at times, and he boasts a surprisingly strong set of pass rush moves for someone who can rely on sheer force pretty much whenever he wants to.
Now, he'll step into a Florida defensive line room that includes one entrenched starter on the outside in Zachary Carter, and nobody else with more than a year of experience. So it's very difficult to fathom a scenario where he doesn't take over a starting spot by the time the Gators' 2021 season kicks off against FAU.