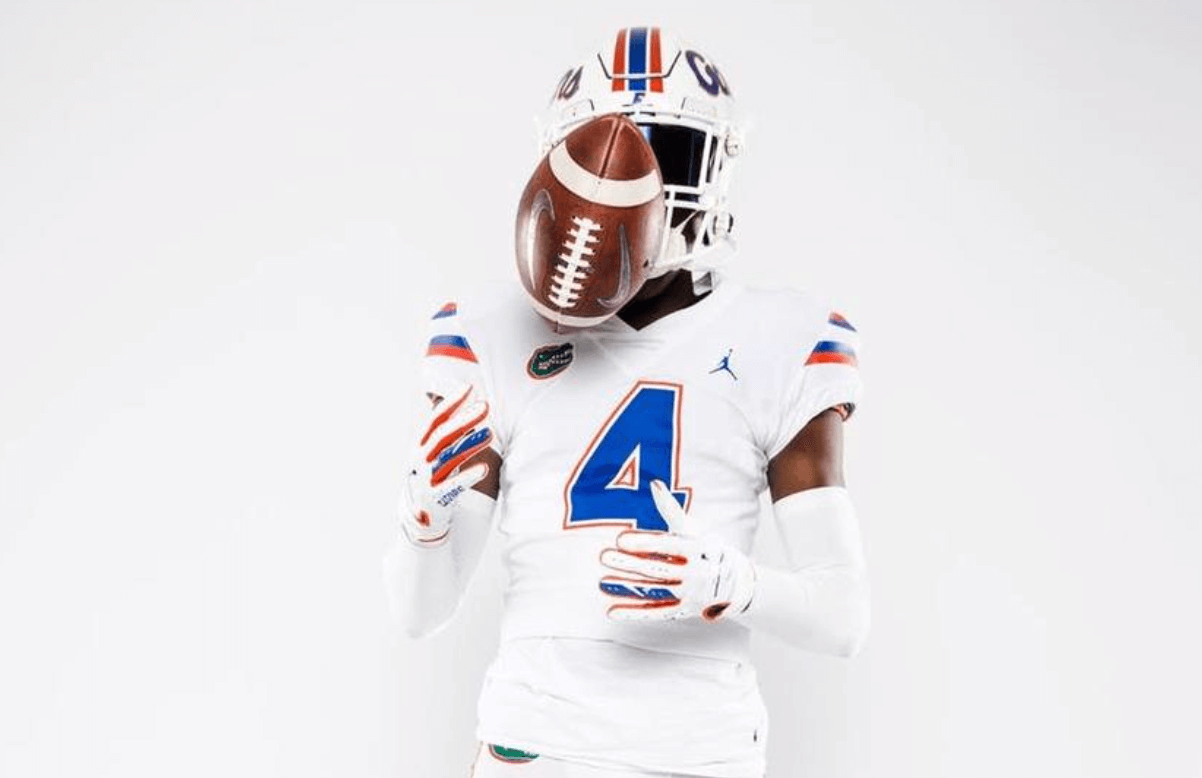 The wild recruiting ride of Kamar Wilcoxson- of the wildest recruiting rides in recent memory involving a potential Gator- has finally drawn to a close. We think, anyway.
Late last night, Wilcoxson announced to GatorsTerritory that not only was his recruitment process shut down, but he was burning that bridge behind him. Wilcoxson is choosing to re-classify to the Class of 2020, which means that he'll be eligible to suit up for Florida this coming fall (assuming there's a season).
As for why, the key lays in a very specific statement he made in that interview: the virus absolutely influenced his decision. "It's an uncertainty with high school and football," Wilcoxson said. "So I'm like, if I don't know if I'm going to be playing football, I'd rather be somewhere getting developed and learning the playbook, versus just sitting around, waiting to see if we're going to play or not." Wilcoxson also credited defensive backs coach Torrian Gray, and his excitement of being coached up by him, as helping with his decision.
Assuming Wilcoxson doesn't change his mind a fifth time, this will snap a long recruiting drought for the Gators at Bradenton's IMG Academy. And it ends a recruiting process stockpiled with more twists and turns than most thought was possible.
It all began on November 3, 2018, the day Wilcoxson committed to the Gators as a high school sophomore. Shortly thereafter, he began to attract attention from Tennessee, and late last April, he decommitted from Florida for the first time to "re-consider his options," as he put it. That July, he visited Gainesville, determined that his initial gut instinct was correct and re-committed to Dan Mullen's program.
Then things started to get wild.. Wilcoxson took two more visits to Florida this past winter, on each of the school's two Junior Days just before the pandemic. That appeared to reaffirm his interest in being a Gator… for about three weeks, when he decommitted yet again, and rumors began spreading that he was headed for Columbus to play for the Ohio State Buckeyes.
But not even a month later, and Wilcoxson announced that he was headed for Tennessee, his third commitment to a college football program in April. At that point, many of the Gator fans still following his recruitment process terminated their interest in him.
And then two months ago, Wilcoxson flip-flopped a fourth time, saying he was going to be a Gator because UF was his "dream school" and that he was shutting down his recruitment process in a now-deleted tweet. But whatever remaining concerns there were about the tweet deletion equating to yet another change of heart, Wilcoxson's interview with Gators Territory appears to have put to bed.
Now Kamar Wilcoxson is set to join a class that was already ranked in the top ten nationally by every ranking system. 247 had it rated 9th; ESPN and Rivals each had it ranked 8th.
Here's hoping it was worth the headache.