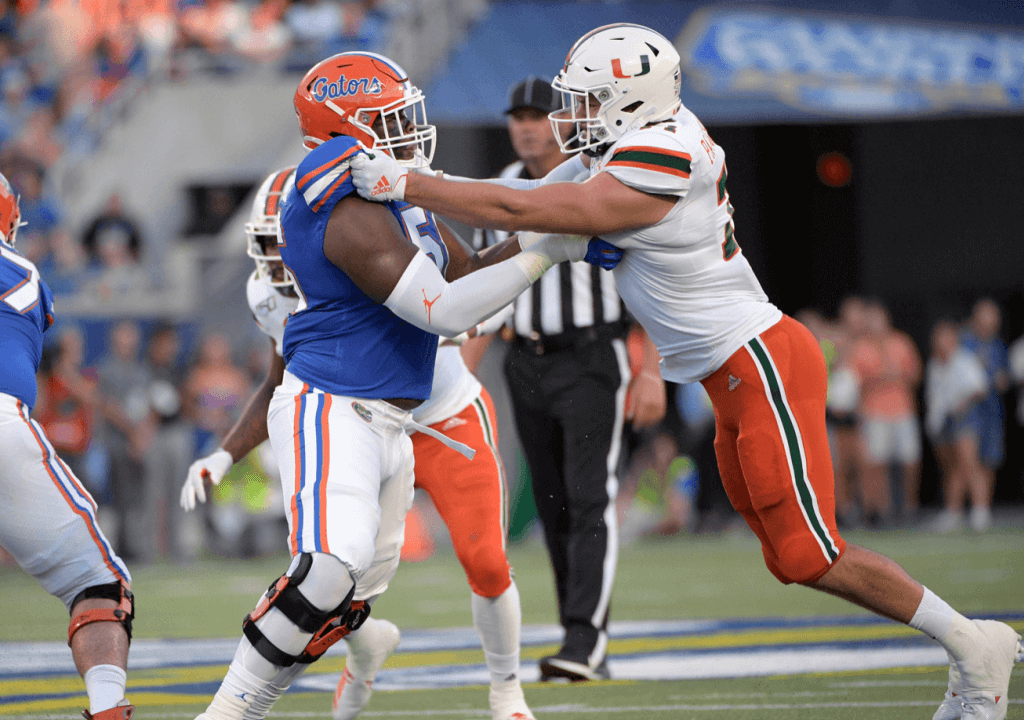 The first several installments of our pre-summer position breakdowns for the Florida Gators have, more or less, been written with a certain degree of optimism behind them. This is because, whether in the form of limitless talent or a noteworthy amount of production, the players who will be suiting up for Florida have done something to merit that optimism.
The same cannot be said about the Florida Gators' offensive line. On the contrary, the Gators' big uglies have more questions swirling around them than every other position group. Florida loses its two most dependable linemen in Stone Forsythe and Brett Heggie, and though it isn't like Florida had to scoop up Jacksonville State's backups in order to field a team, there's a fair amount of concern here.
Before we get there, though, let's catch ourselves up on the positions we've previewed so far: quarterbacks, running backs, wide receivers and tight ends.
The Left Tackle: Richard Gouraige
It's time for Richard Gouraige to take over that blind side tackle position. After two years of valuable reps at left guard and left tackle, Gouraige appears set to lock down the left tackle role for keeps. And that's a good thing.
The physical attributes are there. Gouraige stands 6'5, 310 lbs, with top-flight natural athleticism to boot. Though perhaps not as lengthy as some left tackles Florida has had in the past in years in which the Gators were strong on the ground, he more than makes up for that with his bull-like strength.
The tape tells the story of a decent-to-good, and at times outright good run blocker who uses his hands well and can fire off the snap at times, but doesn't do so consistently. Shifting over to the outside full time might help with that. He's also a very good pass blocker, having allowed just 32 total QB pressures and two sacks in the two full years he's started. So, while losing Stone Forsythe hurts, Gouraige is going to be just fine stepping into his role.
The Left Guard: Ethan White
White is an excellent example of what happens to a kid who wants to play offensive line at the SEC level, has a lot of work to do to get there the day he enrolls, puts in that work and then some, and refuses to let stumbling blocks dissuade him. A good amount of time getting yelled at by Nick Savage and recovery from a knee injury later, and White is all set to finally nail down a starting role on the Gators' offensive line.
White has moved around a bit during his time at Florida, getting some action at both guard spots as well as at center, but now he's at the position in which he feels most comfortable. Like Gouraige, he's been much better at pass protection than he is in the run game, although his tape in 2020 did seem slightly more favorable than in 2019. Regardless, the left side of the line for Florida has to be a position of strength, now with two guys in their third seasons lining up for the Gators.
That said: while offensive linemen are typically not Swiss Army knives in terms of being able to mix and match them at any of the five positions on the line, White is the most versatile of the group, and if needed, he could move around. I'm just placing him at LG because I think that's where he'll start the year- and barring injury to a teammate, where he'll log the most time.
The center: Stewart Reese
Reese didn't actually have as bad a year as some fans may think. He simply played adjacent to one of the worst multi-year starting offensive linemen Florida has ever had, so the right side of the line looked bad. Now he figures to move over to center, and with a full offseason to digest the offensive scheme after transferring in from Mississippi State, things look promising for him.
It's possible that Reese and White may swap roles given their histories playing at the others' respective position, but for all the flak John Hevesy has taken recently, he does have a track record of success moving big guards inside to center (see Brett Heggie). Reese did not do well against the run last year, but some of that wasn't really his fault (we'll get to that in a minute… I know everybody know's what's coming, but bear with me). On the flip side, he did do fairly well in pass protection, giving up just two sacks and fourteen pressures on the season.
Again, it's worth noting that Reese doesn't have any real experience at the center position. So it's probably reasonable to expect a bumpy takeoff from him in 2021. But I do expect him to figure it out quickly enough to hold onto his new job, and leave White at left guard- though I would not be surprised by any means if the inverse happens.
The right guard: Josh Braun
Braun is one of the rare birds out there who lettered in both tennis and football in high school. Why is that important? Because his tennis background has provided him with tremendous footwork, quick hands and a near-endless motor.
The former Georgia commit wasted no time displaying his power and aggression in the passing game, showing a knack for setting his feet and delivering vicious strikes to his opponent across the line. It's the run blocking that concerns me- not unlike with the other four offensive linemen on this team. Now in a bigger, more responsibility-laden role, and particularly playing next to a right tackle who's struggled more than he's succeeded in the last two years, Braun is going to have to grow up fast.
I do think Braun can grow into a dependable run blocker for the Florida Gators as the season progresses. I do wonder, though, if John Hevesy and Dan Mullen get impatient if, say, he has a bad game against Alabama, and try mixing and matching other pieces. But Braun's natural athleticism and raw power makes him a keeper in the starting lineup.
The right tackle: Jean DeLance
If you're asking me who should start at right tackle, the answer is "Michael Tarquin," but we don't live in such a world. DeLance has, by all objective measures, been nothing short of a colossal bust since transferring in from Texas, and it's hard to imagine him finally piecing it together after so much frustrating tape these past couple of years. But damn it if he isn't going to try!
Let's start with the positives. DeLance is extremely naturally talented. He's strong, and he's fast, and on certain individual plays, he guesses right and stonewalls his opponent. It's the fact that he doesn't do this consistently- he does this very rarely, in fact- that has driven Gator fans up a wall with him.
On more than a few occasions, DeLance has looked confused, in over his head, unsure of the snap count, lunging at ghosts and just downright lost. Two different times against Tennessee, he never bothered to move after the snap, letting Kyle Trask get sacked by defenders he was supposed to block. On countless other occasions, he looked like he didn't know the snap count, overwhelming Reese and forcing him to try to block two defenders at once, resulting in that whole side of the line looking bad. It's possible that the lightbulbs clicks on in year three as a starter, and I'm certainly rooting for him to do so, but this is the weak link of the offensive line chain until sufficient game tape proves otherwise.