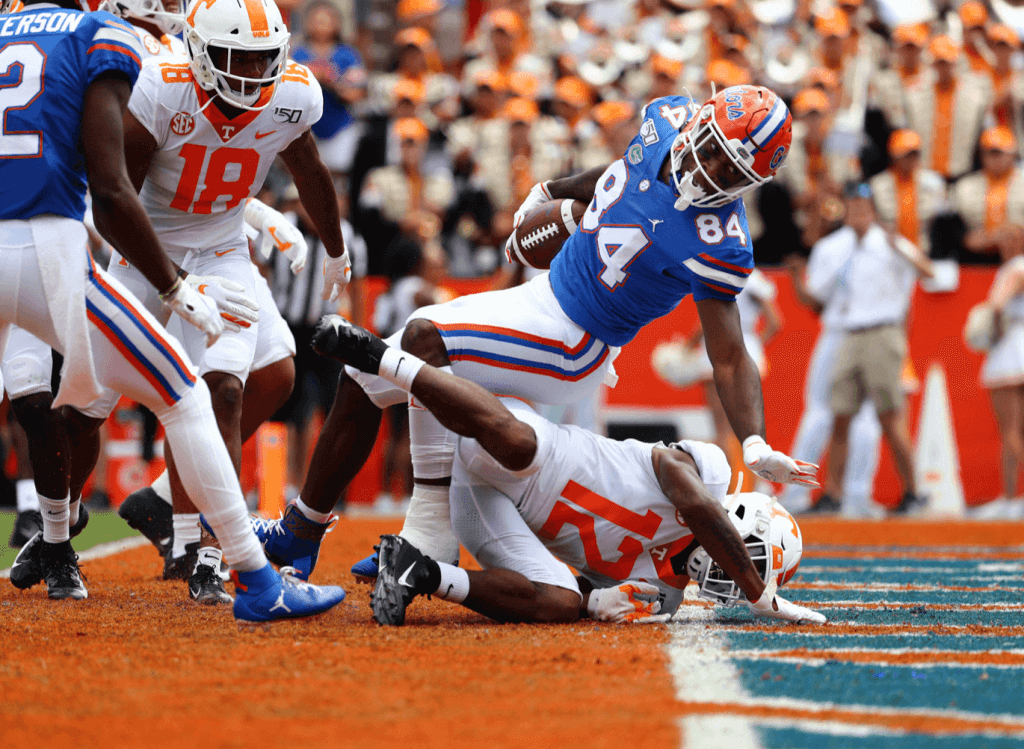 Happy NFL Draft Day, Florida Gators fans!
Today is the day where 32 former college football stars take the first step towards making their lifelong dreams of playing in the NFL a reality. That, of course, will include former Gators standout tight end Kyle Pitts, the runaway winner of the 2020 Mackey Award, who's projected by many to be a top five pick. It also likely includes star wide receiver Kadarius Toney, a finalist for the Hornung Award, and it could even include QB- and Heisman Trophy finalist- Kyle Trask.
The Draft is too unpredictable for me to believe that making predictions as to where certain players go will ever pan out too well (at least beyond the top ten or so). I get it, it's fun for everybody to have their mock drafts, and as everybody who reads my work knows, I do like making predictions. It's just not my thing with the Draft.
Instead, I've compiled some Florida Gators-related statistics and fun facts about the NFL Draft that will be improved upon tonight, tomorrow and Saturday. The idea is to prove that Florida is NFLU. (I mean, isn't that always the goal?)
So here we go.
-Florida has had a player selected in every single NFL Draft in the Common Draft era (since 1952). The Gators are the only school in the SEC who can say this. What's more, in all but three years since 1952, Florida has had multiple players selected. That's obviously going to continue tonight.
-Florida has had multiple players selected in every NFL Draft since 1981- a streak of 40 consecutive years that will continue tonight when Pitts hears his name called. That's right, the Georgia Bulldogs won their last national championship more recently than Florida failed to get two or more players picked in the NFL Draft.
-Florida has had 124 players selected in the NFL Draft since 2000. Only Ohio State, LSU and Alabama have had more in that span. Miami sits just behind Florida with 123, and Georgia sits two back at 122.
-Florida has had 356 players selected in the NFL Draft all time. This statistic is admittedly kind of wavy since some schools include draft picks in the old AFL and other schools do not so it's hard to pinpoint where exactly Florida ranks here, but it's nonetheless extremely impressive. Obviously, this stat is going to increase tonight and this weekend.
-Florida has had 53 first round NFL Draft picks all time. That's the sixth most all time, regardless of whether you include the old AFL or not.
-Florida has had 18 first round picks since 2007, which, as is the case with everything else listed here, is going to be improved upon tonight.
-Florida has had five or more players selected in every NFL Draft since 2015, a streak of six years and counting. If any of the streaks listed here are going to get broken, that's probably the most likely of them- and it is in itself extremely unlikely, with Pitts, Toney, Trask, Trevon Grimes, Shawn Davis, Stone Forsythe, potentially even Marco Wilson and maybe more set to get selected.