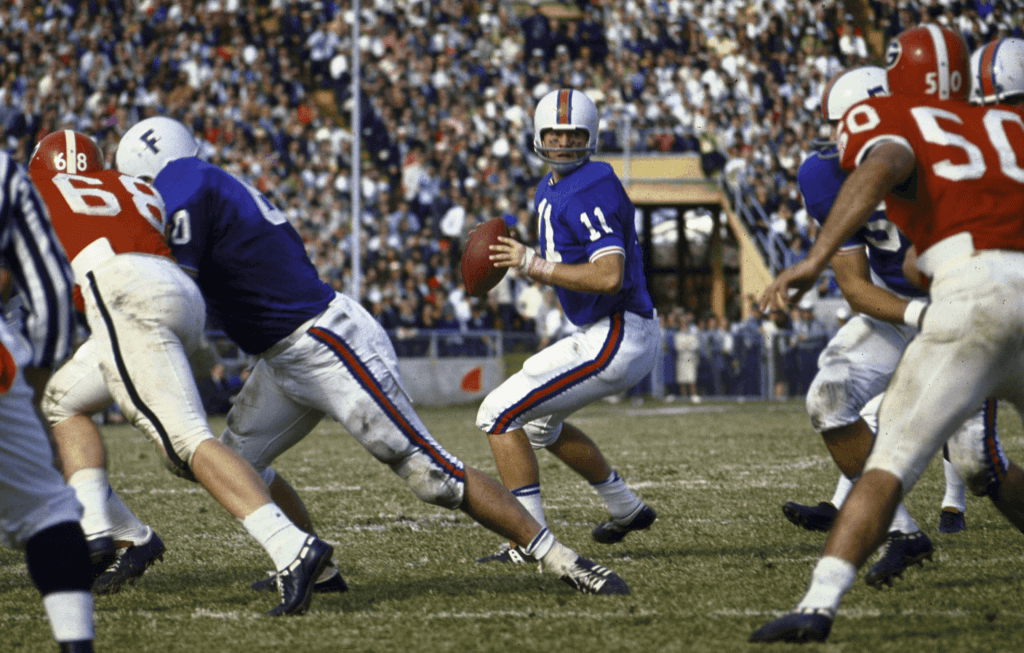 We are officially three quarters of the way through of the first round of the #GreatestGatorEver tournament. Tomorrow morning, we begin the first round of the fourth quarter of the bracket- the 7 Regional.
The bracket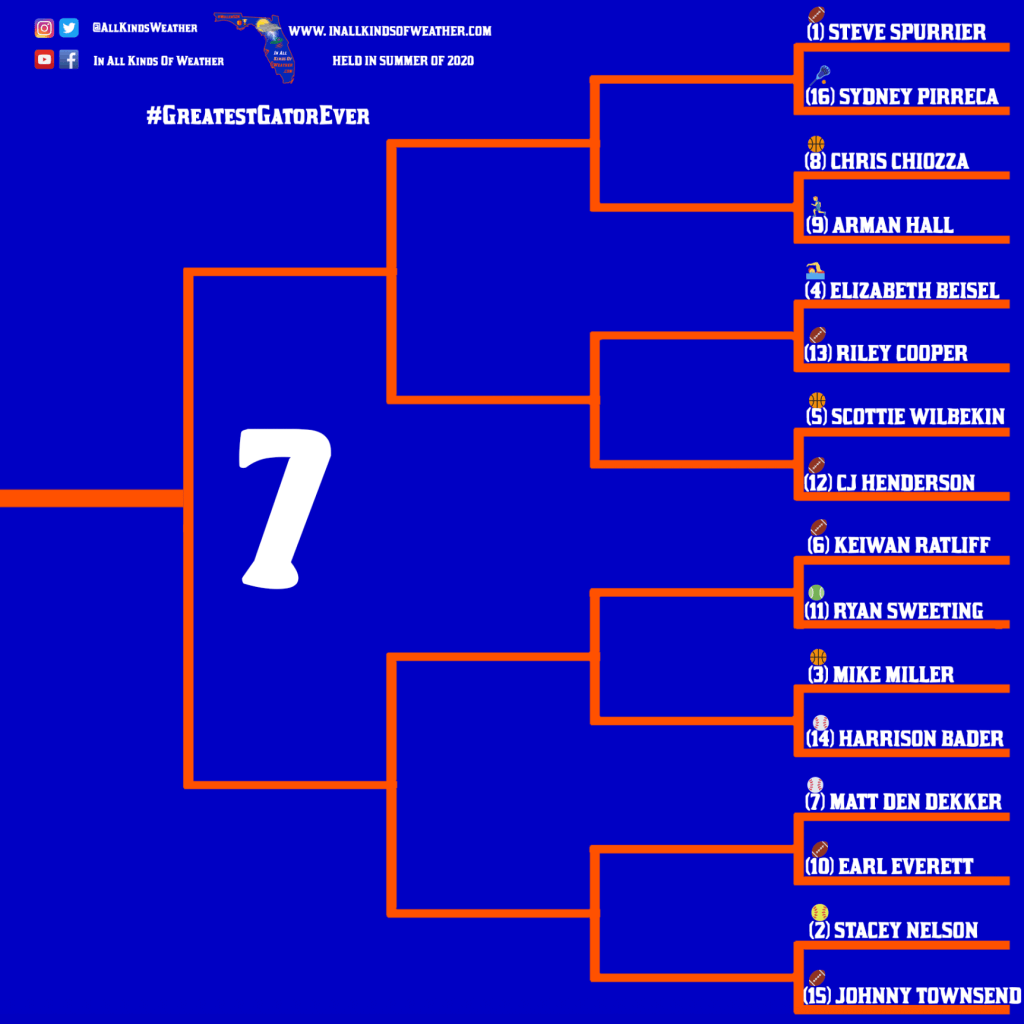 Regional participants
(Players are listed in order they appear on the bracket.)
(1) Steve Spurrier (football, QB- 1964-66). Clutch factor: kicked a game winning 40 yard field goal to beat Auburn in 1966. 1965 first team All-American; 1966 unanimous first team All-American (one of seven in Florida history). 1966 Heisman Trophy winner. Florida Ring of Honor member. College football Hall of Fame member. 10th in Florida history with 4,848 career passing yards. 10 year NFL career (nine with 49ers).
(16) Sydney Pirrecca (lacrosse). 2018 and 2019 All-American. Sixth in Florida history with 215 career points and with 61 career assists; tied for sixth with 154 career goals.
(8) Chris Chiozza (basketball, G- 2015-18). Clutch factor: beat Wisconsin with a buzzer beater three in 2017 Elite 8; also beat Missouri in 2018 with walk-off "pick two". Florida's all time assists leader with 571. Fourth in Florida history with 191 career steals; 53rd with 1,025 points. 2017 NCAA Tournament All-East Regional team. 2018 Lieutenant Fred Koss Memorial Award recipient. 2018 SEC All-Defensive team.
(9) Arman Hall (track- 2012-16). 2013 and 2016 national champion (team). 3X individual national champion: 2013 4X400m relay, 2014 4X100m relay, 2016 400m. 17X All-American. 2013 World Championship 4X400relay gold medalist. 2016 (Rio) Olympic 4X400m relay gold medalist.
(4) Elizabeth Beisel (swimming- 2011-14). 2X NCAA Champion: 2012 200 yard backstroke, 2013 400 yard individual medley. 18X All-American honors. 2011 World Championships 400m medley gold medalist. 2012 (London) Olympic 400m medley silver medalist and 200m backstroke bronze medalist.
(13) Riley Cooper (football, WR- 2006-09). Clutch factor: hauled in 17 yard reception on 3rd and 12 in the fourth quarter of the 2009 BCS Championship Game. 2006 and 2008 national champion. Six year NFL career with Eagles.
(5) Scottie Wilbekin (basketball, G- 2011-14). 2014 consensus All-American. 2014 SEC Player of the Year. Led Florida to 2014 Final Four with 56 steals and 123 assists on the season. 2014 NCAA Tournament All-South Regional team. Ninth in Florida history with 419 career assists and with 167 steals.
(12) CJ Henderson (football, CB- 2017-19). 3X All-SEC. 2019 All-American. First Gator freshman to record a pick six in each of his first two games. First round NFL Draft pick (#9, Jaguars).
(6) Keiwan Ratliff (football, CB- 2000-03). Florida's all time single season interceptions leader (9 in 2003). Sixth in Florida history with 12 career interceptions. 2003 consensus All-American. 2002 and 2003 All-SEC. 2003 SEC Defensive Player of the Year. 2003 team captain. Seven year NFL career.
(11) Ryan Sweeting (tennis, 2006). Reached second round of all four Grand Slam singles events: Australian Open 2X (2011, 2012), French Open (2011), Wimbledon 2X (2011, 2012) and US Open (2006).
(3) Mike Miller (basketball, F/G- 1999-00). Clutch factor: beat Butler on a buzzer beater in 2000 NCAA Tournament Round of 64; Florida would reach NCAA Championship Game. 1999 first team Freshman All-American. 1999 and 2000 All-SEC. First round NBA Draft pick (#5 overall, Magic). 17 year NBA career. 2001 NBA Rookie of the Year. 2006 NBA Sixth Man of the Year. 2X NBA champion: 2011, 2012 (Heat).
(14) Harrison Bader (baseball, OF- 2013-15). 2015 CWS All-Tournament team. Perfect 1.000 fielding percentage in 2015. Three year MLB career and counting with Cardinals.
(7) Matt Den Dekker (baseball, OF- 2007-10). Fourth in Florida history with 220 career runs scored; eighth with 262 career hits; ninth with 65 career stolen bases; tenth with 33 career home runs, and with 159 RBI. Six year MLB career.
(10) Earl Everett (football, LB- 2003-06). Clutch factor: lost his helmet and sacked Ohio State QB Troy Smith anyway in 2007 BCS Championship Game. 2006 national champion. 2004 and 2006 All-SEC selection. Two year NFL career.
(2) Stacey Nelson (softball, P- 2006-09). Florida's career leader in wins (136). Florida's all time ERA leader (0.99). Florida's all time saves leader (18). Second in Florida history with 1,116 career strikeouts. 3X All-American: 2007, 2008, 2009. 2008 and 2009 SEC Pitcher of the Year. 2008 and 2009 WCWS All-Tournament team.
(15) Johnny Townsend (football, P- 2013, 2015-17). 2X All-American: 2016, 2017. Florida's all time leader in YPP in a single season with 47.9 in 2016, which led NCAA that year. Two year NFL career and counting.
The favorite: (1)Steve Spurrier
Coaching accomplishments aren't part of this, but Spurrier shouldn't even need them- at least not in Regional play. Being one of seven players to ever earn unanimous All-American honors in Florida's premiere sport easily qualifies him as a Regional favorite, as does being one of three to win the Heisman. Stacey Nelson won't be an easy out in the Regional final, but the Head Ball Coach did more than enough in his brilliant three year career with the Gators to make him the Regional favorite.
The second favorite: (2)Stacey Nelson
Nelson was the first GOAT of Gator softball, the original legend of the sleeping giant of a program as it first began to stir. She took Florida to heights it had never previously reached, bringing them all the way to the 2009 WCWS Finals. Losing that series to Danielle Lawrie cost Nelson a top sixteen overall seed, but she's still enough of a threat to Spurrier to see her making the Sweet 16 as an underdog. Either way, that should be one hell of a Regional final if both can do their parts in their first three rounds.
The sleeper: (3)Mike Miller
Miller was a win over Michigan State away from being a top sixteen overall seed himself. But as it stands, he has a real case against both Nelson and Spurrier. He's been just as close to a national title as Nelson and closer than Spurrier, and had a much better pro career than both, winning a pair of NBA titles with the Miami Heat. Of course, the individual collegiate accolades aren't there for him the way they are for those two, which is why he's seeded behind them. He might face some early trouble in the Regional against Keiwan Ratliff, but if he can get past him and reach the Round of 64, look out. He won't go down too easily against either of the two athletes seeded higher than him in this bracket.
The dark horse: (5)Scottie Wilbekin
In a Regional stockpiled with fan favorite basketball icons, perhaps none has as difficult as road out as Wilbekin. One of two Gator hoops stars to ever win SEC Player of the Year, Wilbekin will have to first deal with CJ Henderson and then Olympic swimmer Elizabeth Beisel before squaring off against SOS. But Wilbekin has a history of succeeding when he's been counted out, as well as simply making things happen, so he'll have to hope that continues here. If he can get to the Round of 64, he just might make things very interesting.
The Cinderella candidate: (10)Earl Everett
Everett likely would not be in this tournament at all if not for the helmet-less tackle of Troy Smith; as it stands, he was the lowest ranked #10 seed. But perhaps nothing embodied that 2006 national championship team more than that play, which served as instant meme material before the word meme even became a word. He'll have his hands full right away with Den Dekker, and then even more so with Nelson in Round Two if he gets there, but he's so eternally beloved by Gator fans that a Cinderella run through this bracket is a real possibility. If you're looking for a double digit seed to make some noise, this is probably your best bet.